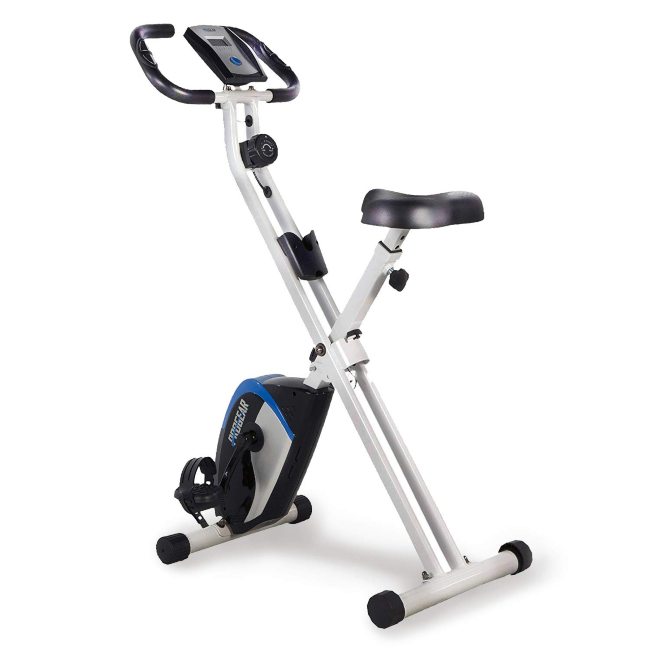 If you are wondering which exercise equipment to buy for a total body workout, then you can consider buying an exercise cycle. This equipment is much compact and lightweight than a treadmill or a home gym and will fit your small room perfectly. It is also much cheaper and will fit any budget.
Most doctors recommend that you take out 20 to 30 minutes time from your busy schedule for a walk in order to be healthy. However, it may not be always possible and in such case, the exercise cycle can be a wonderful alternative. Using this cycle, you will be able to workout indoors which will save you time. Regularity is very important in case of exercise. Having fitness equipment like exercise cycle, you will be able to maintain a regular exercise routine.
You will find different kinds of exercise cycles in the market. Some are upright and others are recumbent. Both have their advantages and disadvantages. If you are thinking of buying a good quality bike at the lower end, then you must choose the ProGear 225 Folding Magnetic Upright Exercise Bike. This equipment has proved that you don't have to spend a fortune to buy a good quality product. Here we will review this bike in detail.
Design
It is a lightweight and compact exercise cycle that is ideal for small spaces. You will easily be able to fold it and store it in a corner of the room when not in use. It has a weight capacity of 220 lbs. The design of this bike is simple and as it comes in white color, it looks very elegant and stylish. At this price range, this bike has heart pulse sensors to monitor your heart rate while exercising. It offers 8 levels of magnetic tension control system that lets you vary the intensity of the workout. You can get the experience of cycling in different terrains by changing the tension levels. It has dual transition flywheel that provides higher resistance workout.
There is an LCD display that shows the distance you have covered, the number of calories you have burned, the speed at which you are cycling, and other important information. It has an ergonomically contoured seat cushion that is easily adjustable to accommodate users of different heights. Due to the ergonomic design of the seat, you won't feel any back pain even if you cycle for long hours.
Build Quality
It is a basic model bike with lots of features. The frame of this bike is made of steel tubing and coated with corrosion-resistant paint. It has a folding frame and doesn't take up much space. So, even if you have a small apartment, you will be able to use it conveniently. It is lightweight and you will be able to relocate it anytime. There are rotating caps in the front base tube and these work like transport wheels so that you can transport it without much effort. These base caps are polygonal-shaped and act as stabilizers also so that the machine remains stable even when a heavy user is using it or during intensive workout sessions.
It has a 2-way adjustable seat to accommodate users of heights between 5'1'' and 6'. The saddle has a contoured surface and is made of rubber foam material. As the surface is wide, you will feel very comfortable during workouts. Unlike the higher-end exercise bikes, the handlebars of this bike are non-adjustable. The handlebars have multi-grip design and each handle has a rubber foam layer to provide you the ultimate comfort. You will also have a secure grip and your hands won't slip off due to sweat. Each handle has an EKG pulse sensor for monitoring your heart rate. There is a fitness meter that can also track the pulse.
This bike has a manual magnetic resistance system. Changing the resistance levels is easy and you will be able to do different intensities of workouts by turning the resistance knob. When you turn the knob, the position of the magnetic bike changes in relation to the flywheel. This changes the resistance on the pedals.
The flywheel is heavy and provides a smooth experience. Unlike some bikes, the flywheel of this bike is not bi-directional. So, you won't feel any resistance when you pedal backward. It has a belt drive system and doesn't produce any noise while pedaling. So, you won't disturb others while exercising. Minimum maintenance is required to keep it in good condition.
Size
It has dimensions 32'' by 17.5'' by 46''. It is very compact and will take little space after fully assembling it. You can also fold it to store it in your closet or anywhere else when not in use. It is also lightweight which allows for easy relocation.
Comfort
The seat is designed ergonomically to give you the ultimate comfort. You can adjust your seat according to your preference. The seat is also well contoured and covered with rubber foam material for more comfort. The seat is detachable and it can be replaced easily if needed. The handlebars are non-adjustable but have a multi-grip design. So, the users can place their hands in any position that is convenient. The handlebars are also coated with rubber foam layer for better comfort. The pedals have adjustable straps and so your feet won't slip off during intense workouts.
Effectiveness
This bike has a solid construction as it is made of a steel frame. It is stable and will last a long time. It has features that you will only find in the middle to higher range exercise bikes. It has a fitness meter that can read your pulse. It also has an odometer function to record the distance you have covered, the number of calories you have burned, and other vital information. This information can help to track your progress and you can also challenge yourself to burn more calories. The resistance levels can be changed easily and you can vary your workout sessions that way. For example, if you want to burn more calories faster, then you can increase the resistance level to get a mountain biking experience.
The seat is comfortable and adjustable so you won't feel any strain at the back even if you work out for long hours. The handlebars have a multi-grip feature allowing you to hold it in any position that is convenient for you. So, you can actually work out comfortably without any problem. This exercise cycle will help you to burn calories, tone up your muscles, and increase your stamina.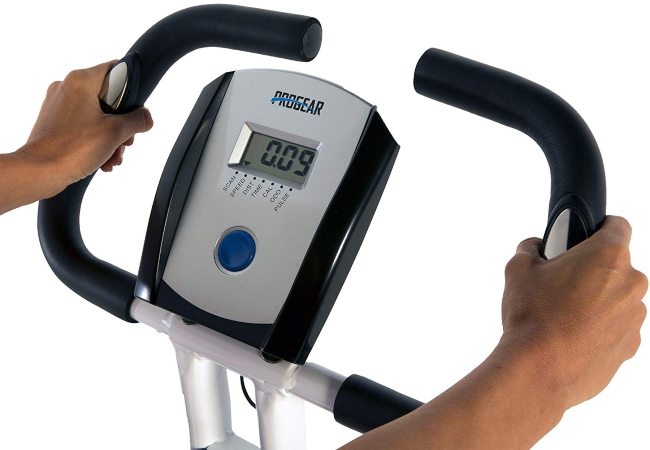 Price
You will not get a high quality cheaper bike in the market. It only costs $115 and if you are looking for a basic model of an exercise bike, then this is the best choice.
Pros
It is compact and has a foldable design.
It is constructed with a solid frame and can support users of up to 220 lbs.
It has an ergonomically designed seat which gives comfort while exercising.
The handlebars have multi-grip design and are covered with rubber foam for the ultimate comfort.
It has a magnetic resistance system that provides 8 levels of tension so that you can vary the intensity of your workouts.
It can monitor your pulse and also display the speed, distance, time, calories, and other information.
It has a smooth belt drive and provides quiet operation.
It is very easy to assemble as clear instructions are given.
It comes with a 1-year warranty and requires very less maintenance.
Cons
It is not appropriate for users taller than 6' and heavier than 220 lbs.
It doesn't have any media holder.
You cannot pedal while standing.
Final Verdict
If you are looking for the best exercise cycle in the lower price range, then you should buy this one. It has some great features that will help to vary your workout sessions. You will feel comfortable using it for a long time. It has a steel frame construction and will last for many years. You will be able to fulfill your fitness goals easily by exercising on this bike.