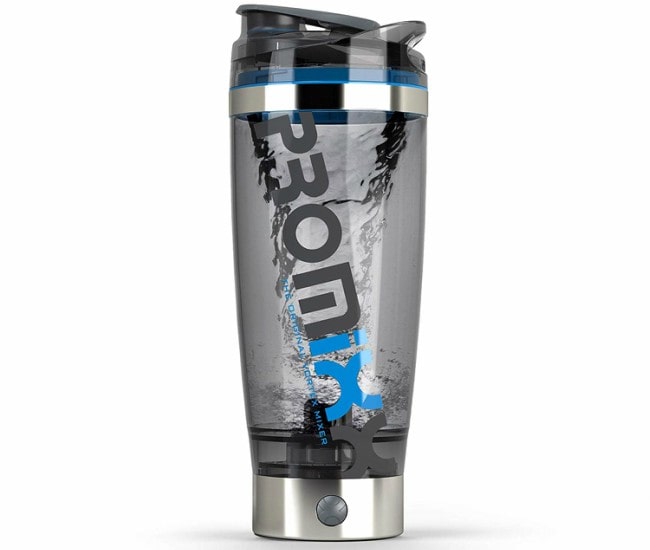 If you are into bodybuilding, then protein shakes must be part of your daily routine. Making protein shake is not a problem anymore as you will find bottle shakers widely available in the market. These bottles look like water bottles and come with a strainer. They can mix the protein powder well when you shake it a few times. However, buying a low-quality bottle shaker means that you will have lumps and it will taste bad. Also, in such a case, you won't get all the benefits of the protein shake. So, it is important to invest in a good bottle shaker. If you are looking for a high-end bottle shaker, then you can buy Promixx iX (2020 Model) Battery Powered Electric Protein Shaker. It has all the modern features to make a smooth protein drink within seconds.
Design
It has an innovative and stylish design and you will feel good to carry the bottle in the gym and elsewhere. The design is finished with a stainless steel trip with Pacific Blue details. It has a scientifically-engineered X-shaped blunt blade that is designed to store the integrity of the nutrients so that it blends perfectly. It is an electric mixer with a USB rechargeable option. The bottle is light and portable, so you can even charge it on the go. It has a clever storage container where you can store your supplements. The container is integrated into the bottle to save space. It can hold 600 ml of drink, so you can get a good protein feed whenever you want. It has a measuring feature that is very helpful as you can drink the right amount of protein shake. As it's an electric mixer, you don't need to shake the bottle anymore; the mixer will do the job itself.
Build Quality
It is made from food-grade BPA-free plastic which makes it non-toxic and environment-free as well. Its high-speed lithium-ion motor creates the 'spinning vortex' motion that is very effective in mixing the ingredients. It is produced using tough and durable SAN copolymer. It has the built-in NUTRiPOD storage for keeping your supplements locked inside while you enjoy your protein shake. The lid is designed in such a way that you can use the bottle easily. There are an enlarged mouthpiece and an attachment loop as well. There is a flip-cap that makes the seals leak-proof. The base is detachable and splash-proof.
It is odor and stain-resistant, so you will have an easy time cleaning it. It is very easy to clean; you won't even need to put it in the dishwasher. Just add warm water and detergent, then switch on the mixer and it will clean itself.
Size
It is found in one size and can hold 600 ml of drink. It is light and portable, so you can carry it around easily. You can put it in your gym bag without taking much space.
Comfort
You don't need to shake the bottle to make the protein shake. It has a powerful motor that mixes the ingredients to create the perfect protein shake. The lid is ergonomically designed which makes it easy to drink from it. You can also store your supplements in the built-in compartment.
Ease of Use
The shaker is very easy to use. Proper instructions are given on how to use the bottle shaker. It comes with a USB cable and is very easy to charge. All you need to do is remove the base and plug in the USB cable. To make a protein shake, you need to activate the vortex first and then add the supplements into the spinning vortex.
Effectiveness
It is a top-rated bottle shaker in terms of looks and performance. It has an up-rated, high-torque, lithium-ion motor that is USB rechargeable. You will get a smooth protein shake without any lumps and so get the most nutritional benefits from it. The NUTRiPOD powder storage unit lets you store your supplements inside while you drink your protein shake. A million of professional athletes and fitness enthusiasts trust this bottle shaker.
 

Pros
It has a sleek and stylish design.

It is BPA free which makes it environmentally friendly.

It is made of food-grade plastic, so it is non-toxic.

It has a long-lasting rechargeable battery, so you can make shakes many times.

It comes with a USB charger cable so that you can recharge it easily.

It uses a powerful motor that produces the spinning vortex to make the shake. So, you won't have to shake the bottle manually.

There is a built-in storage compartment to store your supplements.

You won't find any lumps in the shake, so you will have a smooth drink.

Double seal technology ensures that there is no leakage.

You can clean it easily with warm water and detergent.

You can use it as a water bottle as well.

Great customer service as well.

It is used by professional athletes.
Cons
It is expensive.

You only get a 1-year warranty.
Final Verdict
Though it's not the cheapest bottle shaker available in the market, it is a well-made device that will help you to make great protein shakes. This is a very powerful bottle shaker that makes smooth shakes. It has built-in supplement storage that makes it easy to store the supplements. This bottle will make all the protein powders taste better as there won't be any lumps. You only need to touch a button and no need to shake the bottle anymore. The lids are well-sealed, so there won't be any leaks. 
It has such a beautiful design that you will love showing off the bottle to others in the gym. It is very easy to use; all you need to do is just touch a button and the bottle will do all the work. It is odor and stain resistant, so easy to clean. It is the most advanced electric mixer you will find in the market today and it's worth investing in it.
Buy PROMiXX iX (2020 Model) Battery Powered Electric Protein Shaker