Enthralling beauty, Rachel Nicole is a fitness model and personal trainer. The fitness enthusiast who has superb bikini hugging figure was prudent about workouts from very young age. Apart from sculpting her own body with vigorous workouts, Rachel loves bringing transformation in the lives of others with her incredible guidance. Here are some of the diet and workout secrets of Rachel Nicole which are accountable for her svelte shape.
Company Of Positive People
Rachel states that when she first hit the gym, she came across some really positive people. Their company inspired her and made her fitness experience even more fabulous. It's a well proven fact that when you surround yourself with positive minded people, you imbibe their positivity which further makes you grow and achieve higher goals in life. Rachel contends that we all are equipped with much more strength and energy than we believe. If we realize our real potential and act accordingly, we are likely to see astonishing results. In the gym, Rachel came in the company of David. In his company, not only did she practiced myriad new and challenging workouts, she also tried her at varied levels of fitness. During the same time when her newly grown passion for fitness was at peak, the stunner felt inspired to participate in bikini competitions.
Influence of Role Model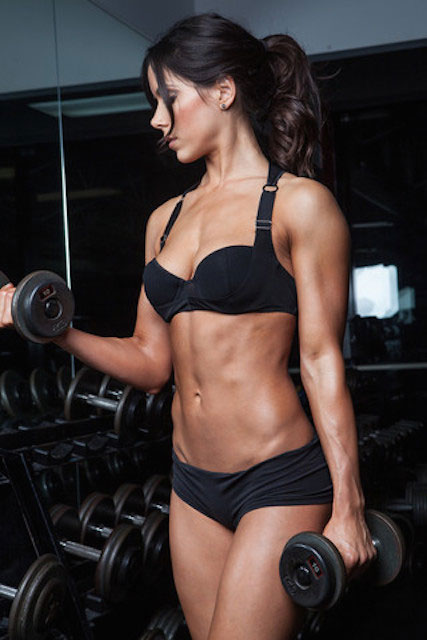 Like most of the fitness models, Rachel too has one role model to inspire her behind the scene. You must be curious to know who she is!!! Well, Rachel is inspired by one of the most famed celebs, Jessica Biel. Credited with one the most athletic and sexy figures, Jessica is popular for maintaining her figure. If you too wish to speed up your fitness or weight loss objective, work on the footprints of your role model as it shall make the weight loss journey smooth as well as delightful for you.
Gym Workouts
The hot babe works out three days in a week in gym. Her exercises are mainly targeted to tone her arms and legs. Her leg workouts, which works on the muscles such as quadriceps, hamstrings, calves, etc. are followed by arm workouts inclined to sculpt biceps and triceps. Reliance on quads (or quadriceps) muscles indeed renders great shape to her thighs. When she is closer to some contest, she focuses her workouts to tone all the major muscle groups. After doing intense weight training, Rachel allows her muscles to relax in the rest period. She relies on cardio workouts such as running, swimming, and hot yoga etc. to impart change to her body. When it comes to her favorite workout, she is simply flattered with the outcomes of poppin' squat, which provide full body workout. And since core workouts are just like spine of workouts, she certainly spends substantial amount of time in building and strengthening her core muscles.
Workouts on Favorite Music
Rachel feels delightful in performing workouts attuned with her beloved music. She has allocated the music on the basis of workouts she is going to do. For instance, if she is up for stair-master workout, she plays the music of Tiesto or David Guetta. And for hefty leg workout, she prefers rap like Lil' Wayne etc.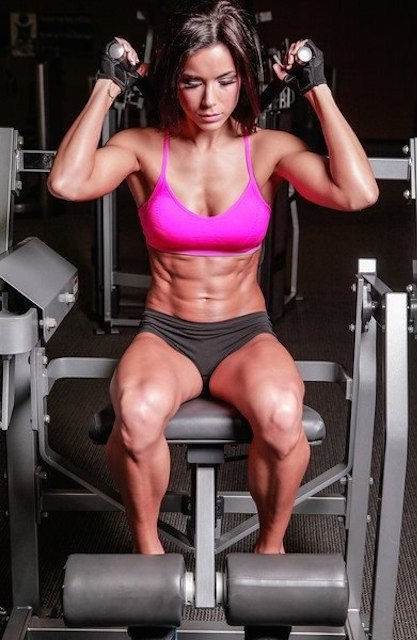 Low Carb Diet
Rachel gives eighty percent credit to diet to attain optimum health. She switches to low carb and clean diet in particular when she has specific goals to achieve. The hottie mostly dwells on low sodium, high protein diet. Salmon, chicken, tuna etc. are her most reliable sources of lean protein which she consumes in great deal. In addition to that, she keeps eating foods after every two or three hours, which surely keeps a check on her blood sugar level. She replaces high carb foods with complex carbs such as green veggies, sweet potatoes, etc. And she doesn't forget coupling her grueling workout day with protein shake and other opulent sources of protein.
Relevance of Cheat Days
The bombshell refers to cheat days as very critical. She cherishes her beloved foods such as cheeseburger with cold beer, fries, etc. on cheat days. Though she eats her favorite foods on cheat days, but she avoids indulging herself in unwholesome foods on non-cheat days as they pack up unsolicited calories in the body. Instead of submitting herself to her cravings, she endeavors putting them in control by munching sugar free gum or healthy nuts such as almonds, walnuts etc.