While watching a movie, have you ever imagined yourself in place of lead characters? Have you ever noticed celebrity's well shaped body? Do you feel ashamed of your shabby figure publicly? Have you ever wished to drastically change the way you look? Moreover, have you ever put single effort to achieve fitness? There are countless questions, which pop up into mind regarding fitness.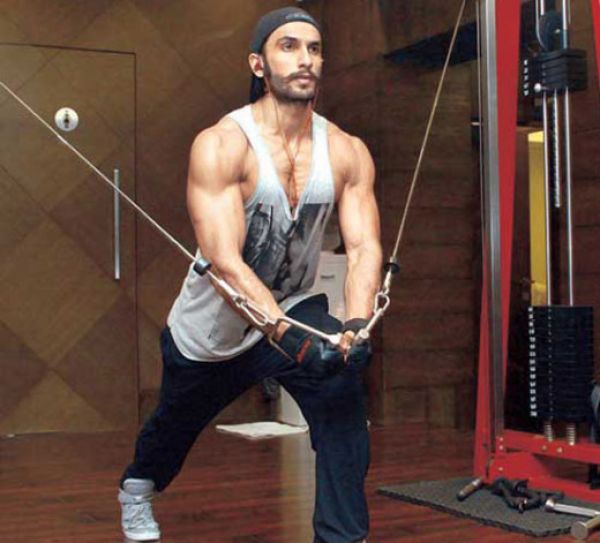 Compromising with calories intake is not sufficient to ensure muscle preservation and losing fat. It is only half of the total effort. In fact, fitness demands workout and continuous hard practice and sweltering. Not even the high net worth celebrities were born with those wizards of magical world, who would shape their body as they desired with their wands. Achieving the fitness and toned body like top celebrities has never been that easy. It is like a long bumpy road that is difficult to wander.
Ranveer Singh, the new sensation of B-town, has walked those extra miles for his upcoming movie Ramleela. Although Ranveer is known as the bad boy of Bollywood, girls are dying for this bad boy who has now turned into a killer boy. This is all due to his steel avatar that he has achieved by burning the midnight oil.  A big bevy of beauties wants to feel Ranveer's ripped muscular body, his biceps and six pack abs.
Men's health – India's largest selling men's magazine has introduced Ranveer as a steel man. In the magazine's December issue, you can enjoy a glimpse of his hot body at the cover page itself. The magazine has shown his whole journey from a beach boy body of Band-Baja-Barat to a muscular six abs man of Ramleela. After the blue-eyes Bollywood sensation, Hrithik Roshan, the magazine has now broken the story of this young and most recent B-town sensation.
Do you think that was easy for this Maverick Bollywood star? Transforming a beach body into a toned hottie? To achieve a body like this, Ranveer made numerous changes to his diet and lifestyle. Undoubtedly, anyone can achieve the same level of fitness as Ranveer has achieved. All you need is determination, hard-work and thick skinned. Want to know the whole story of Ranveer's body transformation? Let's read further.
Ranveer Singh Workout Routine
It is extremely difficult to acquire a six-pack. You need to put together weeks beforehand as well as two or three days, before the shoot, you've to considerably command the intake of meals and water. Ranveer had to undergo 3 months of functional training, which generally involves lots of free-hand exercises to strengthen the core.
The actual duration connected with his training was around 45 minutes which included a 10-minute warm-up process as well as a 20-minute workout using a break in between. The important thing lies in doing everything at a rapid speed, High Intensity Training (HIT). The actual pattern bundled dips, thrusters, pushups, pull-ups as well as burpees. You should supply all your body strength in those 20 minutes. The training had been so physically demanding that he perhaps puked sometimes as well as following the regimen, he had to be able to sit upon his back for 5-10 minutes to be able to recoup from fatigue and pain.

Ranveer Singh Diet Plan
Every role demands different requirements regarding the character's physique and appearance. The dieting plan plays an important role to cultivate that role. Hence, it can never ever be predetermined, although Ranveer had grilled eggs which had a minor salt and pepper.
Count of eggs depends on the demand of the role and body. Together with eggs, he had fresh fruits and some dry fruits too, specifically almonds. As per his meat consumption concerns, he opted either turkey or even poultry pieces. When he has to eat a lot more calories, he bakes a toast, a lot more walnuts, fresh fruits and also vegetable juice and many poultry pieces. Ranveer used to had fresh fruits which has a lower Glycemic Listing (GI), thus no watermelon and bananas. So, he ate apples, pears and also oranges. He tried hard to avoid carbohydrates and sugar. Singh completely avoided eating grain, roti, loaf of bread, noodles and even pasta. Ranveer's lunch and dinner included approximately 90 gm of lean meat, a bowl of vegetables and sprouts.
Lastly, I would like to wish good luck to Ranveer for his upcoming movies. Further, I would also suggest the readers that anyone can achieve that same fitness as Ranveer achieved. All you need is just passion, hard work and determination.
Please spread the words, if you enjoyed reading them.