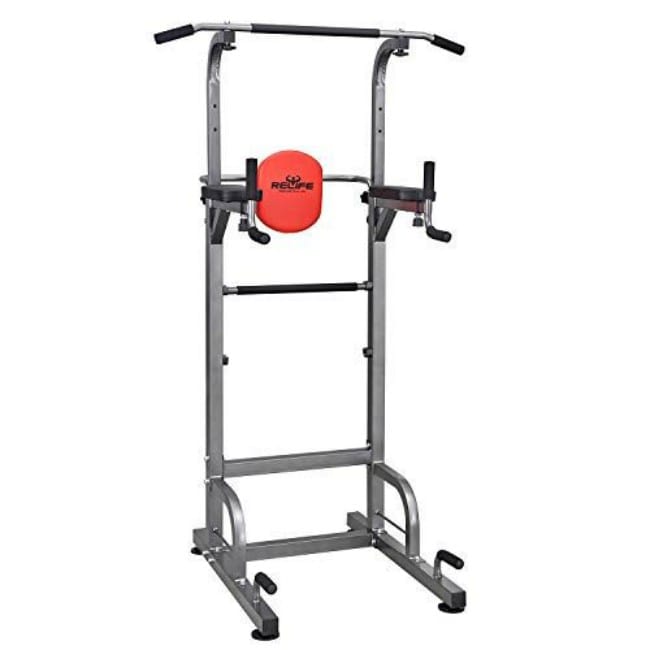 If you are a regular gym-goer, then you must be familiar with a power tower. It is one of the most versatile equipment on the gym floor and you will always find this equipment occupied in the gym. You will get great results by using a power tower. It is one-in-all fitness equipment that comprises several stations allowing you to perform different exercises such as pull-ups, dips, push-ups, chin-ups, and more. They target different muscle groups, especially in the upper body region.
This machine uses your body weight to work your abdominal muscles, upper torso, and other parts. Usually, there are 2 grips and armrests. This equipment is safe to use as it has a stable base. It can withstand a lot of weight, so heavier people can also use it comfortably. It might not be always possible to go to the gym, so you can buy a power tower for your home. Before buying, you need to do some research to find out about different power towers as the options are unlimited. You should first gain some knowledge about the various features of a power tower and learn why they are helpful. That way you will know which power tower will be suitable for you. Here, we are going to analyze the Relife Rebuild Your Life Power Tower and find out why it is a good one.
Design
It is a sturdy power tower having a wonderful design. You can easily include it in your home gym for doing resistance training and other exercises. It has an ergonomic design that can give you the comfort you need during workouts. The backrest is thicker than the other power towers in the market. The forearm cushions also feel comfortable. The handles are anti-slip and so you will feel safe holding them. There is an extra bar at the bottom that can be adjusted and used for leg presses and other exercises. It is easy to assemble as clear instructions are provided and a necessary toolbox is included. You will be able to dismantle it easily as well in case you move house. It has been designed to be appropriate for kids, adults and the elderly. You can adjust the height of the power tower easily and so even tall users can use it. The back cushions can also be adjusted from 7 inches to 9.6 inches. Its tall and thin structure makes it convenient to store in any corner of the house.
Build Quality
It is made of tough steel frame and can withstand weight up to 330 pounds. This solid frame gives solid support. It has no-slip end caps that make it more stable and safer. It is multi-functional and comprises of a multi-grip pull-up station, knee raise station, push-up station, and dip station. There is a locknut to tighten the screws that can prevent the power tower from falling during an intensive workout. This power tower is extremely durable. You will get a one-year warranty on the mainframe and lifetime warranty for the other parts.
Size
This power tower measures 59 inches by 35.4 inches by 29.8 inches. It has a vertical design and so won't take up much space. It weighs 50.71 pounds only which will let you carry it around easily if you want to. You can adjust the height of the power tower between 58 and 88.6 inches; there are 9 holes for adjusting the height, thus giving you a great customization option. Both tall and short people, even children, will be able to use this power tower.
Comfort
It has anti-skid curved handles which will make it comfortable to exercise. The backrest is padded and you will be able to adjust it between 7 and 9.6 inches. The power tower is stable, so there is a minimum risk of any injuries.
Ease of Use
It is very easy to assemble this power tower. You will be able to use different stations comfortably. As the power tower is stable, you will have a safe workout experience.
Effectiveness
This power gym can be a wonderful addition to your home gym. You will be able to do exercises to target your whole body including the back, chest, arms, shoulders, and legs. The dip station will let you do pull-ups, chin-ups, push-ups, dips, and vertical knee raises. By doing push-ups, you will be able to work your biceps, triceps, hips, thighs, and back. You can do dips to improve your abdominal muscles, thighs, and arms. These exercises will cut down fat and improve your endurance. Pull-ups are great for the waist, back, bicep, and tricep muscles. It will also improve your heart and lung health.
If you use this power tower daily, you will be able to condition your upper body and the core muscles. As a result, your muscle tone and overall strength will increase. You will be using your body weight to exercise and get into shape. You will be able to lose weight fast by increasing your metabolism and build muscles as well. You will be able to tone your midsection and get an attractive body. If you have a strong core, it will improve your stability and balance, and reduce the risk of injury. This power tower is ideal for those who have suffered an injury because they can work out select muscle groups as part of their therapy.
Pros
It has a steel construction that makes it sturdy and durable.
It has a vertical design that allows easy storage.
You will be able to adjust the height from 59 to 88.6 inches, which makes it suitable for anybody to use the power tower.
There are no-slip end caps that make the power tower stable and safe.
It has different stations like the pull-up station, dip station, push-up station, and knee raise station.
It is easy to install as you will be given clear instructions.
The back cushion and armrests can be adjusted.
Cons
Some users feel that the arms pad is short.
It takes time to assemble it.
Final Verdict
The Relife Rebuild Your Life Power Tower is a stable and well-built equipment that can help you to get into shape quickly. You will be able to perform different types of exercises to work out various muscle groups. You can lose weight and get into shape by exercising with this power tower regularly. You will notice a significant improvement in your heart and lung function. The equipment is comfortable and safe to use. You will be able to gain confidence and start an energetic lifestyle with the help of this amazing power tower.