Rihanna's body has always inspired envy in other celebs and common people. You might think that being a top rated singer and performer while maintaining a perfect body is easy but it's not the case. The stunner works very hard to look great and often seeks the advice from the experts. Here is the advice from two women who play an equally important role in helping Rihanna look and feel great. Have a look at their tips and learn something from it.
Diet Secrets
The meals of the songwriter are prepared by Debbie Solomon. She states that Rihanna eats every protein a person can think of. Her meals also consist of vegetables, rice, and pasta. The songstress also carries a case of spices with her which includes curry, Maggi cubes, cumin seeds, adobo, old bay seasoning, five-spice and onion & garlic granules.
The Job
Solomon got the job with the celebrity when she was working as a chef de partie at the Sunset Marquis Hotel. She received a phone call and was asked to send some food at Sony Studios. She prepared curried chicken with rice, peas, and plantains. Next day, she was asked to make lamb shank and then pasta carbonara. She only got to know who had hired her when she got the job.
A Helping Hand
As the Jamaican-born chef was the first personal chef of the Barbadian singer, she had no one to get some advice regarding the Guyanese and Barbadian food that the singing sensation loved and grew up eating. Thankfully, Rihanna's mom helped her a lot.
Approach to Food
Solomon's diet tip is that one should eat everything, even the delicious foods but in moderation. She wants people to not feel shame in eating the food they like.
Workout Secrets
Now that we have learned what the actress loves to eat and stay fit, let's find about some workout secrets that help her stay in shape. These secrets are shared by Rihanna's trainer Ary Nunez and are very doable on a day to day basis. Don't believe us? Have a look yourself.
Drink More Water Than You Need
You should always drink more water than you need. Drinking extra water will make you feel better from the inside and the outside.
Train 5 Days a Week
You must train for 5 days a week and combine strength, flexibility and cardio exercises. If you can't workout for 5 days a week immediately, start with two or three days and work your way up.
Workout Motivation
To keep you motivated for exercise sessions, you should create a music playlist of all your favorite singers. This will make the workouts more enjoyable.
Get Good Workout Wear
If you look great and stay comfortable while working out, it will also motivate you to hit the gym often. So you must invest in a good workout gear. (Maybe you can try Rihanna's Puma Fenty Creepers).
More Diet Advice
Apart from hitting the gym regularly and choosing the right exercises, you must maintain a balanced diet filled with vegetables, fruits, healthy fats and lean protein. One of the healthy favorites of Ary is Siete tortillas with hummus, avocado, and some greens.
RiRi's Workout Routine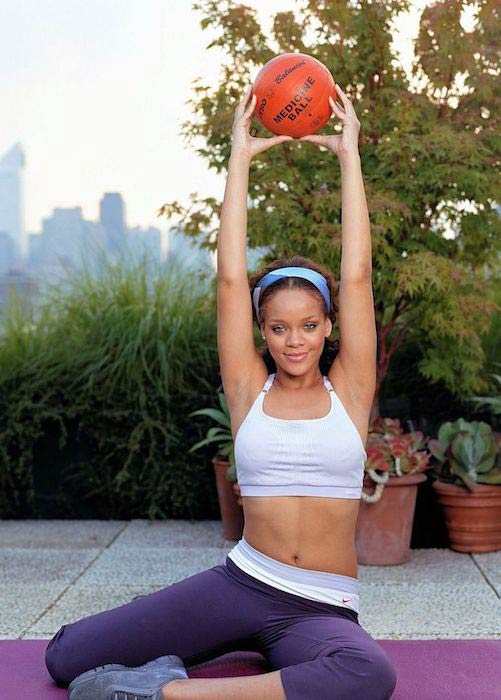 The popular trainer also spilled beans on three quick moves that help the Bajan beauty to have a flat core. You should start by doing
32 reps of full range sit-ups in which your hands are in prayer towards the sky.
Then, you should do 1 rep of sit-ups while your hands are in prayer at chest level.
Lastly, you should hold sitting-straddle isometric hold for 32 seconds and repeat it for at least 3 times.
Try these exercises regularly and see the difference it makes.