Rohit Sharma is an Indian cricketer, who is shinning a lot these days. Despite being labeled as a "Fat Cricketer" with fitness issues, Rohit never gave up his hope. He worked rigorously to retain his fitness and has achieved a position where he is a core part of the Indian Cricket Team for the World Cup 2015. His amazing performance in the last few series have made him a vital part of Team India and his fan following has also increased a lot in past few months.
If you are a health and fitness freak, who also face some problems in shedding off excess fat and is inspired by the fitness levels achieved by Rohit Sharma, then you should not hesitate to pick up some health-related tips offered by this amazing cricketer. After all, if he can regain his fitness levels back in a few months time, then why can't you?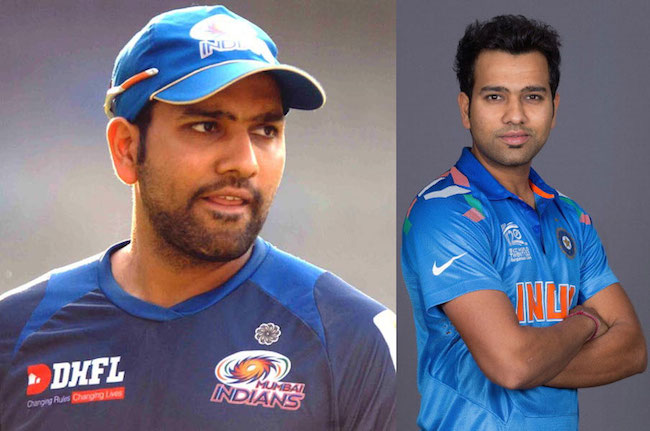 Protein in the Morning
The first tip that has been offered by this amazing Indian opener is to start your day with protein. You can choose to consume oats and milk in the beginning. If you don't have much liking for oats, then try consuming it in small quantities at first. And when you start liking it somewhat (or its taste becomes bearable) then you may want to eat it in large quantities.
You should also try to consume a protein drink in the morning as it would help you to develop your muscles in the easiest manner. Try some nicely flavored protein shakes in the beginning as they would help you to develop a fondness for them too.
No Late Night Food
A major problem faced by this famous cricketer, who has an excellent footwork was the lack of self-control. He used to eat a lot during the late night hours and thus never seemed to shed off a single ounce of weight. He recognized this issue and restricted his last meal to be around 8 pm only.
You would also be smart if you stay away from midnight snacking. We know it would seem impossible at first but when you start eating a healthy diet during the day, your craving for eating a midnight snack would certainly reduce.
If you are facing problems in letting go off the habit of midnight snacking then you can try out a simple routine. Start getting up early in the morning and have a healthy breakfast. This early morning rising habit would ensure that you feel too sleepy to eat anything at night. Remember the old saying "Early to bed, early to rise, makes a person healthy, wealthy and wise."
Low Carbohydrates
Rohit has been following a low carb diet since a long period of time. It is a fail-safe method that works for every individual. Most people perceive it as a weight loss method only but they don't realize that it has many health benefits too.
Some of the key health benefits of a low carb diet are:
A low carb diet helps you to keep away the bad cholesterol and increases the amount of good cholesterol in your body.
This amazing diet also makes you feel fuller so you don't crave food as you used to in the past.
This diet helps to improve your metabolism and hence assists you to remove the wastes from your body at a faster pace.
This diet helps people with blood pressure and diabetic issues.
Rohit Sharma Workout
As far as the workout routine of Sharma is concerned, he likes to spend a lot of time in the gym with his personal trainer. His trainer regularly monitors his progress and keeps his weight in check. After all, he has to show some excellent footwork and strokes in the field, so every muscle of his body should be under control. In our opinion, Rohit focuses more on core exercises such as crunches, leg raises and of course push-ups and pull-ups as they help anyone to lose excess weight and improve his or her muscle tone.
So it can be seen that the health and fitness strategies adopted by this popular right-handed batsman are quite easy and effective. If he can put in some effort and get desired results from his body, then why can't you? Just have confidence in your ability to change yourself and be determined to achieve your goal, no matter how tough it seems or how much effort you need to put in. Just remember if you give up, you lose and no one likes to be a loser; right?