Ryan Rodney Reynolds is a Canadian born Hollywood Hunk, who is well-known for his fitness and strongly built body. He never misses his workout sessions and is very serious about them. If he is told to lose 20 pounds of bodyweight in a certain period of time, he sticks to the required workout schedule. His commitment to fitness and work is what makes us love him.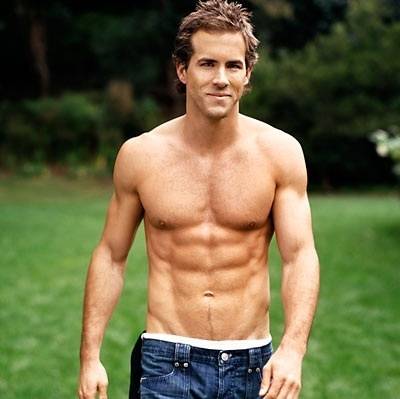 [toc]
Ryan Renolds Workout for Green Lantern
Bobby Strom, Reynolds' personal trainer is the man behind his muscular body. Bobby has been motivating and training intelligently Reynolds for 8 years to gain a perfect body. Los Angeles based trainer, Bobby told that he makes that workout schedule for Reynolds which can make him look best and give his best in the movies.
"For every movie, there is a different schedule of exercises", said Bobby. For 2011 movie Green Lantern, he created a superhero kind of workout routine for Reynolds, which targeted almost every muscle group, from strength training to yoga to Pilates to kickboxing to core exercises. He was made to work 7 days a week, 90 minutes a day, for 6 months. You can see the dedication of Reynolds towards his role in Green Lantern.
There is not a single example, but others as well, where he proved his top-level fitness. In 2008, he ran a Marathon race in New York City to raise the funds for fighting Parkinson's Disease. He gave the challenge to himself and finished the race in less than 4 hours and raised around $80,000 in funds.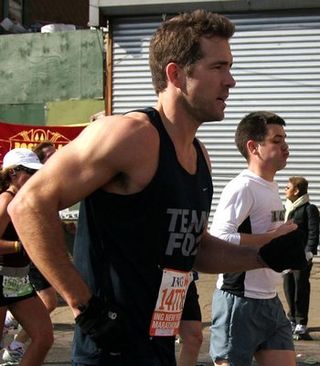 Ryan Reynolds Sample Workout Routine for Green Lantern
He starts his workout with running, on the treadmill for warming up his body, for 10-15 minutes.
Abdominal Workout – After warm up, the body becomes more flexible and you can perform the exercises better. Do 20 minutes of ab workout.
Decline Bench Sit ups – 15 to 20 reps
Hanging Leg Lifts – 15 to 20 reps
Wood chops on cable – 15 to 20 reps
Do the above set of exercises 4 times.
Walking Lunges – Walking Lunges focus on your lower body, especially the glutes, hamstrings and quad muscles of the legs. Do these exercises with / without weights, whichever suits you. Do 3 to 4 sets of 50 reps each. For demonstration, see the video below.
Flat Bench – 3 sets of 15 to 20 reps each
Incline Bench – 3 sets of 15 to 20 reps each
The above 2 exercises target the upper chest muscles, shoulders and triceps. It provides great overall strength. For a demonstration, see this video below.
Other than the above-listed sample exercises, the trainer Bobby Strom makes Reynolds go through a series of other exercises as well like BOSU ball, TRX (suspension training), Yoga, Kickboxing, Plyometrics, Pilates. These exercises make him more strengthful and keep him away from boredom.
Ryan Reynolds Diet Plan
Ryan Reynolds eats regularly, after every 3 hours to burn more fat. His trainer says,
"Your body does not need to store the fat if you feed it all the time."
He ate carbohydrates after his workout sessions only. Also, he cooks his food himself as he does not have a personal chef. So, he makes a meal in advance and freezes it.
Morning
2 Egg Whites
Slice of Avocado (source of Fat)
Cup of Oatmeal
Mid Morning Snack
Lunch
Chicken / Albacore Tuna Wrap
Salad
Mid Afternoon Snack
Evening Snack
Protein Bar
Fruits like apple
Almonds
Dinner
Salad
Fish
Brown Rice
Vegetables
So, you must have got a glimpse of the passion that this Van Wilder and Blade Trinity star possess for his fitness.
Ryan Reynolds 2017 Workout and Diet Secrets
Ryan Reynolds is not only an awesome actor, but he is also an amazing person. He works towards fitness constantly and prepares for each of his film roles with equal dedication. Here, we get to find out not only his recent workout and diet secrets, but we also get to know about how easily he accepts his flaws and why he won't be doing many of his movie stunts on his own.
Planning the Workouts
If you want to look and feel great, you should try to plan your workouts like the Deadpool (2016) actor. He accesses online programs of his trainer Don Saladino whenever he has some time to spare.
He prefers online programs rather than meeting his trainer during early mornings. His advice to fans is also similar; you should plan your workouts like you plan your travels.
Sticking to the same trainer, if he is great, is another advice you can get as he has been sticking with Don for last 8 years and the results are quite excellent.
Accept Your Flaws
The talented actor also wants you to learn to accept your flaws. He recently admitted that he is not very good at cooking and knows it well. He even joked that if he takes up cooking, there would probably be a structure fire.
Diet Secrets
The Canadian actor likes to ensure that his meals consist of clean and whole foods. He also takes these meals at 3 to 4-hour intervals when he is bulking up for a role (which he is probably doing for Deadpool 2- 2018).
Appreciating Others
The Two Guys and a Girl and a Pizza Place (1998-2001) actor appreciate the dedication shown by Hugh Jackman to his craft. He admits that he can't have a meal at 2 in the morning like the other actors. If he is awake at 2 in the morning, chances are something is wrong in his life.
Workout Secrets
Saladino thinks that the husband of Blake Lively is in the best shape of his life at the moment and the results of fitness attempts have improved over time. Now, he doesn't leave the gym wiped out, years ago, he would have.
One of the workouts they do is reverse crunches as they boost his lower abdominal strength and don't pose a risk of injury to his spine. Don also stays cautious and doesn't overwork the abs. He believes that as many people judge the other person's fitness by the abs, people often overtrain them. He doesn't make the same mistake while training the stars.
The two best abdominal exercises in his opinion are deadlifts and squats as these exercises engage the whole body.
You can have a glimpse of Deadpool 2 Ab Workout below:
Day 1
4 sets & 8 reps of Hanging Leg Raise, 4 sets & 12 reps of Cable Crunch, 4 sets & 10 reps of Landmine and 4 sets & 25 meters Up/Down Carry
Day 2
4 sets & 12 reps of Reverse Crunch (with lift), 4 sets & 12 reps of Ab Roller, 4 sets of 40-meter Heavy Loaded Carry and 4 sets of Short Side Plank lasting 60 seconds each.
To know more such workouts, visit this link.
Not Doing His Stunts
Though Reynolds is training hard for Deadpool 2, many fans might feel disappointed by knowing that he won't be doing his stunts. He has revealed that he has been reducing the practice of doing his stunts since 2013 when he was injured on the set of Safe House.
Since then, he has relied on four stuntmen. While doing stunts in the past, he has also broken a few vertebrae in the neck. It was quite serious, and the doctor even suggested that he takes the help of stuntmen.
Ryan Reynolds Deadpool 2 Workout
Ryan's trainer Don Saladino spilled beans on how Ryan trained for the successful movie Deadpool 2 (2018). He said that they paid a lot of attention to his movements and functionality.
Saladino also stated that Reynolds is in the best shape of his life because he is getting better results and doesn't leave the gym after getting too exhausted, which he did earlier. He also said that any person could get a superhero body anywhere, even without a gym.
You need to challenge your body while knowing your limits (when you need to stop pushing yourself so as not to injure yourself).
How to Do Ryan Reynolds' 'Deadpool 2' Workout?
If you want to have a body like Ryan Reynolds in Deadpool 2, then you should complete three rounds of circuit 1 and 5 rounds of circuit 2 while closing the session with a 5-round finisher.
Circuit 1
It includes doing 3 rounds of the following exercises:
10 reps of Medicine Ball Slams
50 yards of Farmer's Carry
Circuit 2
It includes doing 5 rounds of the following exercises:
10 reps of Sandbag Lunges
10 reps of Floor Barbell Press
You need to finish the workout by doing 5 rounds of Assault AirBike for 30 seconds and then resting for 30 seconds, each.