Ryan Rodney Reynolds is a Canadian born Hollywood Hunk, who is well-known for his fitness and strongly built body. He never misses his workout sessions and is very serious about them. If he is told to lose 20 pounds of his weight in a certain period of time, he sticks to the required  workout schedule. His commitment to fitness and work is what makes us love him.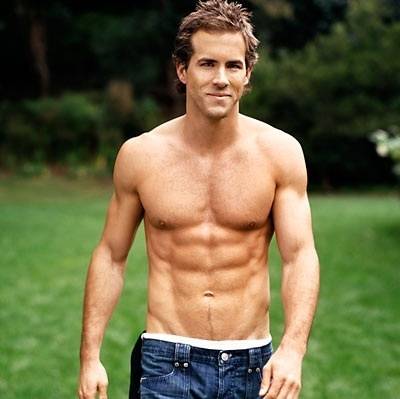 Bobby Strom, Reynolds' personal trainer is the man behind his muscular body. Bobby has been motivating and training intelligently Reynolds for 8 years to gain a perfect body. Los Angeles based trainer, Bobby told that he makes that workout schedule for Reynolds which can make him to look best and give his best in the movies. "For every movie, there is a different schedule of exercises", said Bobby. For 2011 movie Green Lantern, he created a superhero kind of workout routine for Reynolds, which targeted almost every muscle group from strength training to yoga to Pilates to kickboxing to core exercises. He was made to work 7 days a week, 90 minutes a day, for 6 months. You can see the dedication of Reynolds towards his role in Green Lantern.
There is not a single example, but others as well, where he proved his top-level fitness. In 2008, he ran a Marathon race in New York City to raise the funds for fighting Parkinson's Disease. He took a challenge to himself and finished the race in less than 4 hours and raised around $80,000 in funds.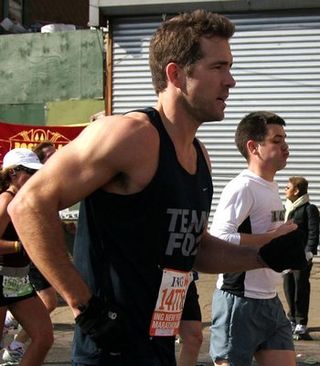 Ryan Reynolds Sample Workout Routine for Green Lantern
He starts his workout with running on the treadmill for warming up his body for 10-15 minutes.
Abdominal Workout – After warm up, the body becomes more flexible and you can perform the exercises better. Do a 20 minutes of ab workout.
Decline Bench Sit ups – 15 to 20 reps
Hanging Leg Lifts – 15 to 20 reps
Wood chops on cable – 15 to 20 reps
Do the above set of exercises 4 times.
Walking Lunges – Walking Lunges focus on your lower body, especially the glutes, hamstrings and quad muscles of the legs. Do these exercises with / without weights, which ever suits you. Do 3 to 4 sets of 50 reps each. For demonstration, see the video
Flat Bench – 3 sets of 15 to 20 reps each
Incline Bench – 3 sets of 15 to 20 reps each.
The above 2 exercises targets the upper chest muscles, shoulders and triceps. It will provide great overall strength. For a demonstration, see this video
Other than the above listed sample exercises, the trainer Bobby Strom makes Reynolds to go through a series of other exercises as well like BOSU, TRX (suspension training), Yoga, Kickboxing, Plyometrics, Pilates. These exercises lead him to become more strengthful and kept him away from boredom.
Ryan Reynolds Diet Plan
Ryan Reynolds eat regularly, after every 3 hours to burn more fat. His trainer says,"Your body does not need to store the fat, if you feed it all the time". He ate carbohydrates after his workout sessions only. Also, he cooks his food himself as he does not have a personal chef or cook. So, he makes a meal in advance and freezes it.
Morning
2 Egg Whites
Slice of Avocado (source of Fat)
Cup of Oatmeal
Mid Morning Snack
Lunch
Chicken / Albacore Tuna Wrap
Salad
Mid Afternoon Snack
Evening Snack
Protein Bar
Fruits like apple
Almonds
Dinner
Salad
Fish
Brown Rice
Vegetables
So, you must got the glimpse of the passion that this Van Wilder and Blade Trinity star possess for his fitness.