Salma Hayek has the most enviable bodies in the Hollywood. She has the exact ideal measurements of 36-24-36 inches, what most men desires of. She now lives in France with her french businessman husband Francois-Henri Pinault. She recently revealed her diet plan secrets.
Salma Hayek Diet Plan
She is a type of lady who has kept an "alarm number". Whenever her weight reaches the threshold (she has not told that upper limit), she starts keeping a close eye on her weight. For this, she daily checks her weight. She has to do this because she often overindulges on the food. This Mexican woman has not adopted the French cuisine. In her own words –
"Everybody has a weakness (and) mine is food. If you love food and you love red wine and they put you in France, you're in a good place and you're in a bad place at the same time. You have to weigh yourself every day, and you have to have an alarm number. When you get to that number, you have to start putting it in reverse."
She cannot do dieting. Whenever Salma feels stressed, she switches to food so that she can relax and is not good at dieting. Additionally, she admits that love also helps her to stay in shape. She said –
"I think if I was not in love, I would probably let myself go faster. Love gives me the vanity to continue. I'm not necessarily vain, but when I gained 50 something pounds in the pregnancy, it did something to me. Since then, at least I make an effort."
She revealed her food recipe. What she really likes is the apples and carrots as they are a rich source of antioxidants (which are required by the body to function normally) and Vitamin A (powerful natural antioxidant, protects from lung and oral cavity cancers and also good for eyes). She likes and drinks a juice every day, which has the following ingredients –
Carrots – 2 or 3 (Greens / Leaves removed)
Benefit – Carrots are very good for health as it
improves the vision,
prevents cancer,
anti-aging agent (due to a beta-carotene antioxidant),
glowing and beautiful skin (from inside and outside),
keeps the teeth and gums healthy (functions somewhat like a toothpaste and toothbrush),
prevents heart disease,
cleanse the body (Due to Vitamin A, which it contains it helps the liver in removing the toxins from the body),
powerful antiseptic agent because it prevents infection when applied on cuts, boiled, etc.
Benefit – Apple
lowers the cholesterol,
contains Vitamin C, B-Complex,
decrease the risk of diabetes,
may also keep us lean,
keeps us away from asthma and good for the brain.
For more other benefits, you can visit here.
Benefit – Beetroot's juice is classified as "Super Food" nowadays. Raw beetroot has many benefits like
good for the liver,
can keep away from a stroke and heart attacks,
rich source of nutrients like Vitamin C, iron,
can keep you in a good mood the whole day,
improves the immune system.
Benefit – Lemon has tremendous hidden advantages such as it
abolishes the acne (due to citric acid),
works against the infections like flu, cold due to vitamin C, flavonoids,
removes anxiety, dizziness, tension, nervousness, exhaustion,
contains 22 anti-cancer compounds,
strengthens the blood vessels (due to vitamin P or also called bioflavonoids),
good for treating high blood pressure,
good for fevers. How? Put 1 lemon's juice in hot water with honey. Then, drink at once. This surely can be treated as a remedy for curing chills and fever, if taken every 2 hours.
Salma Hayek mixes all these highly healthy ingredients and makes a juice of these. This is her favorite drink or you can say nectar (or Amrit in Hindi). She started drinking this juice 15 years ago. After having this juice, she feels better and is motivated to eat healthier. She is so much into this juice cleanse that she founded a company called Cooler Cleanse in 2010. Cooler Cleanse is a three or five-day detox diet consisting of pressed raw juices.
Salma Hayek Workout Routine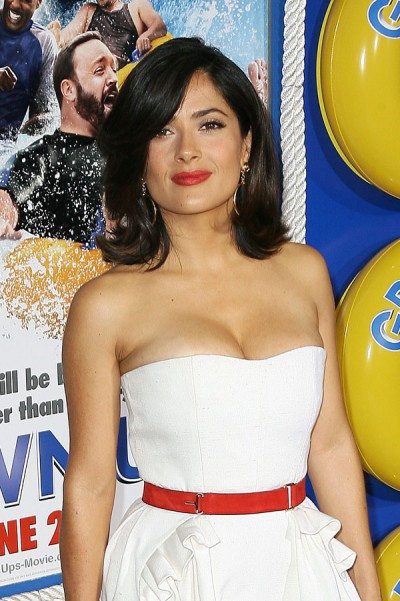 Salma Hayek has worked with personal trainer Sara Shears, who is the owner of Ugifit.com. She has trained Hayek in the past and says –
"Salma is super smart and has so much drive! She always puts all her effort into her workouts and that's the reason she gets results. I can't say enough good things about her."
They do workout together, whether in a hotel room, or at home, or in a filming location, she never misses her exercises. She does short intense workouts for 5 to 7 days a week for 30 minutes a day.
Her workout includes different types of exercise like kickboxing, strength training, pilates, ball work. Her trainer Shears said that they do interval training which can bring the heart rate up. She further says that she tries to choose those exercises which are diversified, challenging and consistent so that Salma's overall body can be developed and also give better results.
As an example, Sara shared a sample body workout which she does with Hayek. For these exercises, try to do as much as you can in 1 minute.
Burpees (also called Squat Thrust)
Burpees is a full body exercise used in strength training. It works the entire body and increases the heart rate up. To do this –
Begin in a standing position.
Drop into a squat position with your hands on the ground.
Extend your feet back in one quick motion to assume the front plank position.
Return to the squat position in one quick motion.
Return to standing position.
The basic technique of push ups is to lie on the floor by facing down. Place both the hands beneath your chest. Press up until you are balanced on your feet and shoulders. Now, gradually, lower your body to the floor by bending your arms. Then, raise your body again. Do like this for 1 minute.
You can make alterations in this push-up by using the push-up bar, stability ball, rings, balance boards. You can also do this exercise on one hand. There are other forms of push-ups called diamond push-ups, fist push-ups and wide push-ups.
Plank – Hold for 1 minute.
Jump Squats
Jump squat or explosive squats are for targeting your thighs muscles. These exercises will make your knees strong. Do warm up before starting squats like jogging, treadmill for 15 minutes, rope skipping. Don't overdo these cardiovascular exercises.
Stand with your feet, which are shoulder-width apart, and keep arms at sides. Now, do normal regular squats. Additionally, when you jump (while jumping use your whole foot and not just the toes), try to jump as high as you can. And, when you land, lower your body back into the squat position to avoid strain on your back. Do as much as you can in 1 minute.
Sit ups is an abdominal strength training exercise to make butt and abdominal muscle strong. To do this, lie on on your back on the floor with your hands either on the back of your head or across the chest. The legs are bent so as to lower the load on the spine. Now, raise your body vertebrae (in this position only) such as only your butt should be touching the ground. Gradually, lower the body as such. Do such motions for 1 minute.
Salma, now a mom has a 5-year-old daughter, Valentina who is also doing good regarding workouts. She does gymnastics. Actually, that cute kid was excited and motivated by the Olympics at that time. Now, she performs them the day, whenever she feels like.