Popular for his role in the movie,"Captain America: The First Avenger", handsome Romanian star, Sebastian Stan very swiftly earned name and fame in Hollywood through his magnificent role and ripped body.
Having missed the running contest from Chris Evans, which was organized to select the actor for title role in the movie, Captain America, Stan got supporting role in the movie and played it really well while putting his heart and soul into the role.
Stan often recollects the past memories of the movie and feels delighted, because it turned out to be a blessing in disguise since Chris was to gain 20 pounds to prepare him for his role in the movie. And Stan personally doesn't appreciate the idea of a bulky body. He is more than happy with his lean yet strong and flexible frame of body.
Sebastian Stan Workout Routine
Often seen flaunting his body in shirtless shoots, Stan was never this contended with his body. He shares; his job inspires him to be in perfect shape and keeps him exhilarated. His toned arms and stomach-abs with sculpted shoulders depicts the story of his grueling workouts. Being extremely pleased with his body structure, Stan never misses his workouts. He practices aero-boxing, which is a completely new way of workouts.
Sebastian Stan and Aero-Boxing
The concept of aero-boxing has been designed by Michael Olajide Jr., the former middle weight boxing champion. The workout specifically is valuable for people not having much space available for workouts. Michael Olajide is a renowned celebrity trainer. He has his own special gym for aero-boxing and he trains Victoria's Secret model(s) also.
The big fan of aero-boxing, Stan being strongly committed to his workouts feels more confident and full of life after workouts. He believes that getting completely drench in sweat after workouts is in no way easy for it requires one to have strong will power and perseverance.
Aero-boxing, which is a perfect blend of rope jumping, boxing moves, and resistance training, is a complete package of workouts. Immensely influenced with the results of aero-boxing, he feels that aero-workouts not only sculpt your body but they also drill your mind.
While hitting gym three to four times in a week, Stan practices aero-boxing daily for one hour. He asserts, until you are completely focused towards your goals, you cannot proceed with workouts, for workouts require your strong commitment.
How Aero-boxing Provides Complete Body Workout?
Rope jumping, which is an extensive cardio-workout exhausts the body completely and sculpts your arms, shoulders, legs, and chest. Shadow boxing doesn't require any opponent to fight. While imagining youself as a boxer in mind, you practice boxing in the air. Shadow boxing has its impact both on your body as well as brain.
Resistance training, which is a fusion of various workouts such as squats, push-ups, and standing ab tones the muscles of your body. It really is an awesome workout.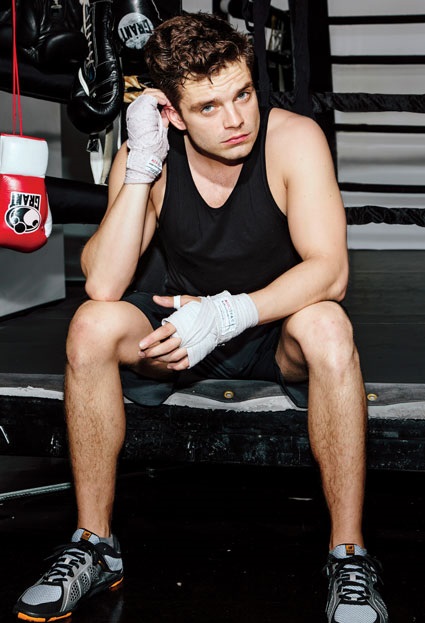 Sebastian Stan Diet Regime
Stan takes eight small meals in a day and incorporates lean protein, salad, protein drink, and others in his diet. You might have heard many celebs talking about 5-8 small meals in a day. Since you have always been nurtured with three meals in a day, you might wonder how you can get started with small meals.
Here come some ideas which help you in swearing by small meal plan.
For having 5-8 small meals in a day, you need to eat after every two hours. Make sure that you have healthy snacks available at home or work. Availability of snacks at home or work will help you in sticking to disciplined small diets.
Instead of jumping directly from 2-3 meals to 5-8 meals in a day, strategically increase your meals. Add one new meal and practice the routine with that added meal for at least a week. Then introduce one new meal in next week's diet regime and reach the target like this.
Inculcate nuts, fruits, salad, protein shake, sandwiches etc. in your meals. You can easily carry them to your work place also.
At work, you might forget to have your meals for you are not habitual of them. The best thing you can do is, set reminders in your mobile to remind you after every two hours.
If you still find it difficult to have so many meals in a day, trim down the food intake of breakfast, lunch, and dinner. For an instance, if you take two fruits in your breakfast, cut them down to one, and have the remaining one in second meal of the day. Likewise, you can moderate your lunch and dinner also.