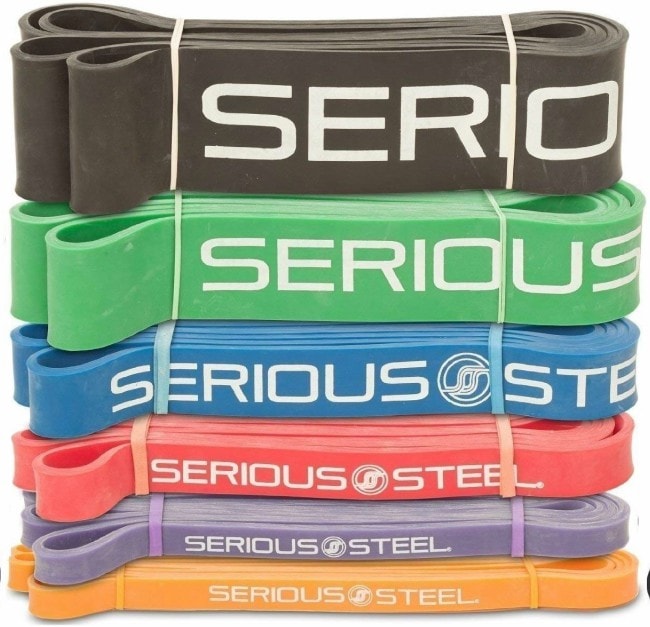 You might wonder why trainers use those simple bands for exercise. A resistance band is a very effective exercising tool that helps to improve your fitness in so many ways. These are one of the simplest tools you can find in the gym and they help you to perform different exercises. The bands are stretchy and some have handles on either side. Others come in loops so that you can stretch them easily. These bands are used in physical therapy as well.
Many people prefer to use these exercise bands instead of weights as the bands let you do low-impact exercises which are soft on your joints. So, if you want to achieve your fitness goal faster, you should use resistance bands while exercising. Choosing the right band can be confusing as there are so many brands available.
You should first consider the material and as you will be wearing them for a long time, make sure that it doesn't cause any allergies. You should choose the type of bands depending on the exercises you wish to perform. For example, when you buy resistance bands with tubes and handles, they come with clips that you can attach to your door frame. They also have straps that you can attach to your ankles. The bands with loops don't have these. Another factor to consider is the resistance level. Here we are going to review the Serious Steel Fitness Band and find out the unique features it has.
Design
These bands have continuous latex loops unlike the molded tubes in the other bands. If you want, you can buy a full set of resistance bands. The resistance level varies from 5 pounds to 120 pounds. So, you can slowly progress as you get comfortable exercising with these. The bands have a powdery feeling that provides excellent grip; so you will be able to work out for a long time. You won't find any unpleasant smell on the bands that may make you feel uncomfortable while exercising.
They are lightweight, so you can carry them with you while traveling. They can be used instead of dumbbells and is a better choice for most people as they can be stored easily. They are color-coded which makes them easily recognizable.
Build Quality
The resistance bands are made of fused latex sheets and so they are extremely durable. You will be able to stretch them smoothly. The latex that is used is 100% natural and there is less possibility of any latex allergens. These resistance bands are tough and you can use them for regular uses. They will hold their original shape even after a lot of abuse. The bands will provide consistent tension regardless of how far you stretch the band. The bands won't tear easily, so you can use them for years without the need to replace them.
Size
You can buy these resistance bands of different resistance levels. They are made of heavy-duty latex material which makes them durable. Yet they are lightweight and compressible. The smallest band weighs 55 grams and will fit in the palm of your hand when it is compressed. The largest band weighs 193 grams and can be compressed to a 4'' by 1'' cylinder.
Each of the bands is color-coded. You can get them in 6 different sizes. The orange band represents to 2-15 lbs, the purple band represents 5–35 lbs, the red bad represents 10–50 lbs, the blue band represents 25–80 lbs, the green band represents 50–120 lbs, and the black band represents 60-150 lbs.
The size of the band you will choose depends on your fitness goal. The 2 to 15 lb resistance band is useful for warming up, posture improvement, and rehabilitative exercises. The 5 to 15 lb resistance band is ideal for shoulder flexibility. If you want to do light resistance exercises, then you should pick the 5 to 35 lb resistance band. If you are experienced with this kind of exercises, then you should buy the 10 to 50 lb band. For more advanced users, the 25 to 80 lb band is more appropriate. If you are not sure which band to choose, then it is wise to buy multiple smaller bands so that they provide the same tension as the heavier resistance bands.
Comfort
These bands have a powder-like finish rather than the rubber feel. So, you won't lose your grip even if you sweat. You will be able to work out comfortably for long hours.
Effectiveness
This exercise band can help you develop strength over time. You can do exercises like pull-ups, stretching, strength training, and more. The trainers and fitness enthusiasts often use them to warm up the shoulders. They are also used for rehab; the bands can allow fluid movement of the joint and so are good for the joints. Using these resistance bands, you can add resistance to your agility work also.
The Serious Steel Fitness Bands are great for upper and lower body resistance training. You can easily add resistance to your upper body exercises like curls, rows, push-ups, etc. At the same time, you can incorporate them with your lower body workouts like squats, Crossfit movements, etc. You can use these bands in different ways for pull-up training.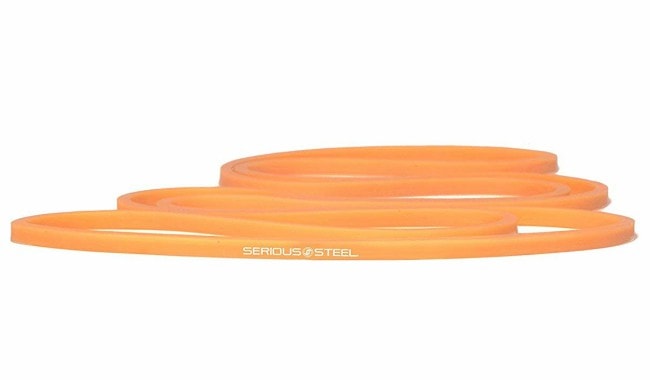 Price
You can buy these bands both individually and as a set. Sometimes, you may not need the full set of bands as the largest bands are less useful to many people. So, you have the choice to buy a set of 3 bands as well. You can buy the full set of the band at Amazon for $109. If you want to buy them individually, you can get them for $9 to $38.90 depending on the resistance levels.
Pros
They are made of latex sheets that make them durable.
They are color-coded and you can find them in various resistance levels.
You can buy them individually or in multiples.
These are great for strength exercises and stretching.
They are lightweight and you can easily carry them around.
They are versatile and so can be used anywhere.
They have a powdery feel that provides good grip.
You will get consistent tension throughout.
The bands will retain their shape even after long term use.
You get a free Pull-up and Band Starter e-Guide for free.
Cons
As these bands are made of latex sheets, if you have a latex sensitivity, then it is better not to use them.
They are expensive than other brands.
The bands may lose elasticity over time.
Final Verdict
These resistance bands are smooth and great for improving your fitness. As you stretch, the band the resistance will increase. It is made of natural latex and is durable. Many people are concerned about the rubbery smell of latex, but with this product, you won't notice this smell once the bands get exposed to fresh air. If you clean the band with soap and water after each use, then there won't be any rubbery smell.
The bands are lightweight and you can carry them around wherever you go. These bands won't lose their elasticity even if you use it regularly. These bands will help you to achieve your fitness goals fast.