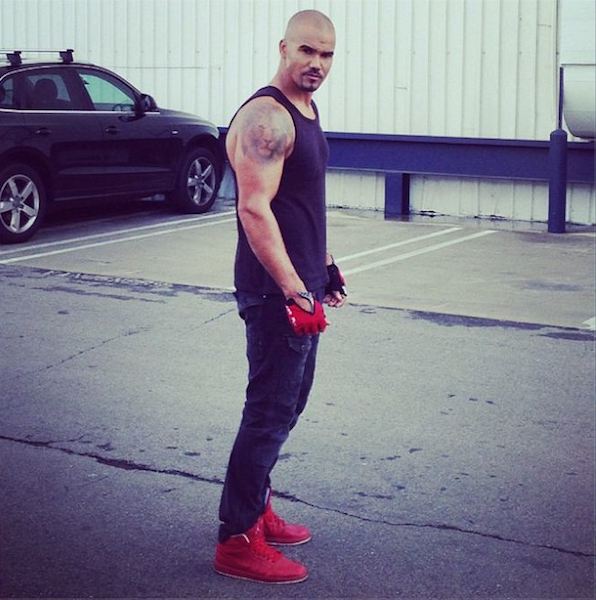 With 6 ft 1 in height, six pack abs, Shemar Moore, the Criminal Minds star cannot help being surrounded with beautiful girls when he flaunts his sexy body shirtless on beaches. Not to mention, the ageless star is aging in reverse direction since his hot body can make any guy in the world envy him for his spectacular physique and his fame among girls. It's the influence of his incredible panache and sexiness only that his shirtless photos spread faster than viral fever. Here are some of the diet and workout secrets of Shemar Moore which are accountable for his athletic body.
Watchful Diet
The heartthrob actor being aware of the fact that one's diet has to be in complete sync with workouts to ensure optimum health eats very wholesome and nutrient packed foods. He forbids the consumption of fatty and high calorie foods which he knows shall pack up unwanted calories in his body.
Regular Gym Workouts
Shemar practices workouts five times in a week and allocates the weekend for outdoor cycling. Right from riding bicycle, hiking, lifting weights, he executes amalgam of exercises. He utilizes his lazy Sundays to do biking for around seventy miles. He shares, your body's requirement to practice workouts enhances even more as you grow older. Besides rendering him great physique, workouts also impart him feel good factor which indeed keep him in high spirit. The fitness enthusiast spends all the spare time he gets in executing workouts in his personal trailer turned gym.
Shemar shares, you always look bigger than your actual size on camera, so you have to put extra efforts to look appealing in front of camera. He banks on cardio to shed unsolicited pounds from his body and to render him lean look. And while doing strength training, he makes sure that he doesn't get bulging muscles.
Here is a sample workout routine of the former fashion model.
Monday – Chest, Abs and Triceps
All the exercises are to be done with maximum 1 minute rest, for 3 to 5 sets, with 8 to 12 reps.
Flat-Bench Dumbbell Press
Incline Dumbbell Press
One-handed Pushups
Walkover Push Ups
Dumbbell Shrugs
Butterfly Crunches
Diamond-Grip Pushups
Cable Pressdown
Tricep Extension
Medicine-Ball Crunches
1 Hour of Cycling
Tuesday – Back, and Biceps
One Arm Dumbbell Row
Seated Cable Row
Pull Ups with Leg Raises
Preacher Curls
Reverse-Grip Lat Pulldown
Standing Dumbbell Curls
Barbell or Dumbbell Hammer Curls
30 Minutes of Running or Jogging
Wednesday – Legs, Abs, and Shoulders
Squats
Standing calf Raise
Leg Press
Seated Front Dumbbell Raise
Lateral Dumbbell Raise
Bent-Over Lateral Raises
Single-Leg Press
Hip Adductions
Body Crunches
Butterfly Crunches
30 Minutes of Cycling
Thursday – Chest, Abs, and Triceps
One Handed Push Ups
Walkover
Flat Bench Dumbbell
Incline Dumbbell Press
Diamond Grip Push-ups
Triceps Extension
Dumbbell Shrugs
Medicine-Ball Crunches
Butterfly Crunches
1 Hour of Cycling
Friday – Back, and Biceps
Training for Muscle Growth
Pull Ups with Leg Raises
Reverse-Grip Lat Pulldown
One-Arm Dumbbell Row
Seated Cable Row
Preacher Curls
Standing Dumbbell Curl
Barbell or Dumbbell Hammer Curls
30 Minutes of Running
Saturday & Sunday – Cycling
The weekend is dedicated primarily to cycling. He typically targets to cycle for 300 miles in a week.
Healthy Tips for Fans
Acquiring chiseled body like Shemar Moore undoubtedly is a dream of every guy. Well, you too can obtain ripped physique like him if you embrace workouts and execute them in routine while bearing some important points in mind.
Position Your Fists Correctly
Strength training being the conduit to muscle building and muscle sculpting process can impart you rewarding results. However, if you have included them for the first time in your workouts, make sure that you lift weights correctly while clenching your fists accurately. Else, you are very likely to be injured while doing the workouts.
Perk up the Intensity of Weights
Lifting same intensity of weights week after week might result into fitness plateau. To avert you fall into that situation, perk up the intensity of weights as soon as you develop comfort with the current weights. If you don't feel the burn in your muscles, it's high time; you shall magnify the intensity of your weights. Here is one simple test which you can do to check if you are prepared to lift heavier weights. Try making two reps with enhanced weights, if you find that you can conveniently make the reps, its vivid sign that you shall inculcate new weights in your workout regime.
Strategically Vary Your Workouts
If you strategically vary your workouts, you can augment their outcomes. That being said, you have to be prudent that you neither change your workouts daily nor do you keep abiding by the same exercises for ages. While frequent alteration in workouts deters your body from getting mastery over the correct ways to do them, monotonous workouts make your body gets used to them that your body denies cultivating outcomes from them.