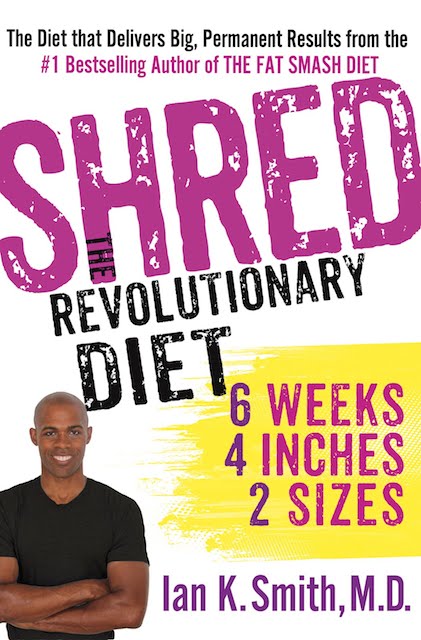 Created by Ian K. Smith, MD, The Shred Diet Plan is a revolutionary diet program which will judiciously melt away extra pounds from your body. You will see massive weight loss while moving along with the diet program. You will lose 20 pounds, four inches or two sizes in mere six weeks.
What is The Shred Diet is?
The Shred diet basically is comprised of food items having low glycemic index. There are replacement meals and numerous recipes given by diet program. One diet cycle will continue for six months, and if you fail to attain your desired weight after completing one cycle, you can repeat the cycle again.
The diet program stresses on consumption of meals after every three hours and dieters are recommended not to skip any meal of the day. Main principle of diet program is to confuse your body completely. Your body often reaches the stage of weight loss plateau when same things are repeated on your body over and over again.
Contrary to that, should you do some experiments on your body and bring variations such as frequent change in your workouts, and change in the kinds of nutritious foods you feed to your body, your body is bound to get confused and lose weight.
Six Weeks of The Shred Diet Plan
Each and every week of the diet program is new and relevant to weight loss program. Let's have a look at all the six weeks of the shred diet plan.
Week One – Prime
Week one is the starting week of diet program. You will work on making your diet regime disciplined by having your meals on time. Should you dedicatedly follow this week, you will successfully pave your way to weight loss.
Week Two – Challenge
In second week, your calorie intake will be reduced. You will experience significant weight loss in this week.
Week Three – Transformation
Week three is the most restrictive and tough phase of diet program. Being the strictest phase, this phase will bring actual transformation in your body. Your body will shed weight, overcoming weight loss plateau in this week.
Week Four – Ascend
After crossing week three, you will feel somewhat relieved in fourth week. You will become full of beans and will experience vibrant flow of energy coming from inside which will inspire you to stick to rest of the weeks of diet plan.
Week Five – Cleanse
With the help of wisely selected food items, all the harmful toxins will be flushed out from your body. Besides that, healthy and balanced foods will also catalyze noble enzymes in your body which will effectively detoxify your body.
Week Six – Explode
By the time you will reach week six, you will understand what foods are good for your body and what strategies work more effectively on your body. In the last week, you can adhere to all the healthy habits you learnt while moving along with the diet program.
Three Fundamental Principles of The Shred Diet
The shred diet is based on three fundamental principles. Let's have a look at them.
Gap in Meals
The diet plan stresses on maintaining gap of not more than three hours in your meals. Diet regime for the day has been allocated into seven small meals. When you keep feeding foods to your body after small intervals, it doesn't go into starvation and work more efficiently. Moreover, the diet program insists on consumption of foods having low glycemic index. These foods will keep check on your blood sugar level and also will stabilize hormones in your body.
Variation in Calories
As you will proceed from week one to week, there would be great reduction in your number of calories. Likewise, there would be increase in the number of calories, when you will move from week three to week six. These extreme variations made by diet program will rev up your metabolism and will assist your body in losing weight swifter. In the meanwhile, you also can relish your favorite foods such as pizza, burger in moderation.
Detoxification
Detoxification is an effective step of diet program. Unlike other diet programs which poke you to do fasting, the shred diet program doesn't ask its dieters to stop eating foods to detoxify their body. You rather need to continue the same diet regime.
All you need to do is add few more high fiber fruits, vegetables etc. in your diet regime. For example, begin your day with lemon water having flax seed oil mixed into it. Flax seed oil will save you from inflammatory reactions. Besides that, you can also have cranberry juice, and hibiscus tea. All these food items possess antioxidant properties. They will remove all the toxic materials from your body and will cleanse it.
Workouts in The Shred Diet
The Shred diet program gives paramount importance to workouts. There is a long list of cardio workouts suggested by diet program, you can pick your workouts from the list and practice them regularly.
Thirty minutes of cardio workouts for five days in a week are vital for proper functioning of your body system. List of cardio workouts include swimming, jogging, 150 jumps, stair climbing, stationary bicycle, walking, Zumba, or any other high intensity exercise.
Sample Meal Plan
Dieters are supposed to consume four small meals and three snacks in a day.
Meal One
You can have one small bowl of oatmeal, one banana, egg whites, one cup of coffee etc. in first meal of the day.
Snack One
You can have half cup of non-fat yogurt with cinnamon and spoonful of honey in your snack.
Meal Two
You can have whole grain bread with slice of cheese, veggies such as lettuce, tomato in second meal of the day.
Snack Two
You can have half avocado, blueberries, grapefruit, pear etc. in second snack of the day.
Meal Three
You can have protein shake, sugarless almond milk, and half cup of fresh raspberries in your third meal.
Snack Three
You can have two tablespoons of hummus, ten baby carrots etc. in your third snack.
Meal Four
You can have mixed vegetable salad, fish, lean turkey, beef, and one cup of herb tea in your fourth meal.