If you are looking for a gym-like experience at home, then you should buy the Sole Fitness F80 Folding Treadmill. Using this machine, you will be able to get a fit and healthy body. Treadmills have proved to be a very useful piece of equipment for burning calories and keeping the body in shape. You can find both manual and motorized treadmills in the market. The modern treadmills come with lots of features which wasn't available before. You will be able to walk, jog or run at a different speed and vary the inclination of the treadmill belt. Here we are going to review the Sole Fitness F80 Folding Treadmill and find out what it has to offer.
Design
It can provide commercial-grade workout experience at home. It is a very sturdy machine and will last for a long time. This treadmill is designed in such a way that it's very easy to operate, without much technology involved which many people might find difficult to comprehend. It is a folding treadmill with the EasyAssist option which lets you easily fold and store the treadmill when you are done with your workout. The folded treadmill can be locked for safety.
It has a 3.5 CHP commercial grade motor that is very powerful and will even support your intense running workouts. You will get smooth performance even when you incline the deck to 15%. Unlike some other modern treadmills, this treadmill is not too technology-oriented and so doesn't have any complicated features. There are various workout programs that can help you to achieve your fitness goal. With the help of physical buttons, you will be able to adjust your incline levels and speed. It comes with cooling fans so that you don't get all sweaty during workouts.
There is a 9 inch LCD display that lets you display your speed, calories burned, distance covered, heart rate, etc. It has automated incline up to 15% and adds more intensity to the workout sessions. It has an iPod/MP3-compatible sound system for your entertainment and Bluetooth connectivity that you can use with the Sole Fitness mobile app. You can sync this app with Fitbit, MyFitnessPal and other programs in order to keep all your fitness data in one place. It also includes a USB charging port and an integrated tablet holder.
Build Quality
It has excellent build quality with a powerful motor. It has a sturdy construction that makes the treadmill durable. It has a 3.5 CHP motor that is great for longer runs and will be able to work smoothly even with heavier individuals. The track design is smooth and roomy making exercises more comfortable. It comes with two-belt which makes the machine more durable. The 2.75-inch rollers keep the machine quiet and in good condition. The deck is reversible, so if one side wears out, you can flip it and use the other side. This way, you will be able to use the treadmill for a longer time. It has built-in cooling fans to keep your cool during workouts.
You can vary its speed from 0.5 to 12 MPH, and vary the incline from 0 to 15%. It has chest strap heart rate monitoring and pulse grip. It has varieties of pre-defined workout programs. It has CushionFlex whisper desk shock absorption system that reduces the impact on joints and muscles by 40%. Its reversible deck can absorb sound at each step, so you will be able to work out in a noise free environment. It is Bluetooth enabled and so you can easily get connected to your smartphone and different fitness apps to make your workout sessions more enjoyable. There is an iPod/MP3-compatible sound system that keeps you entertained all the time. You can dock a table and do multiple tasks while working out. This treadmill has excellent shock absorption capability and lets you run or walk on a daily basis.
Size
The dimension of the treadmill is 35 by 58 by 80 inches. The deck measures 35 by 80 inches and the running surface measures 22 by 60 inches. The deck has enough space for users of any size to walk or run smoothly.
Comfort
It has quality cushioned running deck known has 'CushionFlex' that helps to reduce joint impact up to 40%. So, you will be able to run without any pain. This way, you will be minimizing training injuries and stay consistent with your workout routine. You get a lifetime warranty on frame, deck and motor, 5-year warranty on parts and 2 years warranty on labor.
Effectiveness
It has a powerful motor and wide running track that lets you walk, jog or run smoothly. It can support long distance running, hill training, and interval training as well. There are preset workouts that kick boredom and help you to enjoy your workout routine every day. There are 10 different programs to achieve goals such as improved cardio, fat loss, athletic improvements or strength building. It has the capacity to store 2 different users.
It has a 9 inch LCD screen so that you can keep tabs on what is going on during the exercise session. It is integrated with pulse monitors to monitor your heart rate. It has a safety cord which you can attach to your body. So, if it is pulled out too far, the belt will stop automatically. So, you won't have to be worried about losing balance and getting injured. This treadmill has lots of extra features that will make your exercise routine more fun and effective.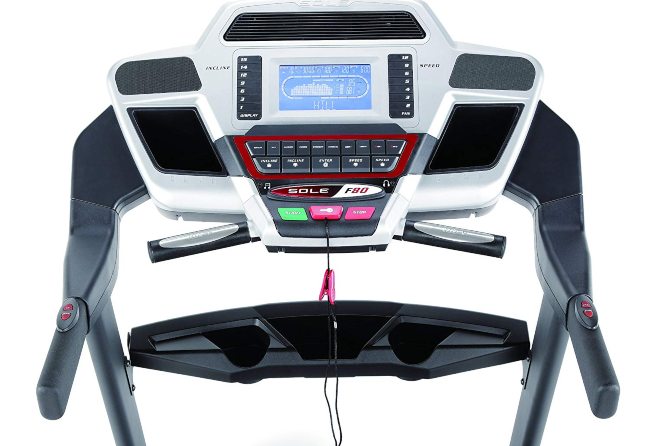 Price
It will cost you about $1,499 which is a very good price to pay for such a high-quality treadmill. It is one of the best treadmills you will find at this price. You get lots of extra features and options to make your workout sessions more enjoyable.
Pros
It has EasyLift Assist technology for easy folding.
It has a powerful and quiet 3.5 CHP commercial grade motor that is ideal for even the most serious runners.
There are 10 built-in workout programs that can make workouts more effective.
The pulse grip and wireless chess strap options let you monitor your heart rate.
With CushionFlex Whisper Desk, you won't have to worry about knee or joint pain.
The Bluetooth connectivity will help you to listen to music while exercising and also get you connected to different fitness apps.
There is a USB port for charging tablets and phones.
It comes with two bottle holders, accessory tray, and tablet holders so that you can have a better workout experience.
It has cooling fans to keep you cool even during intense workouts.
This treadmill is strongly built and is ideal for heavy users as well.
Cons
It is not super tech-heavy. For example, it doesn't have any touch screen options.
The side rails are not very long and can be a problem form some runners.
The cooling fans are not of top quality.
Our Verdict
You will be experiencing commercial-grade workout sessions at home if you buy this treadmill. With a powerful motor and a spacious running area, it is one of the most comfortable treadmills you will find in the market today. Though it is not as tech savvy as the other modern treadmills, it is very effective in achieving your fitness goals. It is foldable and so storing it will not be a problem. With a wide LCD screen, you will be able to keep track of your progress and even store your fitness related data. With high-quality rollers, you will get a soundless running experience. You will be able to exercise regularly on this treadmill for many years without any trouble.