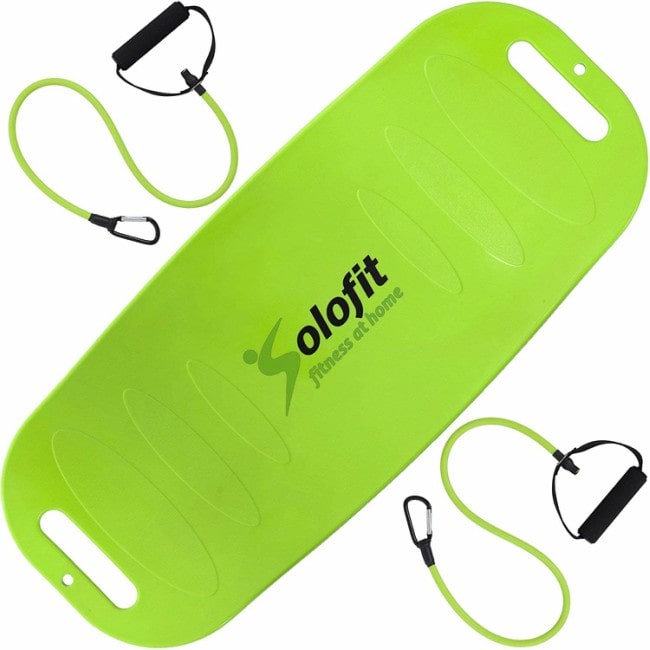 Many people now prefer exercising at home. Going to the gym regularly can be expensive, time-consuming, and stressful. Now you will find various equipment in the market that is appropriate for home use. You can set up your home gym within a limited budget. You must include a tummy twister in your home gym. This simple equipment can help to give you a toned waist and burn calories as well. The Solofit Balance Board has been very popular recently, especially after a similar product was shown on a reality show. This board has been preferred by many people for the ease of workout out and the stylish look. Here, we are going to review the Solofit Balance Board and find out about its interesting features.
Design
This board is found in five vibrant colors and you will be confused about which one to pick. You can find it in black, blue, lime green, pink, and purple. It looks like a surfing board, but the design is a bit different, and the purpose too. The ends of the board are like handles which makes it easy for you to carry around. The board is lightweight and compact, making it portable and easy to store. There are tiny holes on either side of the board, so you can also hang the board on the wall to save storage space. You get 2 resistance bands with it which you can attach on the board with the help of carabiners. 
Build Quality
It has a non-slip surface which you can use anywhere. You won't have to worry about sliding off or falling during exercise. It is made of ABS plastic which is of high quality. This makes the board durable and strong. It can support the weight of up to 400 lbs and it won't break easily. It comes with 2 resistance bands to give you a whole-body workout. The resistance bands can be attached to the board easily using the clips. So, you can get an upper-body workout as well while toning your abs at the same time. The advanced design helps you to perform different exercises for the arms, shoulders, and legs as well, along with abs. 
Size
The board is lightweight and weighs only 3.3 lbs. It has dimensions 26 inches by 11 inches by 3 inches which is appropriate for most users. The size is compact which makes it easy to carry around when you are traveling. So, you won't have to skip your workouts even when you are out of the home. 
Comfort
It has an anti-slip surface which prevents any slippage and reduces the chance of injuries while exercising on the board. The resistance bands are easy to attach to the board and they have comfortable handles that will help you to work out comfortably. The board is designed in such a way that you won't find it difficult to keep balance during workouts.
Ease of Use
As the board has an anti-slip surface, you will find it comfortable to step on it. You can exercise comfortably on any surface including hardwood or carpet. You will find it easy to keep balance and do the different types of exercises comfortably and confidently. 
Effectiveness
This board can help you get a toned tummy within a few weeks. It can burn calories, especially if you include the resistance straps with it. The board will help to develop your core muscles and improve the equilibrium of the body. You can use the board for yoga as well. This board is ideal for leg and ankle workout as well. Dancers can use it for balancing exercises. 
You can do various types of exercises with it which include the basic twist, plank pike, twisted bridge, standing rock, donkey kick, biceps curl, tricep kickbacks, pushups, planks, and more. So, exercising with this board will help you to tone your abs and legs, increase biceps, and engage your entire core. You will notice an instant burn on the core when you workout on this board. It comes with tow resistance bands so that you can get a total body workout.
Pros
It is lightweight and portable.

It is compact and so easy to store.

It is made of top-quality ABS plastic.

It has a non-slip design, thus making it safe to use.

It includes resistance tubes.

The resistance tubes are removable; you can attach them to the board with a clip when needed or remove them when not required. 

You can place it on any kind of floor and exercise without damaging the floor.

It is affordable.

It improves your balance and coordination.

It increases core strength and stability.

You can get greater ankle range of motion

You will have improved agility and flexibility.

You can improve your performance in sports and the daily works you do.
Cons
The quality of the resistance bands could be better. 

It doesn't provide any warranty.
Final Verdict
Whether you are young or old, you will love this board. Once you try exercising on it, you will be hooked to it for a long time. The board makes exercising so easy that you won't come up with an excuse to skip your exercise routine anymore. Even if you are traveling, you can take the board with you as it is lightweight and compact. It is great equipment for those with hurried lifestyles. You can get into shape and lose weight by exercising for 10 minutes every day. 
This board will help you to develop core muscles quickly. You can also use it for yoga and performing other exercises like push-ups and planks. You get 2 resistance bands with it which you can attach to the board to tone your upper body as well. This is a great fitness tool for those who love to exercise at home and according to their own pace. If you maintain a busy lifestyle, then this board can be very effective in giving you a total body workout within a short time.