Remember the pretty lady from the hit song Zara Si Dil Mein De Jagah Tu from the Bollywood blockbuster Jannat? Yes, we are talking about none other than the beautiful Indian actress Sonal Chauhan. She has not only acted in several Hindi and Telugu movies, but the young actress has also sung a song in the Bollywood movie 3G (bet, you didn't know that!).
If you like what you see when you look at this pretty and fit actress, then do have a look at the simple fitness mantras given by her. Follow these healthy tips and you can get an amazing body, just like hers.
Sonal's Workout
The stunning actress believes that one should take out some time from their busy lives and go to the gym at least five days a week. She believes that even one hour of daily gymming can result in a fit body. Sonal prefers a combo of cardio and weight training, whenever she hits the gym. Here is a list of exercises that she follows. These exercises are quite simple and you can choose the ones that suit you.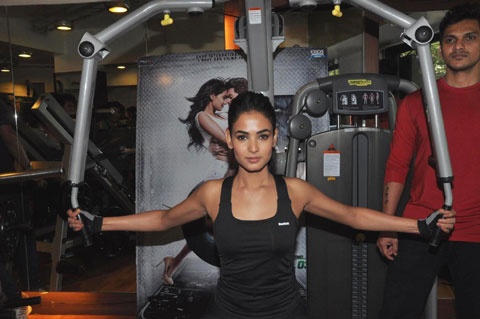 Chest fly: This exercise helps tone the chest muscles and improves the chest shape. So if you are a cool dude craving for a wide chest or a woman who wants to make her breasts look more appealing, this is the exercise that you should be adding to your daily routine. This exercise also helps in toning the shoulders and upper arms. Here's a video that will explain how you can do this exercise in the gym, with the help of a reliable machine.
Squats: This is a simple exercise that can be done by anyone, with or without a trainer. Apart from giving you great legs, this exercise will strengthen your lower body, improve the body's flexibility and reduce the chances of an injury. If you are not sure whether you can do it correctly or not, then just have a look at this video that explains how to do squats in an ideal manner.
Mental health is vital: The gorgeous actress feels that yoga, meditation and breathing exercises also need to be an active part of the routine fitness schedule. You need to spend a considerable time in ensuring that your mental health stays well too. Anything that soothes the mind, like listening to music or going out for a walk, can be done.
Sonal Chauhan's Diet
Believe it or not, the first Indian to have claimed the Miss World Tourism title, Sonal has no dietary restrictions. She does not believe in dieting and tries to work out regularly to flush out the unwanted toxins, out of her system. The actress consumes six small meals every two hours and does not believe in aiming for size zero as she feels that staying fit is more important. She thinks that starving oneself is a terrible idea as it takes away the natural glow from a person's face.
Here are a few diet secrets from this pretty Bollywood diva that are quite easy to implement and must be tried out:
Start your day with a glass of fresh fruits and vegetables juice. It gives you a lot of energy and detoxifies your system. Sonal is very fond of pineapple juice as it has a sweet taste and less calories.
Add a lot of chicken to your meals (of course, this one is only for the non-vegetarians). This would help fulfill your daily consumption of protein and as chicken makes you feel full, you will end up eating less.
Drink a lot of water to keep yourself hydrated. Water helps flush out toxins from your body as soon as it is consumed and keeps your energy level up.
If you are a fan of this gorgeous actress and want to hear some fitness tips offered by her, then you must watch this video.
Hope you found this article entertaining and useful. Keep checking our website to know more celeb secrets that we gather just to keep you entertained, happy and of course fit.