Sonam Kapoor, the Bollywood movie actress, is the daughter of well known Bollywood star and actor Anil Kapoor. Born on 9 June, 1985 in Mumbai, she made her acting debut in the movie Saawariya opposite Ranbir Kapoor. She is also well known internationally as a spokesperson of the French Cosmetic Brand L'Oreal.
Sonam gained weight when she was in Singapore attending a 2 year course. At that time, she had no plans of joining the Indian film industry. She attributed the weight gain to her faulty diet and lack of exercise. She started working out after being offered a role in the movie Saawariya by Sanjay Leela Bhansali. Her goal was to lose 35 kilograms of her body weight. She totally stopped eating food items like chocolates, fried foods, sweets, ice creams and started following a strict diet regimen and daily workout plan.
Trainers for Sonam Kapoor's Workouts
There were many trainers who helped the actress lose her weight. Her general fitness was looked after by Zarine Watson. Bharat Thakur helped her in learning Power Yoga, Shervir and Monisha helped her learn weight training and Yasmin Karachiwala taught her how to work on Pilates. Kathak also helped her lose weight. She says that it is a very rigorous form of dance and gives the performer a well toned body.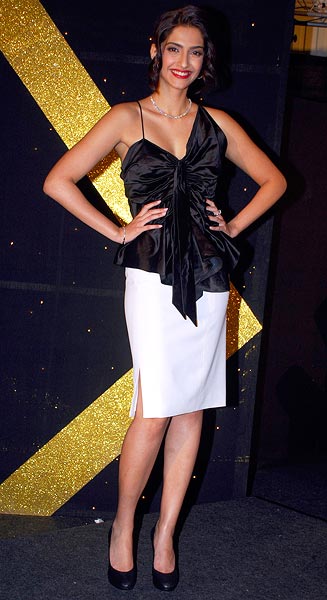 Sonam liked sports during her school level. She played games like basketball, rugby and other games regularly. The games have helped her develop flexibility. Thus, she can do different exercise routines with ease. She says that she focuses on a particular body part on a particular day; for example shoulders, abdomen, waist, arms etc. The combination of cardiovascular exercises and weight training works best for her body.
Sonam Kapoor has one of the slimmest figures in Bollywood. Let us have a look at some of her workouts.
Sonam does jogging each day in morning. She then does 30 minutes of yoga and meditation and another 30 minutes of cardio vascular exercises. She likes to dance in her free time. Kapoor goes for swimming whenever she has time as she is a fan of the sport. Sonam plays squash at least 2 times in a week.
Sonam Kapoor Diet Plan
Much of her weight loss can be attributed to her diet plan which consists of low fat and high protein intake. She starts her day with a glass of lukewarm water having honey and lime juice. This drink helps in losing weight. Sonam takes 5 to 6 small meals a day. The meals have low carbohydrate content and high protein content.
On a typical day, Sonam's meals consist of following diet plan:
Fruit and oatmeal in breakfast.
Brown bread with egg white and protein shake in snacks.
Grilled chicken, dal, fish, salad and chapati for lunch. Chapatis are made of bajra or jowar. She avoids red meat.
Egg white and brown bread in the evening.
Fish, chicken soup and salad in dinner.
Sonam says that she eats every two hours. Her days are full of rigorous physical tasks like dancing, shooting for movies and swimming. Therefore, she gets hungry and eats something every two hours. Dry fruits and nuts also help her in satisfying her hunger.
She likes drinking a lot of fluids. Coconut water is one of her favorite drinks. She also likes buttermilk and cucumber juice. These drinks enhance her energy levels and help her in being hydrated. She says that she uses seasoning and natural sugar in her food and avoids excess salt and sugar.
Sonam admits that she eats and drinks in moderation. She also does not hold back if she has a strong craving for a food item. While travelling, she feeds on apples, health bars and sandwiches. She says that her grandmother told her to drink a glass of warm water every morning. It will flush out the toxins from the body. She follows her grandmother's advice and also drinks water with lemon and honey after drinking the glass of warm water. She prefers being in a no smoking atmosphere at all places.
Sonam's Advice for Staying Healthy
She says that many people have to follow erratic work schedules. They can undergo a periodical medical check up to ensure that they have not acquired weight because of any medical condition. According to her, those who eat healthy diet and do some workout each day are able to stay healthy.