Stacy Keibler, the American actress and model was born on 14 October 1979 in Roseland, Maryland. She has also been a professional wrestler. Her body type can be classified as being ectomorph. She is famous for her long and slender legs and was called as the 'legs of WWE'. Stacy Keibler has got a height of 5 feet and 11 inches with body weight of around 130 pounds.
Stacy Keibler Diet Plan
Stacy Keibler has a thin and lean svelte body figure and physique. Lately she has not being doing a lot of exercises, according to some reports. She has reduced the workouts and is now on a strict diet regimen. She has taken the measure to avoid adding extra fat to her body. She said that she is not exercising for the past six months. Her food largely consists of vegetables and proteins. She has totally dropped gluten, sugar and dairy products from her diet. She said that she is very happy with the results. She felt amazing during the strict diet regimen and was bale to reduce fat with out doing the workouts and exercises.
Apart from dieting Stacy does a little bit of meditation each day. She also likes sunbathing and says that sun rays have a good effect on total health and well being. She advises everybody to be in they sun for at least 5 minutes each day. She has added glow to her personality by practicing the old fashioned ways of being fit and healthy.
Stacy Keibler is known for her long legs which have been dubbed as being killer and highly seductive. She takes care of the legs by the method of dry skin brushing. She scrubs her gams with a body brush so that the dead skin is removed and blood circulation and cell renewal is enhanced. It also releases harmful toxins out of the body and enhances lymphatic drainage.
According to Stacy, the key to being fit and healthy is to practice some kind of exercise everyday and to sweat at least for 10 minutes daily. Juliet Kaska, the personal physical trainer of Stacy Keibler says that Stacy does a lot of exercises for maintaining her physique and beautiful  legs. Kaska works hard on the training schedule so that Stacy gets shapely calves and more muscle definition. He says that working with weights does not give more bulk to the legs and that Stacy does a lot of weight training exercises.
Stacy Keibler Fitness Workout
Juliet Kaska, the celebrity physical trainer has designed many workouts for Stacy Keibler. One such exercise is The Knockout exercise. The exercise is performed with an anchor. It consists of holding the handle bar in each hand with elbows bent and facing outwards. The feet are separated wide and left foot is placed in front. Then punching is done by putting forward the right hand first and then the left. Afterwards, both hands are punched simultaneously. 20 such repetitions are done forming 1 set of the exercise. Other workouts are called Star Power, Svelte Reach, Leaner Lunge, Ballerina Bound, Bicycle Mega Burner etc.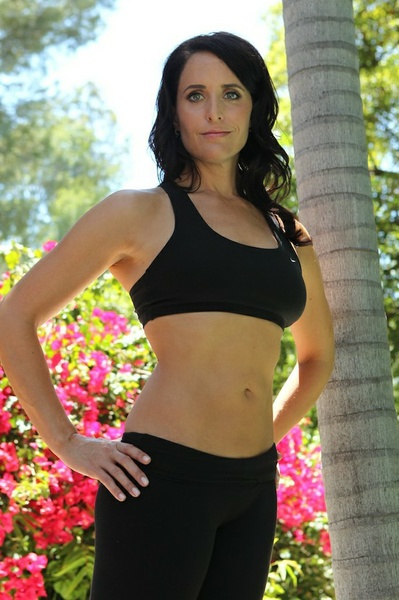 Stacy says she gets bored easily and therefore switches her fitness routines on regular intervals. Apart from exercising she does hiking, stair running, Pilates or any outdoor activity. According to her, staying fit should be a habit. While she is on road she carries a bag that has Boot Camp DVD's, many bands etc. These things help her to do physical activities anywhere she likes. Stacy recommends squats and lunges for those who aspire to have sculpted and gorgeous looking legs. She also prefers doing dance as an exercise. She says that dancing is funny way to lose lots of calories.
In an interview and discussion that was conducted by Shape magazine, Stacy said that she gives lots of importance towards staying fit and having a healthy lifestyle. She balances her diet and eats less the day she does not exercise. She prefers eating organic food. She also gives importance towards calorie control. She is also a moderate thinker and therefore does occasionally has a glass of wine or a little bit of dessert.