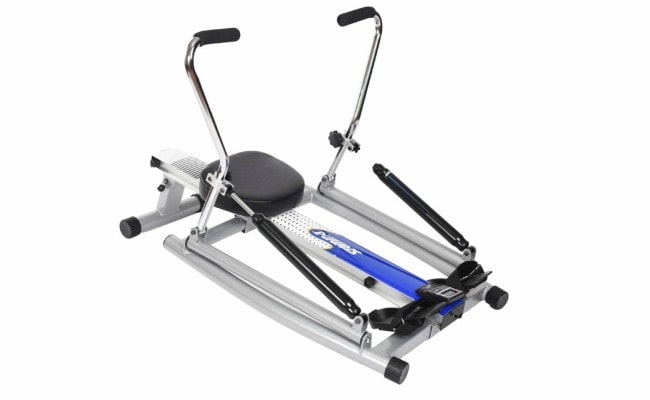 If you are looking for compact fitness equipment for a total body workout, then you should by the Stamina 35-1215 Orbital Rowing Machine. This machine has unique features and functionalities. It allows a wide range of motion to work out your arms, shoulders, and legs. With this rowing machine, you can work out the different muscle groups in your body and get a fit body within a short time. This is a detailed review of this high-quality rowing machine from Stamina. Now you can decide whether to buy it or not.
Design
It is one of the most compact and portable rowing machines you will find in the market today. It is lightweight which makes it convenient to transport and store. If you have a small apartment, then this equipment will be perfect for you. You can easily fold the machine to reduce its footprint when not in use. You can fold the free motion arms and store the machine under the bed or in your closet.
It is designed in such a way that you can have a full range of motion using your arms. It is so comfortable to use due to its hydraulic cylinder resistance that you will feel as if you are rowing boat on the water. It has a pivoting footplate that helps with mobility. The seat is well padded to give you comfort throughout your exercise session.
There is an LCD monitor that shows the time, speed, distance, row count, and calories burned. This will help you to keep track of your fitness progress. The display can show various stats one at a time or automatically rotate the stats with the help of the monitor's 'scan' feature.
Build Quality
The frame of this rowing machine is made of steel with an aluminum beam which makes it sturdy. It can hold weight up to 250 pounds, making it suitable for heavy users as well. It uses 2 hydraulic pistons which makes it stronger and durable providing more resistance strength and smoother rowing stroke. When you move your arms, you will feel as smooth as you feel with rowing on water. It doesn't produce any noise and you can do exercise comfortably while watching TV as well.
You can change to five resistance levels to make your workouts more challenging. As the resistance levels vary in difficulty, it is perfect for people of different fitness levels. It has 'free motion arms' that allow users to pull the arms back at different angles which gives a feel of realistic rowing motion. So, unlike the other rowing machines, your hands don't have to be in synchronized motion. You can pull of push the handle with one arm in a straight line and the other at a different angle.
Size
It has a compact design making it suitable for small apartments. When folded, it becomes only 10 inches tall which makes it easy to store under the bed or inside the closet.
Comfort
The seat of the rowing machine is thickly padded and easily adjustable, so you can work out for long hours without hurting your back. The handles are covered with foam which makes it comfortable to hold. There are pivoting footrests that let the users' feet move naturally while rowing, allowing a wide range of motion. The free-motion arms of the rowing machine give a very comfortable workout experience. Instead of moving the handles back and forth in a straight line, you can bend your arms at different angles stimulating the natural movement of rowing on water.
Ease of Use
The rowing machine is easy to assemble. You will get detailed instructions with detailed diagrams on how to assemble it. The required tools are also provided.
Effectiveness
The resistance level 1 indicates the most difficult one and resistance level 5 indicates the easiest one. You can adjust the handles by tightening or loosening the tension. You can add even more resistance by raising the tail end of the machine from the ground. That way, you have to push your legs harder to row up due to the inclination.
Exercising with this machine will help to build your upper body muscles. The padded seat slides of the ball-bearing rolling track to toning the lower body. Apart from toning muscles, you will be able to burn a lot of calories as well with this machine. You can get fit easily with low-impact exercises with the help of this rowing machine.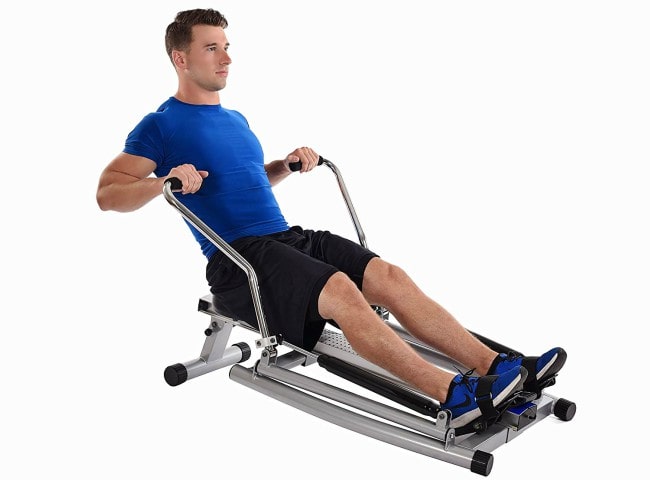 Pros
It has an attractive design.
Due to its compact and foldable nature, it is preferred by many people.
It has a solid construction which makes it sturdy and durable.
It uses dual-piston which makes it stronger.
It provides free motion arms that simulate rowing on water.
You can adjust the resistance to five levels.
You can raise the angle of the seat rail for extra resistance.
It has a multi-function LCD display monitor that shows distance, calories burned, and other stats.
It has floor protectors so that it doesn't cause any damage to the floor.
It has pivoting footplates with adjustable foot straps that secure your foot during workouts.
It has a cushioned seat for providing extra comfort.
The handles are covered with foam and you can hold onto them for a long time.
It has a maximum user weight capacity of 250 lbs.
You can get it at an affordable price.
You get 5 years warranty for the frame and 90 days warranty for the parts.
Cons
It doesn't have any advanced fitness tracking system.
The transportation wheels may get damaged.
Final Verdict
It is a great hydraulic-piston rowing machine that you can get at an affordable price. The dual-piston makes it special and durable. You can move your hands freely with this machine. It has a compact footprint that makes it easy to store. It is ideal for toning upper and lower muscles and also losing weight. You can get it at an affordable price.