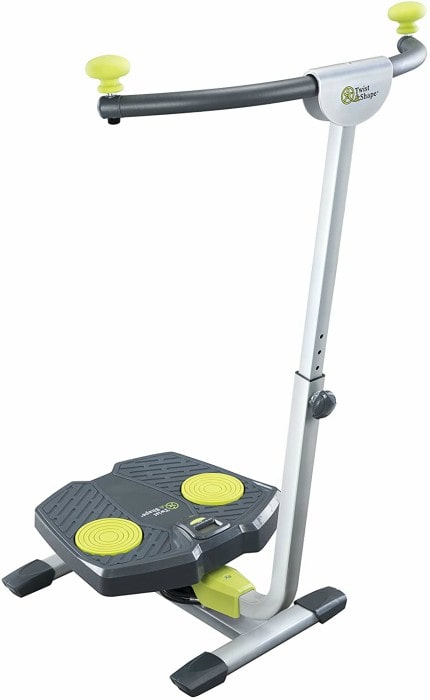 You must have tried different exercise equipment to tone your abs as this is a concern for most people. Losing abdominal fat is tough and it takes a lot of effort and patience. Though you will see lots of exercise equipment in the market advertising to give promising results, only a few works. If you are looking for equipment that can give you slimmer abs in a short time, then you should try the tummy twister.
Unlike other bulky equipment that you see in the gym, this tummy twister is compact and won't take up much space, making it perfect for home use. You won't need to exert much pressure on your body as you only need to twist your torso from side to side. Most of the tummy twisters that you find in the market are a circular disc and you need to maintain your balance while standing on it. The Star Uno's Twist and Shape is a bit different. You get support to hold onto while performing the twisting motion. Here, we are going to review this equipment in detail and find out how it's unique from the other pieces of equipment in the market.
Design
This tummy twister is nothing like the ordinary equipment you will find in the market. Unlike the common tummy twisters, this one has a strong base. It has a platform similar to a treadmill. You can hold on the handles by standing on the platform just the way you do on a treadmill. The only difference is that instead of the moving belt, this one has a twisting platform. You can stand on it and twist. As you have handles to hold on to, there is no difficulty in keeping balance which is a problem for the normal tummy twisters where there is no support.
It is a very stylish machine. Silver-colored stand with gray handlebar and twisting platform looks great. There are 2 lime green colored knobs on either side of the handle which gives you another option for support. There are 2 lime green colored circular discs on the twisting platform where you should keep your feet and twist your torso. There is a monitor where you can see the readings and know your progress. It is compact and you can adjust the height of the stand using a simple knob. So, the equipment is ideal for people of different heights. You can store the equipment easily in any corner of your room.
Build Quality
The stand is made with a high-quality and durable aluminum frame. The screws and knobs are securely in place to minimize the risk of an accident. The platform is stable and can withstand heavyweight. It has dual rotary anti-skid spin plates which help to create an intense workout. The circular discs rotate smoothly and you can twist at an angle of up to 240 degrees. It has a digital display that tracks reps, time, and calories burned. The platform has a ridged surface which helps to keep balance and makes it easy to stand up and get down of the platform. The handlebars have a non-slip coating, so your hands won't slip even if you sweat. You can exercise on it every day without any obstacle. 
Size
This equipment is compact and lightweight. You can easily store it and move it from one room to another. The height of the stand is adjustable and you can increase it up to 7 inches, making it ideal for the tall users as well.
Comfort
The circular board rotates smoothly allowing you to twist your torso and hip to up to 240 degrees. The handlebars are comfortable to hold and you will be able to maintain good balance.
Ease of Use
The height of the twisting board is not much, so it is easy to get up and get down. You can adjust the height of the stand according to your height. There are holes inserted on the stand and all you need to do is unscrew the knob and put it in the place you want to. You will have a comfortable experience by using this equipment.
Effectiveness
This tummy twister is very effective and comfortable. As you twist, your torso moves in one direction and your hip in the other which engages all the muscles in this region. Your core muscles, which include spine, hips, pelvis, and abdomen, will get stronger day by day and you will be able to avoid lower back injury. If you have a strong core, it will help you to do better in athletic pursuits and reduce the chance of injury. Exercising on a tummy twister will help to improve your balance as well.
You can twist your torso to up to 240 degrees. However, if you have a back problem, then it is recommended that you don't twist that far. You can also perform squats using weights or without weights. If you use weights, you can do arm curls or hammer curls. So, you can work out your core and upper body simultaneously. When you stand on the twist board, it tests your stability as well which will eventually help you to improve your posture. If you are trying out any new exercise on the twist board, always consult the doctor first, to avoid any injury.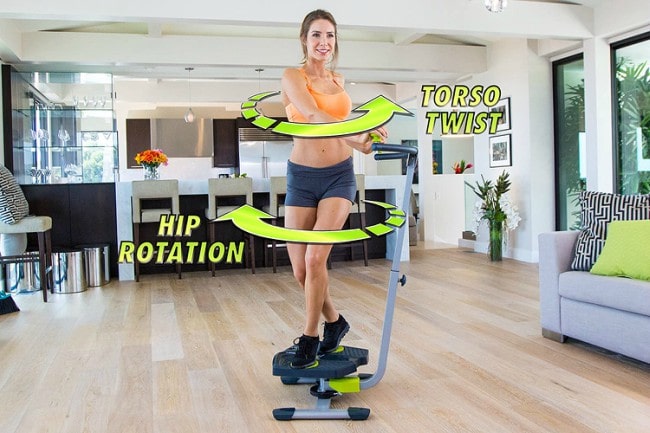 Pros
You can perform low impact exercise.

It can help to tone your upper abs and lower abs and also targets your hips and thighs.

It has dual rotary anti-skid spin plates that help to provide an intense workout.

It has a digital display that keeps track of your time, calories burned and reps.

It is suitable for users of all fitness levels.

You can adjust the height of the stand to up to 7 inches.

You get maximum muscle movement with minimum reps.

You can watch TV or listen to music while working out.

You get a workout DVD and 14-day eating guide which helps you to get faster results.
Cons
It is not recommended for users who are taller than 6'4''. 

No battery is included for the digital display.

It is expensive compared to the other tummy twisters.
Final Verdict
It is a low impact and exciting way to exercise to get a toned tummy. You can get sexy and strong abs within a few weeks. All you need to do is twist your torso in one direction and hip in the other which allows to sculpt your tummy. You can get rid of your muffin top and sculpt your lower body, arms, and shoulders as well. The green/silver tummy twister looks very stylish. You can buy it for your home and get your desired abs within a few weeks.