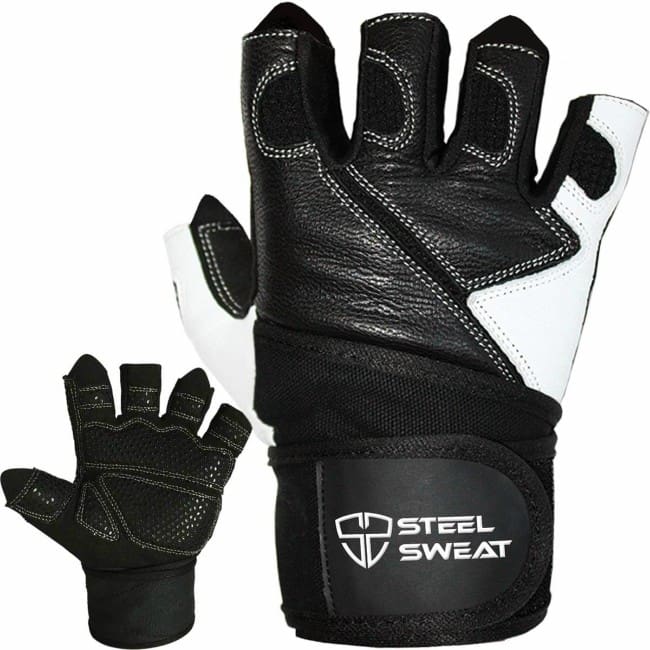 The benefits of a pair of exercise gloves should never be underestimated. If you are a regular gym-goer, then you should always have it in your gym bags. Whether you are doing cross-training, weightlifting or any other exercise, you should wear exercise gloves to protect your hands. When you exercise with barbells, dumbbells or other equipment, you need to increase your rep with time and practice. After you have exercised for some time, you will find that your hands are suffering due to cuts, calluses or blisters and also you will feel tired. You will not suffer from these anymore if you wear gloves. They will also keep your weight stable and prevent your hands from slipping. They give you better grips on the bars and helps to enhance your performance. You will find different types of exercise gloves in the market. Some gloves are tough; whereas, others are not so and will rip off easily. So, it is important to do some research to find out which gloves are durable and of high quality. The Steel Sweat weightlifting gloves are tough and durable. Here, we are going to review this product in detail.
Design
These heavy-duty gloves are designed for those who are serious about their fitness. They are found in different colors like white/black, blue, and camo. They have finger length that provides a better grip on the weights due to the increased contact. The leather at the back gives them a stylish look. There are pull-tabs in the thumb, first, and second fingers that you can use to pull out the gloves. The Flexi Expansion Joint design between the fingers provides better performance and comfort. They have good thumb protection that gives a better grip. There is Sweat Wicking microfleece palm lining that helps to manage moisture and provide comfort.
Build Quality
They have double stitching that ensures strength and durability. Even with excessive use, these gloves won't tear. They have genuine leather at the back which makes them stronger and feels much comfortable. These gloves can be hand cleaned with mild soap and cold water, so it is easy to keep them in good condition. They have Airflow and Moisture Management Technology on the back and in between the fingers for preventing building up of sweat. The palms are cushioned that protect the hands from calluses and blisters.
Size
You will find these gloves in various sizes. To get the right size, you should measure the circumference of your palm below the knuckles, excluding your thumb. The sizes available are XS (7.0 to 7.5 inches), S (7.5 to 8.0 inches), M (8.0 to 8.5 inches), L ( 8.5 to 9 inches), XL (9 to 9.5 inches), and XXL (9.5 to 10 inches). There is a long wrist wrap that can give you a snug fit.
Comfort
They are designed to mold the hands and gives you a comfortable fit. Their thumb protection improves comfort and performance. The Sweat-Wicking microfleece palm lining keeps moisture away and prevents sweats from accumulating. As a result, you will feel more comfortable working out. The Anti-Slip Grip dots improve the grip and feel. They also decrease hand fatigue and so you will be able to focus on your performance more. The 18'' canvas wrist wrap has Velcro closure that makes it easy to fasten and control tension. 
Effectiveness
The manufacturer has used innovative technology to improve the performance. They have StretchAir performance fabric that provides good ventilation and flexibility. So, you will not sweat and your hands won't slip. The padding and grip dots protect your palms and provide superior grip. 
You can say that these are all-rounder gloves as they have the right padding needed to protect your arms. For this reason, you will be able to perform at your best. The thumb support is a life-saver as they will increase the grip on the bar and prevent slipping when lifting them. During exercise, it is very common to sweat. If you sweat, it can be difficult to take off the gloves. But, these gloves have quick removal tabs in the finger holes which makes it easy to take off the gloves. The sweat-wicking technology lets the hands breathe and so keeps the hands sweat-free and cool which helps to improve your performance. 
You can use these gloves for weightlifting, cross-training, and other exercises. They are versatile and can provide the right grip you need to train confidently. By wearing these gloves, your hands will never stop you from giving your best.
Pros
The gloves have a stylish design. 

You can get it in different colors and sizes. 

They are made of genuine leather which makes them durable. 

They have anti-slip grips that enhance performance.

They have wrap-around thumb protection.

Pull tabs are available for easy removal.

The flexible expansion system between the fingers allows easy movement. 

With the long wrist wrap, you can adjust the stability and support you need. 

They are breathable, moisture-wicking, and flexible. 

These gloves are cost-efficient.

They are easily washable.

You get a 90-day quality guarantee for the product.
Cons
The padding is not suitable for heavy weightlifting.

There may be sizing issues.

Threads may come out after washing.
Final Verdict
After working hard for days, your hands may betray you if you don't wear the right gloves during weightlifting. By wearing good quality gloves like the Steel Sweat Weightlifting Gloves, you will be able to do more pull-ups and lift weights more confidently. Your hands won't slip and there will be less chance of injuries.
Weightlifting gloves can be a great investment for any gym-goer. The Steel Sweat Weightlifting Gloves are made of leather and so is durable. They will be able to withstand intense workouts. They are well ventilated and thus provides comfort. Your hands won't feel sweaty due to the build-up of sweat. They will feel comfortable and you will be able to enhance your performance by using these gloves. They are cost-efficient and so you won't have to spend much money to protect your hands from blisters or calluses. Buy these exercise gloves today and lift weights with full confidence.