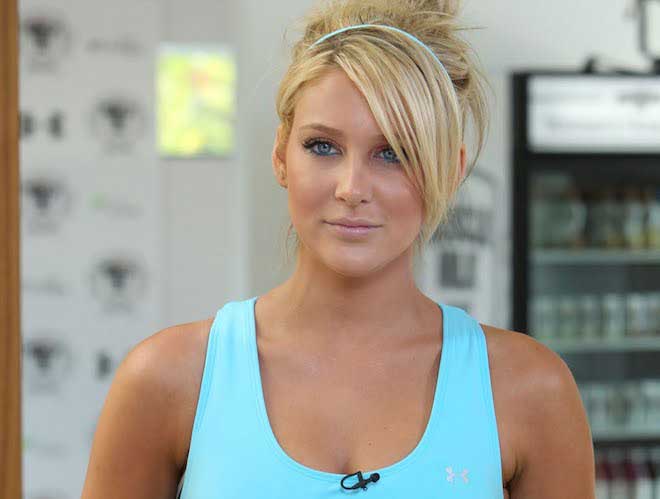 5 ft 7 in tall, Made in Chelsea star, Stephanie Pratt looks gorgeously stunning. With her sculpted and curvy figure, the hottie seems to be in the best shape of her life. Stephanie dishes out her diet and workout secrets which keeps her in flawless shape.
Placement of Workout Equipment
Stephanie stores workout equipment such as weights, resistance bands etc. at such places where she is very likely to witness them and get reminded to complete the workouts with them. For example, she stores dumbbells by the side of her bed. Prominent visibility of workout equipment revs up your chances to use them. If you too nurture the custom to do so, you shall notice dramatic changes in your tendency to perform workouts. Apart from that, she also swears by some easy exercises such as sit-ups, stair climbing etc. both in the morning and evening.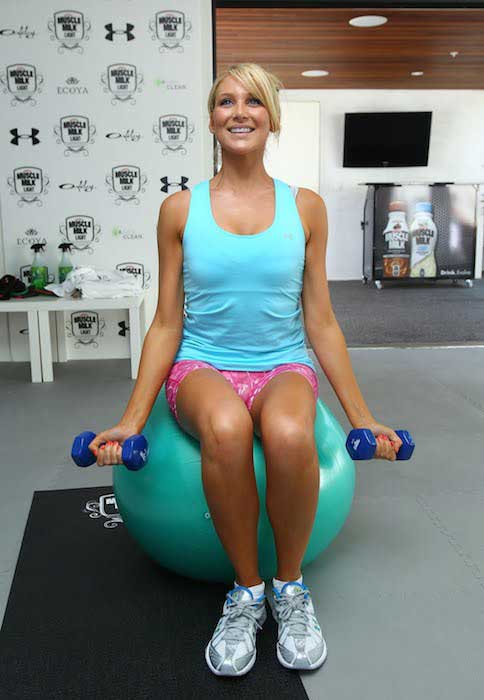 Fight with Bulimia
The blonde bombshell has been a victim of eating disorder namely Bulimia for a very prolonged time. Its influence on her was so much so that she turned extremely emaciated couple of years back. Stephanie admits that she often camouflaged foods from her mom and prompted herself to sustain without foods. However, now she is happy that she has got rid of the disorder and she can freely eat foods without being bugged to bulk up unsolicited pounds. She recommends all the moms out there to keep a watchful eye on their teenage daughters so as to save them suffer from the terrible disease. Your help shall clear their doubts and aid them get thorough knowledge of nutrition which most teens don't have.
Freshology Diet Plan
The glam celeb abides by very healthy diet plan namely Freshology diet plan. The plan has her bank on three square meals which are comprised of nutrient dense food items. Breakfast is the paramount meal in the program which shall not be avoided at any cost.
Refrain From Vices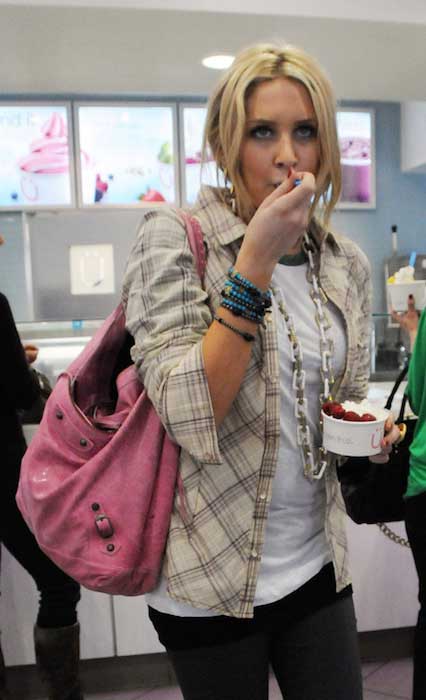 Stephanie had been high on alcohol, drugs, cigarettes etc. for a very long time. However, having gotten their harmful and unrecoverable consequences on body, she started maintaining distance from them. Now, the pretty actress prefers living clean and vice free wholesome life which inevitably has shown its influence. She finds herself more energized and healthy with the elimination of these vices.
Workouts with Friends
Instead of working out all alone, Stephanie prefers working out while being accompanied with her friends. She shares, she cannot perform exercises for more than ten minutes if she has to do them all by herself. So, to deal with her reluctance to work out, she prefers executing exercises with friends who constantly motivate her. She being very likely to skip workouts shares that she finds herself more disciplined when she works out with friends. Moreover, the sense of accountability keeps her stay tuned with exercises. She mostly executes workouts such as yoga, Pilates etc.
Healthy Tips for Fans
While losing weight, even if the results are gratifying, we are still left with some bump in our belly. Not only is belly fat the most stubborn fat, it is also the one which comes back easily. Here are some tips which shall help you purge belly flat and acquire flat stomach.
Prune the Consumption of Salty Foods
Foods having opulent content of sodium have your stomach retain water, as a result of which, despite following workouts, you end up having bloated tummy. Watch your consumption of salt and gradually trim down its over-intake from your diet.
Incorporate Sea Foods
Perk up the consumption of seafoods such as salmon, merkel, and other cold fishes in your diet. Prefer eating them in poached or boiled form. These fishes being dense in omega-3 fatty acids shall foster fat burning process and make your stomach look flatter.
Stand Erect While Lifting Weights
Since the influence of posture is immense on your weight, make sure that you stand erect while lifting weights. When you stand straight, your abs get squeezed, which render you taut stomach. However, be cautious that you keep holding your breath while doing so. Aside from that, pay heed to your posture in general. While sitting on chair, or even while standing, our posture tends to lean in the forward direction. Your steady efforts to keep your posture straight will strengthen your ab muscles and impart them toned look.
Scatter Seeds into Meals
Scatter seeds such as sunflower seeds into your meals. The seeds being credited with monounsaturated fatty acids and myriad vitamins keep you safe from inflammatory reactions. Add minimum two spoonfuls of sunflower seeds in your meals to enhance the nutrient density of your meals. In addition to that, augment the consumption of avocados in your diet. Avocados have ten grams of monounsaturated fatty acids and they stabilize your blood sugar level. Maintained blood sugar implies halt on the accumulation of fats around your belly.