Doing regular exercise is important to keep yourself healthy and fit. You need to make sure that you do at least 40 minutes of exercise daily at home or in the gym. Due to the high gym membership fees, many people try to avoid going to the gym. Luckily, there is some gym equipment that is suitable for home use as well and doesn't cost much as well. The cross trainer is one such equipment that you can buy for home use. This equipment is not too heavy and is compact, so it won't take up much space. So, even if you don't have a separate room to exercise, you will be able to fit it in any room easily. Using a cross trainer, you will be able to simulate running, walking, and climbing stairs. So, you can imagine how effective this machine is. There are many brands of cross trainers available in the market. Here, we are going to review the Sunny Health and Fitness SF-E902 Air Walk Trainer Elliptical Machine.
Design
This cross trainer is compact and so is perfect for home use. It has adjustable resistance, so you can vary your exercise and make it more challenging to work on different muscles. It has a large LCD monitor that displays the distance covered, calories burned, and other useful stats. The foot pedals are wide and won't slip. There is an abdominal pad that you can adjust easily to give you the ultimate support you need during exercise. The handlebars are ergonomically designed and are non-slip. So, you will be able to work out even if you sweat. Your hands won't hurt even after an intense exercise session.
Build Quality
It is constructed with a heavy-duty steel frame and is built for the toughest users. The cross trainer is strongly built and can withstand a weight capacity of up to 220 lbs. The stride length is 30 inches that will allow your legs to move forward and backward easily. This will target muscles in the thighs, calves, and glutes. By extending your legs further, you will be able to work out your hamstrings and deep muscles as well. This cross trainer is durable. It has non-slip foot pads that make it stable and reduces the chance of injuries during workouts. You get a 3-year warranty for the frame and 180 days warranty for the parts.
Size
It has dimensions 25 inches by 19 inches by 57 inches. It weighs only 35 lbs. It is compact and foldable. Once folded, the dimensions become 15 inches by 19 inches by 61.5 inches. You can fold it to half its size and store it in any corner of the room.
Comfort
It has an adjustable abdominal pad that can give you great comfort. You can move it according to your preference so that you get the right support. The wide pedals make it comfortable to use the cross-trainer. The pedals are non-slip which makes it convenient to work out for long hours. The handlebars are also non-slip, so your hands won't slip even if you sweat. 
Ease of Use
It is very simple to use, making it ideal for beginners. It is easy and quick to assemble. You can fold it when not in use. The pedals are wide and non-slip which makes workouts comfortable. 
Effectiveness
It is a versatile equipment that will help you to do the aerobic workout at home. Using this equipment, you will get all the advantages of walking, running, stretching, skiing, and other exercises. You will be able to work out without any vibration. It's striding motion provides a little twist to the midsection area. This helps to engage both the upper and lower body; as a result, you get a total body workout. This machine specifically targets the muscles in your arms and legs.
When you exercise in the upright posture, the abdominal muscles work and will improve your endurance and stability. The pedals will simulate slow walking or fast run according to your wish. You will be able to maintain continuous motion without any disturbance.
This machine is great for aerobic exercise. Doing 20 minutes of exercise with this machine will increase your cardiorespiratory fitness. You will be able to maintain and lose weight fast. The 30 inches long stride helps to engage more muscles during exercise to give you a better result.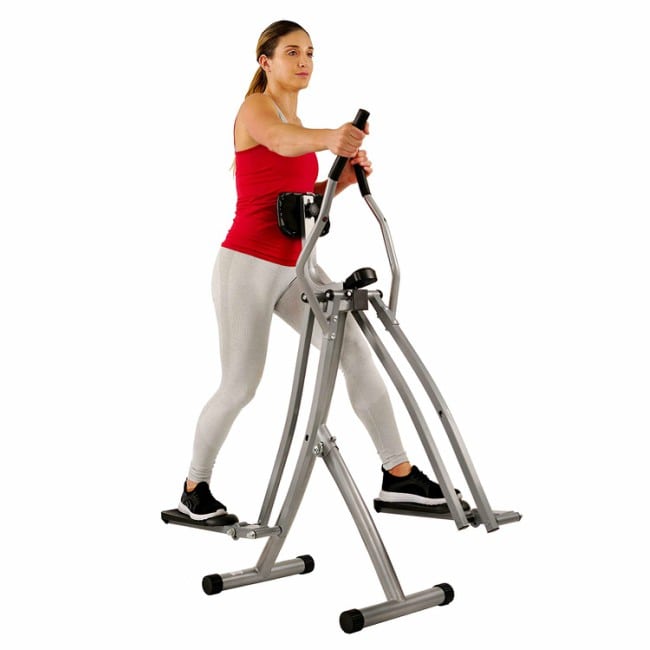 Pros
It has a space-saving design.

It is constructed with heavy-duty steel.

It has a 220 lbs weight capacity.

It is ideal for beginners.  

It provides adjustable resistance which lets you do different types of exercises.

It has non-slip foot pedals that help to work out comfortably without getting injured.

It doesn't produce any noise.

It allows low impact cardio workout, so you feel any pain on your thigh and knee.

You get a 3-year warranty frame warranty and 180 days parts warranty.

You get a 30-day money-back guarantee.



Cons
The weight capacity is low compared to the other cross-trainers in the market. So, it is not ideal for heavy users.

It doesn't have any preset workout program.

It cannot detect heart rate as the other cross-trainers.
Final Verdict
This cross trainer is foldable and takes up less space, making it perfect for home use. It will help you to get a total body workout. It has an LCD monitor that shows the time you have spent, distance traveled, and calories burned. If you exercise regularly with this cross trainer, it will work on your arm and leg muscles. When in the upright posture, it will work out your abdominal muscles as well.
One of the best features of this cross trainer is its space-saving design. You can reduce its footprint to half when folded. It has an LCD monitor that displays the distance traveled, calories burned and other important stats. The longer stride allows a comfortable forward and backward movement. You can easily perform aerobics with it to improve your cardio-respiratory fitness. If you are suffering from knee or joint pain, then you will be able to exercise comfortably using this machine. 
Buy Sunny Health And Fitness SF-E902 Air Walk Trainer Elliptical Machine