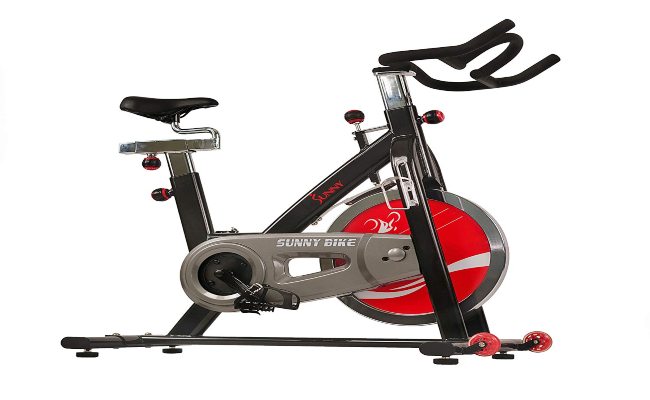 Many people today are supporting the green transport movement and people are commuting more on bicycles rather than a car or other transport. Cycling not only helps you to travel easily from one place to another, but it also helps you to stay fit. Cycling is a great exercise as it works on your whole body. That's why many people prefer cycling to running. However, it may not be always possible to go outdoors due to weather and other factors. People often head to the gym to try out these exercise equipment. But, the gym membership fee is high and not everyone like the concept of sharing this equipment with other sweaty people. If you are one of them, then you should buy an exercise bike for indoor use.
The fitness product manufacturers have come up with different kinds of stationary bikes to meet the needs of people who want to get into shape. Sunny Health & Fitness SF-B1002 Belt Drive Indoor Cycle Bike is one of the most liked exercise cycles in the market. Here, we are going to review it in detail.
Design
It is lightweight and you can easily move it from one room to another with the support of the front-mounted transport wheels. The cycle bike trainer has a resistance system that will give you a real-road feeling. If you workout at a high resistance level, then you will be able to burn more calories. The belt drive system is so smooth that you will be able to experience a smooth and quiet ride. You won't need to do any maintenance work to keep it in good condition.
The seat is designed to be comfortable. You will be able to adjust the seat both horizontally and vertically. You can also move the handlebars up and down according to your preference. The pedals are built with toe cages that keep your feet in place. There is a convenient water bottle holder that will keep you hydrated during your workout session.
There is something called a bike's 'Q Factor' which is the distance between the pedal attachment points on the crank arms. It has been found that the shorter this Q Factor is, the more efficient your cycling experience will be as the transfer of power from the legs to the pedals will be better. There will be no sideways movement of the knees and it will reduce the risk of injury. This bike has a Q Factor of 7.5 inches which is quite low and so you will have a smoother and more comfortable experience pedaling. There are 4 base levelers that are evenly spread around the frame's base. You can rotate these in case the floor is uneven in order to increase the bike's stability.
Build Quality
This stationary exercise bike has a sturdy steel frame. It can support a 275 maximum user weight. It is so strongly built that you will be able to ride for days after days without incurring any problem. It has quiet belt transmission that is augmented by heavy-duty 49 lb flywheel, crank, and steel frame. This makes the equipment very strong and stable. The seat and handlebar are easily adjustable to suit your need. It helps to add resistance to help you burn more calories.
This exercise cycle has a belt drive instead of the chain drive and it provides quieter and smoother workouts. It has a heavy front flywheel that will give you the feeling of riding a real bike. The floor levelers give more stability so that you can exercise comfortably. It has a friction pad resistance system that has a single pad that applies pressure to the flywheel depending on the resistance knob's rotation. There is also an emergency brake option that will stop the rotation of the flywheel immediately. It is very easy to assemble the bike and will take only 30 minutes as clear instructions are provided in the manual.
Size
It is compact and has seat dimension of 10.5'' by 6.5'' by 2.5''. Its height can be adjusted to a maximum of 40 inches and a minimum of 29 inches.
Comfort
It has a fully adjustable padded seat, so you can work out for long hours comfortably without feeling any back pain. You can adjust the seat to a height close to the handlebars. You can adjust the seat in any direction so that you can stay comfortable during the entire long workout period. There will be less impact on your joints and you will be able to work out comfortably.
The handlebars and seat are ergonomically designed and so won't cause any strain to your body. You will be easily switched to various grip positions according to your comfort level. In an upright bike, your posture doesn't change much due to variation of intensity. But in case of this bike, your posture will change according to the intensity of the workout to give you comfort. During a lower intensity workout, you will be able to sit back on the seat and maintain a grip close to the body, whereas, during higher intensity workout, you can shift your bodyweight forwards.
Effectiveness
It is a quiet and smooth indoor cycling bike that will make your exercise effective and comfortable. With 49 lb chromed solid flywheel, you will get a smooth workout experience. It has adjustable resistance with top press down brake. You will be able to easily adjust the seat and handlebar according to your need and convenience. This exercise cycle is portable and you will be able to move it around easily as it comes with wheels.
With this bicycle, you will get the same feeling of riding a bicycle on the road. It is great for cardiovascular workout and has a low impact on your joints. It gives you a quiet, secure, and noiseless workout experience.
Price
You can buy this high-quality exercise cycle for just $370 at Amazon. You won't get a better exercise cycle at this price range. So, you can consider it to be a good investment.
Pros
It is built with a strong frame and will last for a long time.
It is affordable.
It has adjustable seat and handlebars and these are ergonomically designed to reduce any negative impact on your body.
It has a belt drive system that provides a much smoother and quieter workout compared to the chain system.
The flywheel is heavy and so gives better stability.
It is compact in size and has wheels for easy transport and storage.
You can change the resistance to vary the intensity of your workout.
There is an emergency brake that will stop the bike immediately and prevent any injury.
It is very easy to assemble the bike.
You will get a 1-year warranty for the frame and 90 days warranty for the parts.
Cons
• The seat is narrower than the upright bikes and so some people may find it uncomfortable.
• There is no resistance level indicator and so it might be difficult to keep track of the particular resistance between workouts.
• There is no display console, which means you won't be able to track the basic workout information like calories burned, distance covered, speed, etc.
Final Verdict
It is one of the best affordable exercise cycles you will find in the market today. Bikes in this price range usually have a chain driven flywheel system. But, this bike has a belt driven system which allows you to exercise more quietly, smoothly, and comfortably. It also makes it easy to switch between resistance levels. It also has a heavier flywheel than most of the bikes in this price range which provides a smoother cycling motion. Overall, this is a great exercise cycle to buy for burning calories and getting into shape.
Buy Sunny Health & Fitness SF-B1002 Belt Drive Indoor Cycle Bike