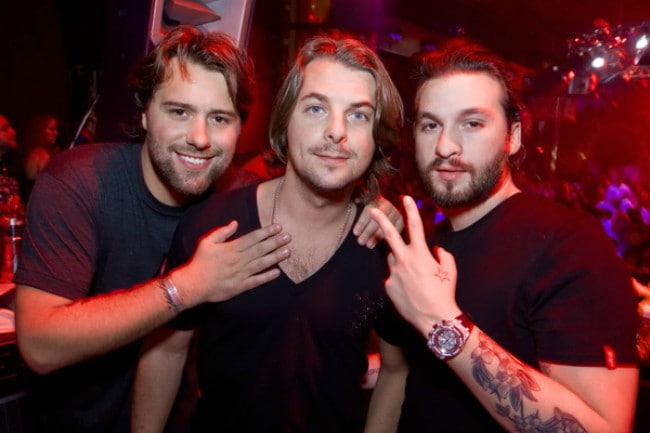 Members
Axwell – Music Sequencer, Synthesizer, Drum Machine
Steve Angello – DJ Turntable
Sebastian Ingrosso – Music Sequencer, Personal Computer, Synthesizers, Piano
Past Members
Origin
Stockholm, Sweden
Genres
Progressive House, Electro House, House
Labels
Virgin Records
EMI
Astralwerks
Polydor
Universal Music Group
Ministry of Sound
Formation Date
2008
Singing Portfolio
The Swedish House Mafia released their first album titled Until One on October 22, 2010. The album was dubbed 'Platinum' by Swedish Recording Industry Association and also peaked at the 2nd spot on the UK Compilation chart.
They have produced successful tracks such as Don't You Worry Child, Greyhound, Antidote, Save the World, Miami 2 Ibiza, One (Your Name), Leave the World Behind, Get Dumb, and many more.
Swedish House Mafia Facts
Swedish House Mafia started as an unofficial group of 4 friends and DJs including Eric Prydz, Axwell, Steve Angello, and Sebastian Ingrosso. The group of friends used to perform locally for friends and fans going by the original name.
The group finally went official in late 2008 and Eric Prydz did not join the official group as he claimed himself to be a control freak.
Their most famous single track Don't You Worry Child peaked on the 1st spot on UK, Sweden, and Australian Music charts and 2nd on the Irish Singles chart.
On June 24, 2012, the band announced that they would split after their famous 2012 tour that was One Last Tour.
Their last show of the One Last Tour took place at the Ultra Music Festival Miami in 2013.
The band's first DVD documentary Take One released on November 29, 2010, and after the split, their 2nd documentary Leave the World Behind came out on September 2, 2014.
On March 25, 2018, the group reunited at the 20th anniversary of the Ultra Music Festival.
After the split of the group, the group members Axwell and Sebastian Ingrosso collaborated, while, Steve Angello worked as a solo artist.
In October 2021, Swedish House Mafia and The Weeknd released a new song titled Moth to a Flame.
Visit the band's official website @ swedishhousemafia.com.
Connect with the band members on Twitter, Facebook, SoundCloud, and YouTube VEVO.
Featured Image by Gianluca199063 / Wikipedia / CC BY-SA 3.0