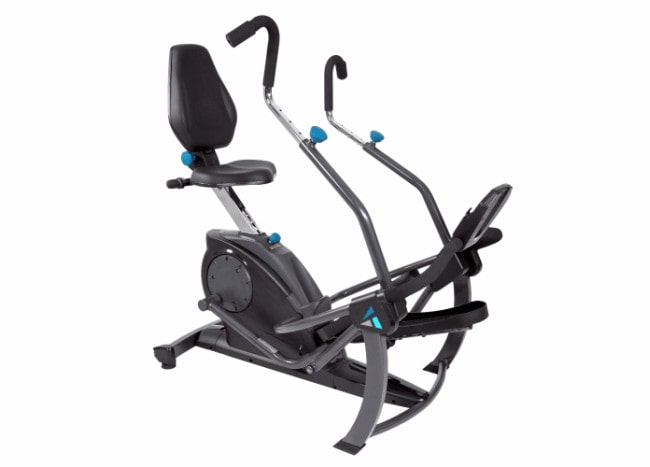 There are different equipment that you will find in the gym. Some are more effective than others. There is equipment to train specific parts of the body like the arms, legs, abs, etc. There is also equipment that will help to tone your whole body. One of the best equipment for a total body workout is the cross trainer or the elliptical. This equipment is very easy to use and you won't feel any strain on your hands or legs. It is often used for rehabilitation purposes.
To buy the right cross trainer, you must buy one that has modern features. Today's cross trainers are technology-oriented and you will find several options to monitor your heart rate, calories burned, distance covered, and other measurements. You should also consider the construction and durability. You should also consider your budget. If you want a cross-trainer that is reasonably priced and will provide you value, then you should consider buying the Teeter FreeStep Recumbent Cross Trainer and Elliptical.
Design
It has a naturally-reclined seated position that feels comfortable and reduces body fatigue. It will lower the stress on the joints and back even when you do cardio. It is designed to be quiet, so you won't disturb others when exercising. The unique striding motion protects the joints and knees. It engages with magnetic resistance that can be adjusted easily. It is great for a total body workout. The dual power motion works for the lower and upper body, thus engaging the different muscle groups. It has a reclining seat that can be adjusted to 3 different positions. This will give optimal muscle engagement, posture, and comfort. You will be able to adjust the height of the seat easily so that you can have a gentle and neutral stride motion. You can adjust the handles using the rotating handle settings to target different muscle groups.
It has a battery-powered digital console which will allow you to read the progress of your workouts. It has transport wheels for easy relocation. It comes with a device stand and water bottle holder. You will be able to listen to your favorite music while exercising. You can get it in 2 versions – LT1 and LT3.
Build Quality
It has commercial-grade engineering. It is made of heavy-duty steel tubing and can support weight up to 300 lbs. Its construction integrates various ABS parts like the covers of the drive system and the pedals. All the steel parts are double coated with rust-resistant paint finish. The adjustable parts have a chrome finish. Its friction-free linkage system allows long term use. It has the patented stride technology that uses a natural stepping stride to protect the knees. It has multiple grips that provide a great upper body workout. You can vary the resistance to perform different types of exercises.
The LT3 version has upgraded UltraGlide Bearings that provide frictionless motion. The SoftStep Pedals have a durable grip surface that provides extra traction, so your feet won't slide off. The ComfortSelect Seat has a thick cushion that supports different positions. It has SureGrip handles that are covered with high-grade polyurethane coating providing a sweat-resistant surface. As the unit is heavy, it is very stable.
Size
Its footprint is 54 inches by 38 inches, thus it won't take up much space in your home. It uses dual power motion to distribute exertion of muscle throughout the body.
Comfort
With this equipment, you will be able to shift from doing leg workouts to arm workouts. You will be able to exercise for a longer time without getting tired. The seat is cushioned so that you can sit comfortably in any position.
Ease of Use
It is very easy to assemble the product. The stepping motion makes exercises easy and comfortable. The pedals provide extra traction so that the feet don't slip off during exercise. The handles are coated with polyurethane to make it sweat-resistant.
Effectiveness
This cross trainer will provide zero-impact exercise. With this equipment, you won't feel the pain you normally feel by exercising with other equipment. You will not feel any strain on the back or joints and will be able to work out conveniently. So, it is suitable for different fitness levels. By exercising regularly, you will be able to burn more calories and build strength. You will be able to work out your arms and legs separately. This will provide added intensity. It has an adjustable design that fits the body well for varying the intensity and positions of the workout.
As it incorporates both the upper and lower body, it distributes the muscle exertion so that the muscle doesn't burn out. You will feel much easy to exercise and will be able to burn more calories. The upper and lower body linkage system is synchronized that gives a smooth motion. You won't find any drag here.
Pros
It is made of heavy-duty steel and can support 300 lbs of weight. 

It provides a zero-impact workout, so doesn't cause any pain to your joints or muscles. 

It operates smoothly and doesn't produce any noise.

It is compact, so ideal for smaller spaces. 

The adjustable resistance provides a good workout variation.

It has a friction-free linkage system. 

There are adjustable stabilizers on the rear base. 

It has transportation wheels for easy relocation.

It has both stationary and mobile handlebars.

The seat and backrest are foam-padded.

The seat is adjustable.

There are bottle holders and device holders. 

You get a 60-day money-back guarantee.
 

Cons
The stepping motion may not be liked by all users.

Not many secondary features

The stride length is short.
Final Verdict
You can consider this cross trainer as an in-home physical therapy solution. If you are suffering from knee, back or joint pain, then you will find comfort by exercising here. It has a patented technology that offers an effective motion. It provides a low impact and low-stress cardio and resistance workout. This hybrid elliptical/recumbent bike will let you perform a full-body workout with zero impact. The machine is affordable, so you will be totally satisfied after buying it.