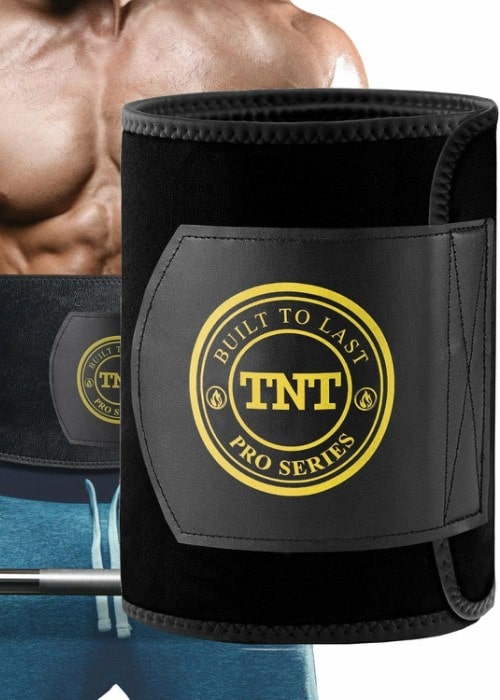 One of the areas of the body in which you tend to accumulate fat easily is the tummy. Just have burger or pizza for a few days in a row and you will find your tummy completely out of shape. But, when you try to exercise and get a flat tummy you will find the job nearly impossible. It is very difficult to get your tummy back in shape and you will have to work very hard for it. However, one easy solution is to wear a fitness trainer belt. This doesn't mean that you won't have to exercise. You will still need to work out wearing the belt but you will get faster results. Using this belt, you will be able to get a perfect hourglass figure. You can also control your calories and improve posture. Here, we are going to review the TNT Pro Series Waist Trimmer which is ideal for both men and women.
Design
The belt is designed in such a way that it enhances thermogenesis in the midsection, resulting in a flatter stomach. You will find this belt in black color with borders having fun colors like pink and yellow along with black. It has a grey fastener to make sure that the belt remains in place. It is extra-wide, so will cover the entire abdominal region. It is designed for both men and women. The belt is stylish and you will look great even if you wear it on top of your clothes. So, you can go outside wearing this belt. If you wear it inside, you will look slimmer.
Build Quality
The belt is made of neoprene material which is of very high quality. It uses a latex-free rubber that wicks away moisture. It has an anti-slip inner grid technology which ensures that the belt doesn't slip off during exercise. It repels moisture and so you can clean the belt easily. The belt is self-healing, so you won't need to exercise to get it heated. But, you will get the best results if you wear it while exercising.
Size
It has dimensions 10 X 3.5 X 3 inches. It is lightweight and comfortable. You won't feel uncomfortable wearing it on top of clothes or directly above your skin. You can get the belt in different sizes, so users of different waist sizes can buy it. The smallest size will fit waists up to 32 inches and the largest size will fit waists up to 60 inches. When choosing the size, you should measure your waist around your belly button. That way you will get the perfect fit.
Comfort
It is made of soft, soft neoprene material, so you will find comfortable wearing it for long hours. The belt is extra-wide and will cover the entire belly which will help you to get a toned waist.
Ease of Use
You can easily put on the belt by using the fastener. Your belt will remain in proper position even when you exercise. After use, you can easily clean it as no sweat will be absorbed.
Effectiveness
You will sweat more by wearing this belt, so will be able to lose calories and get into shape more quickly. Water weight is one of the main problems and contributes a lot to the body fat. This weight is very difficult to shed. The TNT Waist Trimmer can help to reduce the water weight by making you sweat intensively. Your posture will improve if you wear the belt regularly and it will help to build up your confidence. When you wear the belt, the pressure around your abdomen will make you stand or sit straight; eventually, you will have a better posture. The belt also provides good back support which helps you in maintaining a good posture.
The belt will also help in pain management. If you have a sore muscle, then you can use this belt as it will heat up and reduce your pain just like a hot shower or a heat patch does. The heat will allow your blood to flow better and relieve your pain. If you have mild pain, then you should wear the belt for 15 to 20 minutes and if you have severe pain, then you must wear it for a maximum of 2 hours. Even when exercises and not having any back pain, you shouldn't wear the belt for more than 2 hours. As you sweat a lot, it helps your body to detox as toxins get eliminated.
Pros
It has a stylish design and you can get it in different sizes.
You can find it in various sizes.
It is made of soft neoprene and latex-free materials making it comfortable and durable.
The belt can enhance sweat and speed up weight loss.
It has anti-slip inner grid technology that prevents the belt from sliding or shifting during exercise.
It repels moisture, so sweat won't build up and prevent the development of bacteria.
It is easy to clean.
It is designed for both men and women.
The belt is extra-wide, so it will cover the entire midsection.
You can use it to relieve back pain.
It will help to improve your posture.
Cons
The fastener may wear down quickly.
You may get a rubbery smell.
Final Verdict
This belt is very effective in weight loss. You will also have a slimmer waist. You will get rid of your water weight quickly and have a great body. If you don't like exercising too much, then you can buy this belt to lose weight easily. You should exercise while using this belt but not so intensely. So, you can get your desired body with much less effort. However, before using the belt, you should seek the advice of a doctor. The heat from the belt may cause problems for people with certain illnesses. Overall, the belt is of high quality, functional, affordable, and stylish. So, it will be a good investment to buy this belt to trim your waist and lose weight.