Molded physique, stoic personality, Tobey Maguire is an American actor and producer. Owning to his upbringing, he belongs to humble background wherein his father and mother were unmarried at the time of his birth. However, later they got married and without being together for long, they divorced. Tobey had to pay the toll of their separation since he was to move from one town to another, which kept him under stress.
Although Tobey started his career from his childhood days and gained popularity from movies such as The Cider Rules, Wonder Boys, Seabiscuit, but Spiderman turned out to be the biggest breakthrough for Tobey, which had him stand equal to all the iconic celebs of Hollywood.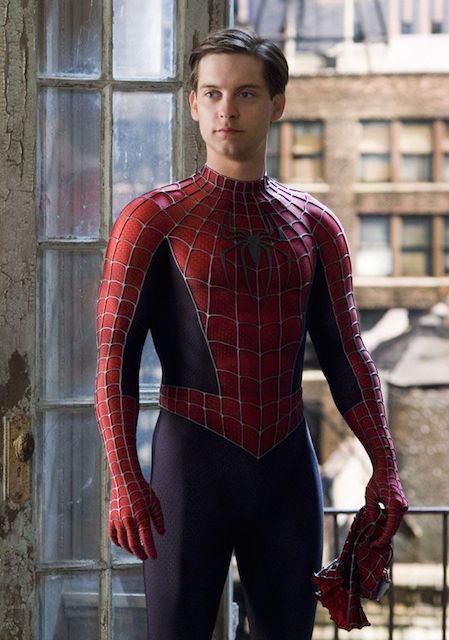 Without being nerved, Tobey took all the pain to make his roles flawless and effective. Having starred in Spiderman (2002), Spiderman 2 (2004), and Spiderman 3 (2007), Tobey Maguire has been through radical fluctuations in his weight. And not to mention, the movies also paid him well since their tremendous success on the box-office made the actor opulent and in demand overnight.
As per the demand of his role in the movies, the actor accordingly molds his physique. While he is extremely slender and fragile in some movies, in other movies you can see him flaunting his muscular physique. And in the Spiderman movies, you, in particular, can see all the transformation and makeovers of the actor within the movie. Well, the magical tool used for creating the miraculous makeover was his discreet and meticulously planned diet and workouts.
Tobey Maguire Workout Routine
The handsome actor had to acquire cut body for becoming a Spiderman. During that time, he practiced workouts six times in a week while hitting the gym twice in a day. His workouts being extreme, used to continue for three and half hours.
Celeb trainer Gregory Joujon-Roche was there to guide and direct him. Under his supervision, the audacious actor executed martial training, cardio workouts, weight lifting, yoga, gymnastics, and what not. His exercises were meant to enhance his agility, endurance level, and strength. He also practiced varied workouts with a hefty stability ball to rip specific parts of her body. The hunk used push-ups, pull-ups, to strengthen and sculpt his stomach abs and lower body parts.
Tobey Maguire Diet Plan
Diet being the determining factor in deciding body make has always been used judiciously by the actor. His diet program is comprised of foods having high content of proteins and healthy fats. Since vigorous workouts cause wear and tear in muscles, he consumes protein smoothie post workouts to stimulate recovery process in his body.
Veggie burgers, whole grains, fruits, nuts, grains, lean meats, fish etc. are indispensable parts of his diet regime. And he steers clear from junk, fried, oily, and unhealthy foods. He inculcates little quantity of fats by consuming low fat or skimmed milk, cheese, yogurt etc.
Since one requires strong will-power and perseverance to adhere to such a strict diet regime, the actor allows him to have one cheat day in a week wherein he is free to consume all kinds of foods. He purges his cravings by splurging on cheat days and retrieving his restrictive yet wholesome diet the very next day. There have also been times when Tobey has adhered to typical vegan diet plan to shed numerous pounds from his body.
Healthy Recommendation For Tobey Maguire Fans
Are you wishful to attain chiseled and limber body like Tobey, but are reluctant to spend that much of time on grueling workouts? Well, here is the recommendation you can follow to acquire swifter results.
Tabata intervals are the remedy to your problem, which can have you win ripped body while keeping your time constraint at upper hand. Without consuming much of your time, the high intensity exercises will speed up fat burning process in your body. All you have to do is, select your exercises. You can pick any exercise such as running on elliptical, jumping, lunges, or even strength training exercises.
Proceed with workouts by first warming up your body for five minutes and then do your picked exercise for twenty seconds, followed by ten seconds rest. You have got to make eight reps while lingering to the same time manner. Exercises followed with speedy recovery have proven results of torching pounds faster.