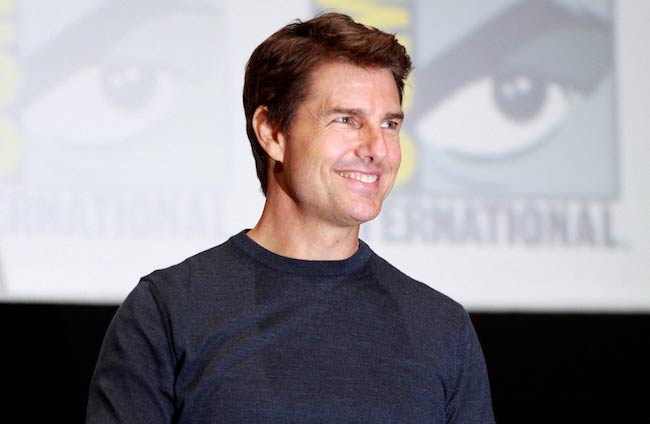 Tom Cruise is one Hollywood actor that has stood the test of time. He has experimented with several genres of films like romance, comedy, action, sci-fi, and has made his mark in each of these genres. Amongst his notable works is the famous Mission Impossible series which has grossed $2.7+ billion worldwide till 2018. The franchise has been ranked as the 20th highest grossing film series of all time. Tom's impressive acting chops and his global icon image have played an enormous part in catapulting the franchise into cult status.
The first film in the series Mission: Impossible was released in 1996 starring a 34-year-old enigmatic Cruise. Not much has changed since as he is still trying to save the world as an IMF (Impossible Missions Force) agent Ethan Hunt in the 6th installment of the franchise Mission Impossible: Fallout due for release on July 27, 2018. The first film also marked his journey as a producer which he continued for all the 6 films as he carefully watched the film's evolution from script to screen.
The action spy films are known for its law-defying stunts most of which are performed by the leading man himself. The stunts in each of these movies have been the talk of the town with every new film trying (and succeeding!) to outdo its predecessors. Who can forget his jaw-dropping scenes in Mission Impossible 2 where he is free-scaling the cliffs of Utah's famously jagged Dead Horse Point? In the 2011 film, Ghost Protocol, Cruise was famously seen dangling from the mirrored windows of the tallest building in the world – the Burj Khalifa at around 2,722 feet above the ground. It was followed by the daredevil Cruise hanging for dear life on the side of a jet plane in Rogue Nation (2015).
While shooting the latest film in the franchise; Mission Impossible – Fallout, he famously broke his ankle while shooting for a stunt which involved running atop a building and flying mid-air. When he hit his ankle at an odd angle against the cemented building, he immediately knew that damage was done. But being the committed actor that he is, he pushed through the pain and completed the shot while limping for a few seconds before the director yelled cut.
He was indeed out of action for 6 weeks in which time, he entered rehab and trained for as much as 12 hours a day, 7 days a week. As time was not on his side, he worked hard with his rehabilitation and was running sprints again in 6 weeks' time. Another heart-dropping stunt in the film has him jumping out of a C-17 military plane by free-falling at 220 mph. He allegedly did the stunt an astonishing 106 times just to get it right. Talk about dedication! Tom Cruise is a force to be reckoned with as his never-say-die attitude has earned him the kind of reverence very few can boast of.
With his pretty boy looks and charismatic smile, Tom surprisingly has an insatiable appetite for danger. He performs many of his own stunts in the movies, some of which have been purely death-defying. He may come across as a soft-spoken actor in interviews, but he certainly has some serious need for speed and adrenaline-pumping thrills. Now in his mid-50s, Tom Cruise can still give any young actor a run for his money. His dedication to his art is commendable as he likes to infuse a personal touch into his roles.
One of Tom's other passions is flying, and he has been an aerobatic pilot for more than two decades. He holds a pilot license since 1994 and is known to own as many as 5 private jets including a luxurious Gulfstream IV with its own Jacuzzi, and a P-51 Mustang which is an American long-range single-seat fighter plane.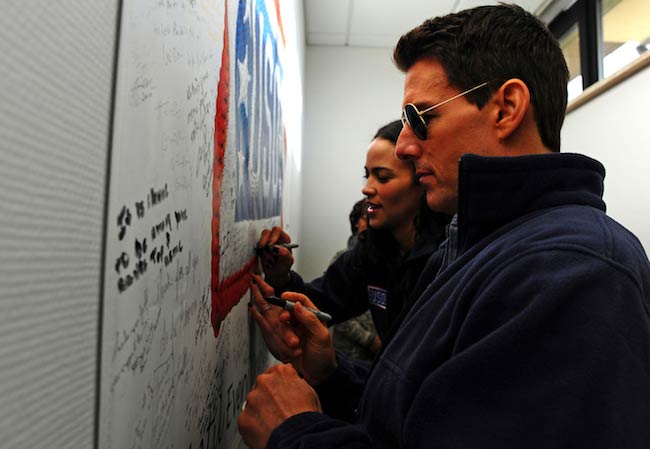 From his first outing in Mission: Impossible to the 6th installment of the franchise, he has played the same character of Ethan Haunt for 22 years, but in reality, he hardly seems to have aged beyond a couple of years. He has maintained his envious looks and great physique by sticking to a clean diet and putting sincere efforts in the gym.
Tom is probably the best embodiment of an adrenaline junkie. He has admitted to engaging in outdoor activities like rock climbing, sea kayaking, hiking, jogging, etc. which apart from giving him his timely dose of adrenaline, also keeps him in good shape. Tom is known to work out every day even when not shooting or prepping for a movie. He is best buds with ace footballer David Beckham and the two are believed to share their workout and diet plans with each other. For the shooting of Rogue Nation, Tom extended the services of his personal chef with his entire cast. They were put on a nutritional meal plan where his chef would stir up healthier versions of stews and truffles for his co-stars.
He is an extremely disciplined actor and hardly ever deviates from his fitness goals. He has what one would call a lean and toned look as opposed to the bulky frame that most Hollywood A-listers opt for. It has also added to his youthful appearance. The positive effects of his strength and endurance training are evident in the stunts that he performs himself in the movies. It requires a lot of self-discipline and dedication to one's work to keep pushing your limits every time.
With a career spanning more than 35 years, he has managed to stay relevant to his audience by continually adapting and reinventing himself in keeping with the changing times. While he has received plenty of flak for his personal life and belief systems in the media, he is one star that generates maximum buzz around his movies and gets the audience excited about its release. Even at 55, Tom is raring to go, and we can only watch in amazement as the latest chapter of his life unfolds. If you want to know more about this amazing actor, you can check out our article on Tom Cruise weight, height, facts, and other important details.
Featured Image by Gage Skidmore / Flickr / CC BY-SA 2.0