The Only Way Is Essex (2010-Present) star Frankie Essex initiated a new fitness regime that helped her lose some extra weight and look amazingly beautiful. She is not hesitating to show off her weight loss achievements and has been seen in some shouldering photos recently. She has swapped the time spent in night outs with friends with spending some time in the gym and the results are astounding. Being fit has not only helped her get an amazing body, it has also helped her to be mentally strong. Let's find out how the chubby woman transformed into a sexy one with washboard abs and toned stomach in just a few months and how she intends to keep at it.
Battling Depression
The blonde bombshell has confessed that she became a victim of deep depression last year (in 2015). She even considered taking her whole life. She was in a troubled relationship with her boyfriend and her family didn't like him too.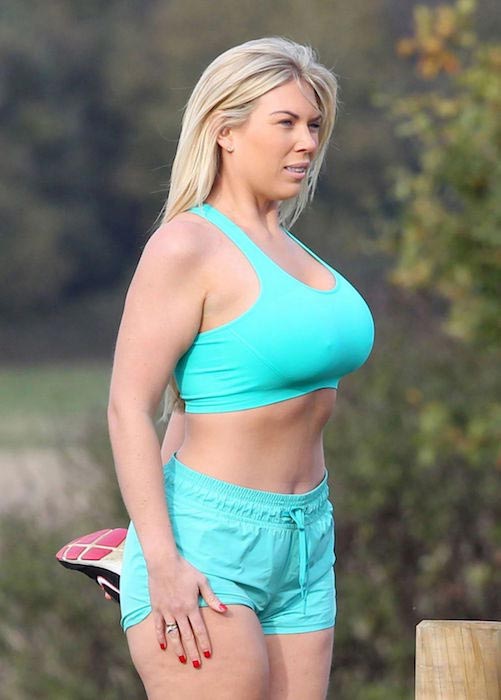 The Change
One day, the determined lady decided that she didn't want to be sad anymore. She wanted to change her life so she left her boyfriend, spent quality time with her family on Christmas and joined the gym to transform her life.
Impact of Fitness
Fitness has had a great impact on her life now. She feels more confident and even feels sexy again. She says that turning to exercise was a brilliant choice and she loves it. The hottie even shares that whenever she walks out of a gym, she has a smile on her face because exercising makes her happier.
Amazing Results
The gorgeous woman has dropped about three stone. She now weighs 10 st 2 lbs only.
Boosted Confidence
Working out has been amazing for her confidence levels too. She felt like a monster earlier and didn't want to see herself in the mirror. Now, she feels great when she looks into the mirror.
Helping Others Too
Essex hopes that she would be able to inspire other women to workout to change their lives too. She wants women to understand that exercise and fitness can be the keys to finding your own confidence. She confessed that she was in a very bad place some time back and got better with fitness. If she can do it, other women can do it too.
Previous Weight Loss Attempt
This is not the first time that the TV personality has lost weight. She dropped 2st in two months in 2014 and was called a notorious yo-yo dieter. Unfortunately, she could not sustain the weight loss and gained it back again.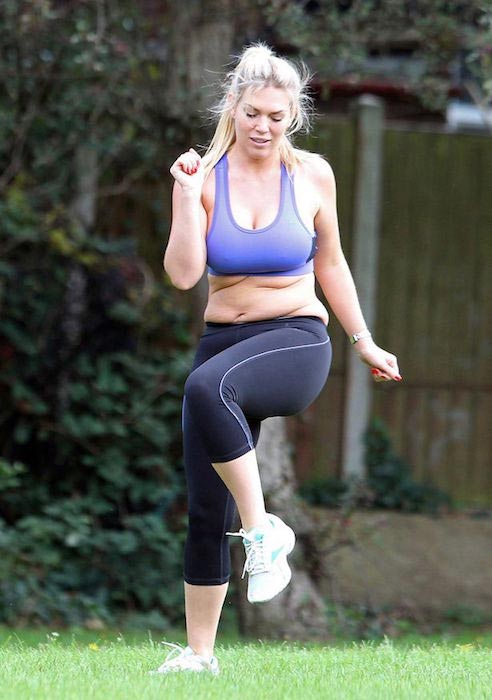 Workout Routine
This time her journey started in March and she has had more chances of sustaining weight because she was hooked to workouts and still is. She works out for an hour on a daily basis. Her workout routine begins with stretching as it helps her to keep her muscles lean. Then, she switches to the treadmill for 20 minutes. After that, she uses the steps machine where she spends half an hour or even up to an hour. Keeping the workout routine mixed is a specialty of hers. She sometimes sticks to only cardio exercises but at other times, she does weights too. It's a combination of both that helped her lose so much weight. (And we highly recommend mixing up exercises too!)
Seeking New Workouts
The diva likes to try out new workouts every day. She takes the help of social media platforms like Instagram and uses the snapshots to try a new exercise regularly. She enjoys taking the pics of her workouts too.
Short Workout
On the days when she doesn't have time for working out in a gym, she switches to swimming instead. She says that a short swim is a very good form of exercise. When in the pool, she generally does 10 lengths, has a breather and then does 10 more. She says that this exercise works out your entire body so it's very useful. (And we agree!!)
Diet Plan
Frankie was addicted to booze and junk food since a few months back. Now, she tries to eat everything that is gluten free as it has fewer calories. She has also replaced sugar with fruit syrup. Her diet plan is given below:
Breakfast
Her days begin with poached eggs with smoked salmon as it's her favorite. If she can't have that, she switches to porridge with coconut milk.
Lunch
In lunch, the British celebrity likes to have some sushi in a good restaurant. If she needs to eat at home, she will stick to fresh soups and salads.
Dinner
Dinner is the meal that she really enjoys because she eats whatever she feels like. Her dinner usually consists of some protein such as chicken and courgette that she has with pesto and chicken.
Fitness Motivation
The biggest thing that motivated the smoking hot lady to keep getting fitter was that she watched her body transform from size 16 to a healthy size 8. Seeing the change daily helped her to keep at it.
Support from Loved Ones
Having the unconditional support of her cousin Chloe Sims also motivated her to stick to her fitness goals.
Feeling Positive
After the superb body transformation, the hair expert is feeling more positive towards life. She shares that she had lost purpose in life and didn't feel like herself, but now, she is feeling back to being her best. She also revealed that she is planning to do a lot of exciting things now.
To keep up with the fitness journey of the British luminary, you can follow her on Instagram and Twitter.