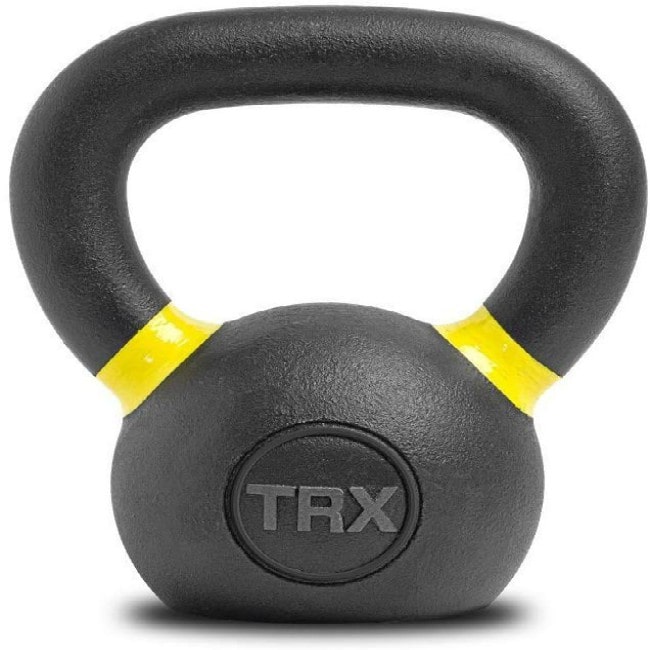 Kettlebell has recently been in the spotlight. You will now find it in almost every gym floors and many people are buying it for their home as well. Though it has gained popularity only recently, it is not new. It first became popular in Russia many years ago. Then, slowly it's popularity spread throughout the world for functional fitness and CrossFit.
If you are tired of exercising with dumbbells and barbells, then you should try kettlebells. With this versatile equipment, you will be able to do different kinds of exercises to burn fat and get a toned body. When you work out with kettlebells, it engages every muscle group and helps you to achieve your fitness goal faster. The different fitness brands are coming up with kettlebells having unique features.
When buying a kettlebell, you should consider the material and the process by which it is made. It is always better to buy a kettlebell made of cast iron over one made of cement. Kettlebells with powder or other coating lasts longer and they are rust-resistant and won't chip off easily. You should consider the quality of the handle as you need to have a good grip to exercise. The handle must be wide enough to hold comfortably. Finally, you should have a good budget for the kettlebell.
It is wise to invest in a good kettlebell that will last longer than to buy a cheap one. Considering the features of a good kettlebell, we have found the TRX Training Kettlebell to be one of the best ones. Here, we are going to review the TRX Training Kettlebell in detail and learn about the different features it has that makes it stand out from the rest of the kettlebells in the market.
Design
The TRX Training Kettlebell is round and compact with a wide handle. The handle has colored bands to identify the different weights. This kettlebell is made though a gravity cast molding process that makes its design flawless. Due to this process, every single kettlebell of this brand is created the same way. It has a flat bottom which allows it to stay evenly on various surfaces. This kettlebell comes in weights from4 kg to 40 kg, so users of any fitness level can use it. If you are new to kettlebells, then you should start with the low weight and then gradually increase the weight.
The finish of this product is of high quality. It is something in between unfinished cast iron and a matte powder coating. That's why it is not as rigid as the kettlebells that are fully powder coated and it not as smooth as a finished iron. So, it feels very comfortable to hold and makes it convenient to do any exercise.
Build Quality
Kettlebells that are made from a single piece of cast iron is the strongest. This kettlebell has been made this way and so there is no doubt about the quality of this kettlebell. To take the quality level a step further, the manufacturer has made it using a gravity-cast molding process which ensures the stability and durability of the product. This kettlebell won't break even after rough use for many years.
The handle of the kettlebell is wide and so it can be used by people of different hand sizes. It has a chip-resistant coating that makes the kettlebell durable. The coat also prevents rust and keeps the kettlebell in good condition for many years. Due to the powder coating, your hands won't slip off even if you sweat during exercises.
Size
You will get this kettlebell in sizes from 4 kg to 40 kg. So, there is a size for every user from the beginners to the advanced ones. The kettlebell is compact which makes it easy to store. The handle is wide and will fit users with different hand sizes. 
Comfort
In the case of many kettlebells, you need to use chalk for exercising. But with this kettlebell, you can workout comfortably without any chalk. The grip is comfortable and it doesn't feel rough on the hands. The handle is ergonomically designed and so you won't feel any pain on your wrists while exercising. As the surface is smooth, you won't cut your hands during workouts.
Effectiveness
This kettlebell can be used by the fitness enthusiasts and the athletes as well. Before a competition, the athletes use this kettlebell to strengthen their body. You can train your body unilaterally by using this kettlebell and work on your conditioning as well. With this kettlebell, you will be able to combine cardio and strength training that engages multiple muscle groups. It is perfect for use at home and at the gym. As the bottom is flat, you can easily store it in your closet or other places.
Once you start exercising with this kettlebell, you will realize that you are burning fat faster. It's a great tool for a total body workout. This kettlebell can do the things a dumbbell or a barbell would do for you. It is great equipment to use every day to get a toned and fit body.
Price
The 4 kg kettlebell costs $25.46 and the 40 kg one costs $135.96 at Amazon. The other weights will cost in between these values. Though they are a bit expensive compared to the other brands, you will be happy with the quality and performance of the kettlebell.
Pros
It has a simple design and has colored bands on the handle to recognize weights.

It is made from one-piece cast iron and uses gravity casting process which makes it very strong and durable.

You will be able to choose from a wide range of weights.

Its handle is ergonomically designed and so you won't feel any strain on your hands.

The handle is smooth and your hands won't slip off during exercise due to the powder coating.

The powder coating protects the kettlebell from corrosion.

The bottom of the kettlebell is flat which allows for easy storage and prevents any rollover.

With this kettlebell, you will be able to combine cardio with strength training and engage your different muscle groups.

You get a two-year warranty for the product.
Cons
It is expensive compared to some of the other brands.

The handle is of standard width and may not be appropriate for users with large hands.
Final Verdict
This kettlebell has a simple and appealing design. The single-piece cast iron construction makes it extremely durable. Due to the powder coating, it feels great on hands and makes it comfortable to workout. The handle is wide enough to fit your hands and perform any type of exercise. As the bottom is flat, it sits on the surface without rolling over, so there is no chance of causing any injury. You will be able to do various types of exercises with it including cardio and strength training. The athletes often use it to strengthen their body before any competition. It is worth buying this kettlebell to help you with your everyday exercise routine.