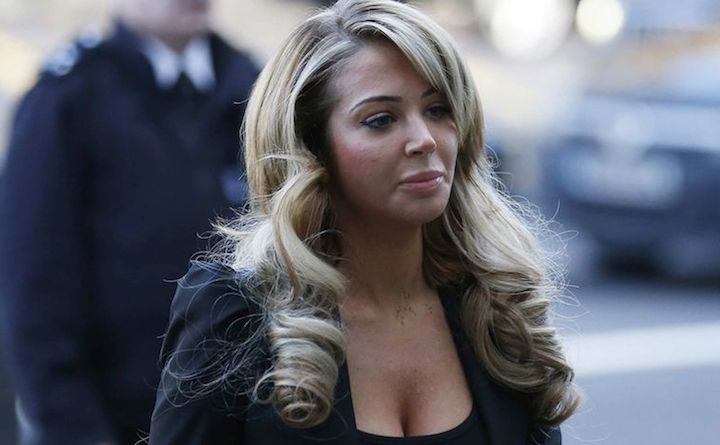 Former The X Factor judge, Tulisa Contostavlos is an English singer and songwriter. Her sculpted and well-defined hot bod might make any woman in the world envy her. Credited with ample assets, trimmed waist, and honed butts, the sultry star inherits captivating hourglass figure.
Tulisa shares, she seldom belonged to the category of size four poster girls, neither did she wish to. Unlike overly skinny models and actresses of Hollywood, Tulisa is quite voluptuous with fuller and feminine curves. Although the body weight of stunner keeps altering from size eight to size ten, but that really bugs her the least. She feels, she garners more attention from males when she is size ten. Right from long dresses to bikini, all the dresses seem feeling proud when the ravishing beauty puts them on.
Tulisa Contostavlos Workout Routine
The charismatic beauty being practical in her approach banks on workouts to buff her body parts. Lately, she could be seen executing tough stretching exercises to tone her stomach, arms, and butt muscles. That being said, her main purpose of switching to grueling workouts is not to torch pounds from her body, it rather is to attain optimum health.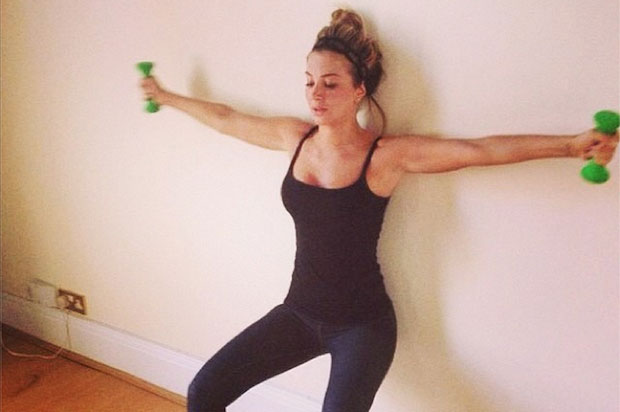 She practices numerous unique postures of yoga to drive her body and mind towards bliss. The brunette doesn't even step back from doing the exercises having her get painful legs and arms. She reckons, to get something, you certainly have to lose something. And to acquire incredible curvaceous body, Tulisa is perfectly prepared to skip enjoying her weekends along-with her pals, and even swap the gala time with intense workouts.
Besides that, among outdoor cardio workouts, she is in love with dancing and swimming. Water aerobics being perfect mix of thrill and workout enthrall her the most. And at times, when she doesn't feel like hitting gym, she executes swimming, jogging, stair climbing etc. Exercises elevating her heartbeat bestow her amazing sense of satisfaction and make her feel that she is adequately looking after her treasure figure.
Tulisa Contostavlos Diet Plan
Tulisa is among the celebs who find themselves totally helpless in front of yum foods. She abandons all her resolutions or anything like that when she comes in contact with fried, processed, and sugary foods. She fails to give any regard to healthy foods. She in-fact admits of embracing myriad healthy diet plans in past, but her cravings didn't let her stick to them for long.
The electrifying beauty tend to make unhealthy choices of foods, and being sentient of her wrong choices, she endeavors making them health oriented by eating green and leafy veggies along-with those unwholesome foods. When her effort is to cater to healthy eating habits, she consumes fresh fruits in her breakfast and sushi in her lunch or dinner.
Even if we overlook all the flaws of her diet regime, one flaw can seldom be ignored and that is, she doesn't drink water. She swaps water with apple juice, Lucozade, Ribena, or any other liquid food item. Although the juicing diet has been having her delighting results, but from health point of view, this might turn out to have her confront disastrous outcomes in the coming days.
Healthy Recommendation For Tulisa Contostavlos Fans
Here come few recommendations for the fans of Tulisa Contostavlos seeking to acquire sylphlike and bikini perfect figure like her.
Detoxification is one of the most required principles, which is often overlooked by most of us. With the accumulation of toxins, you not only look obese, but toxins also stimulate wrinkles and other signs of aging and make you look older than you actually are.
To avoid them from happening, you can revitalize both your body and mind by eliminating toxins from your body at least twice in a year. While being on detox program, you can consume amicable high-fiber and antioxidant foods such as mushrooms, broccoli, spinach, asparagus, beetroot, ginger, cinnamon, celery, lemon, kale etc.
And as far as workouts are concerned, some people go intense on workouts considering them to be a stimulant to the detox process. However, the fact is exactly contrary. Since you are on low calorie diet, your body doesn't happen to have sufficient energy to perform workouts. So allow your body to have complete rest during detox days. You can practice heavy workouts from the day next to detox day.