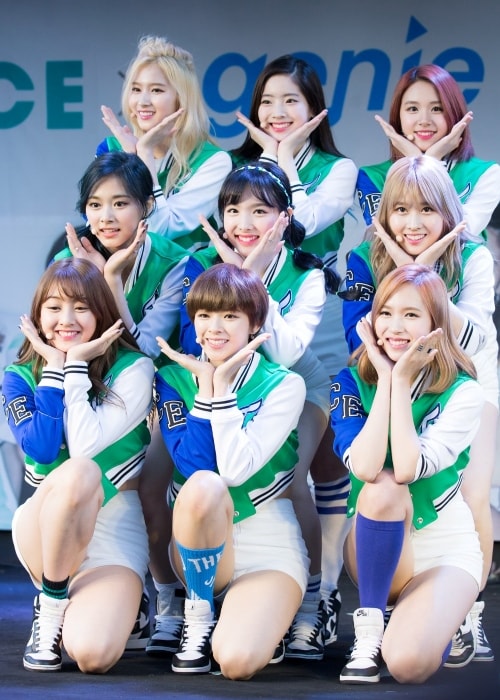 Twice is a 9-member South Korean girl group formed in 2015 by JYP Entertainment through the reality show, Sixteen. The group made its official debut in October 2015 and has released several studio albums as well as extended plays. After debuting in Japan in 2017, Twice peaked at 3rd spot on Top Artist category of Billboard Japan's 2017 Year-End Rankings.
Members
Origin
Seoul, South Korea
Genres
K-Pop, J-Pop
Labels
JYP Entertainment
Warner Music Japan
Formation Year
2015
Tours
Twice has done a number of tours including –
Twice 1st Tour: Twiceland (Seoul, Bangkok, Singapore) (2017)
Twice Showcase Live Tour 2018 "Candy Pop"
Twice 2nd Tour: Twiceland Zone 2 – Fantasy Park (2018)
Twice 1st Arena Tour 2018 "BDZ"
Twice Dome Tour 2019 "#Dreamday"
Singing Portfolio
The group released its first studio album, Twicetagram, on October 30, 2017. The album peaked at the 1st spot on Korean, U.S., and Chinese music charts.
Twice Facts
The group was formed in 2015 via a reality show, Sixteen, created by JYP Entertainment.
The group was initially announced to be seven-membered and the 7 finalists of Sixteen were chosen. Later, member Tzuyu was added through "audience's pick" and Momo was selected by JYP founder Park Jin-young himself as he thought that her skills were needed by the group.
Twice made its official debut on October 20, 2015, with the release of an extended play titled The Story Begins.
The group actually made a name after the release of the single, Cheer Up, in 2016, which peaked at number 1 on the Korean Music charts.
Cheer Up was not only the best performing single of the year but also won Song of the Year award at Melon Music Awards and Mnet Asian Music Awards.
Twice made its official debut in Japan on June 28, 2017, with the group's first compilation album titled #Twice.
In October 2021, they released their first English-language single titled The Feels.
In August 2022, the band released their 11th mini album titled BETWEEN 1&2.
In January 2023, Twice released an English song titled Moonlight Sunrise.
The band released their 12th mini album titled Ready to Be in March 2023.
In March 2023, the group unveiled their new light stick "Candybong Infinity".
In July 2023, the band debuted their first unit group MISAMO, which consists of members Sana, Mina, and Momo.
Visit the band's official website @ twice.jype.com.
Featured Image by Shaq / tistory.com / CC BY 4.0