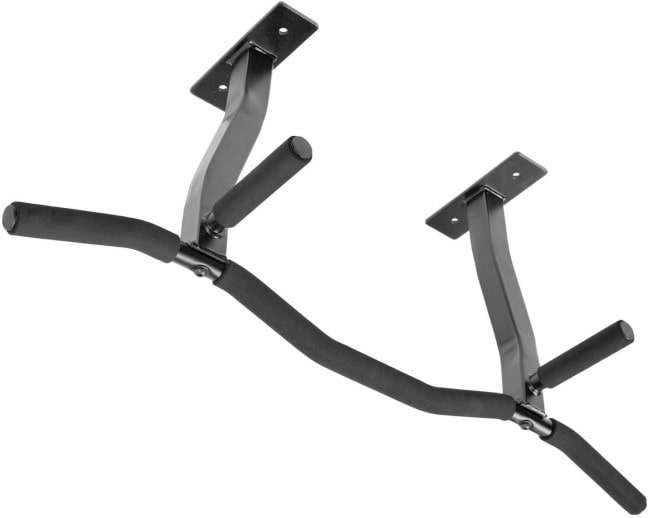 If you want to get a great upper body, then you should buy a pull-up bar. It is such inexpensive equipment that anyone enthusiastic about fitness should have it. By having this pull up bar, you won't need to go to the gym for strengthening your muscles. You can achieve the same result by working out at home. As you use only your body weight when exercising with a pull-up bar, it is a cross between strength training and cardio. These bars are made of metal and have a rubber grip. You will be able to secure them to a doorframe, ceiling or wall. To raise the pull-up bar, you will need to use the different body muscles including back, shoulders, arm, and chest. You will find different types of pull bars in the market but you need to pick one that will be convenient for you. If you are looking for a ceiling mount pull up bar, then you can choose the Ultimate Body Press Ceiling Mount Pull Up Bar. 
Design
It is extremely compact and can hold a lot of weight. As it is a ceiling mount, it will give you a total range of motion. It will free up wall space so that you can keep your other equipment there. Its patented dual position risers flip to mount below 16 inch and 24-inch ceiling joists. It provides total placement flexibility. It has 4 grip positions. The grips are angled on the ergonomic bar and so provides a natural hand position which reduces strain. Therefore, you will be able to target more muscles and add more variations to your exercise. It provides optimal 2'' parallel grip spacing and mounting flexibility.
This pull-up bar is very easy to install. It is precision engineered for home use. You get the necessary instructions, complete hardware, and mounting template to install the pull-up bar. You can anchor optional Bodyweight Resistance Trainers to get a full-body workout. You will be able to do pull-ups and other challenging exercises with it. 
Build Quality
It provides 4 ergonomic grip positions. It has a 20-inch neutral grip spacing that supports better workouts. These positions help to avoid over articulation of shoulders during chin-ups, wide grip pull-ups, and other movements. Therefore, the strain on the wrists and elbows are reduced. It has an ergonomically designed bar that feels comfortable. It is made of steel and has durable Powder-coat Finish. The pull-up bar has a stable rigid mount, so you can work out with confidence.
It will fit 16 inches and 24 inches ceiling joists. It can be used to anchor accessories like Bodyweight Resistance Trainers, Ab Straps, Gym Rings, and more. So, you can make your pull up bar the center of your complete home gym. The bar will drop 14'' from the ceiling, giving you more room for a full range of motion. This bar will be able to withstand up to 300 pounds of weight which means the bar is sturdy. You get a 10-year warranty for the product. 
Size
It has a universal fit for 16 inch or 24-inch joists. The Dual Position Risers will fit any floor in the home, thus giving you room for exercising with different bar accessories. It has dimensions 19.7 X 1.2 X 1.2 inches and weighs only 11.2 pounds.
Comfort
It is designed to reduce strain on your wrists. The padded grips provide comfort and make workouts more effective with 4 different grip positions. The high-density foam grips will help to reduce the pressure on the wrists and help the bar from slipping off. It can target your specific muscle groups and give you the desired result in less time.
Effectiveness
It supports multiple grip positions and so you will be able to perform pull-ups and chin-ups with both narrow and wide grips. You can also perform hanging leg raises to target the ab muscles.
Most people today work at the desks all day long. As a result, their backs slowly crumple over towards the computer. Pull up bars can help to correct the bad posture as they activate the back and shoulder muscles.  
Using the anchor provided, you will be able to add different types of accessories to it. For example, you can add the Bodyweight Resistance Trainers that can expand your pull up bar workouts with full-body movements. The parallel grip pull-ups target the muscle groups in the back.
Pros
It has all-steel construction and powder-coated finish which makes it durable.

It is stable and acts as a solid anchor for different accessories.

It has reversible dual-position risers and so you can mount it anywhere without taking up floor space.

It has an ergonomic bar and provides a more natural hand position during parallel grip pull-ups, wide grip pull-ups, chin-ups, etc.

The angled grips help to reduce strain on the wrists and elbows.

You will be able to avoid over articulation of shoulders by using this bar.

It comes with a complete instruction guide for installation.

You get a 100% money-back guarantee from the manufacturer.
Cons
To install it, you must have either 16'' or 24'' spacing between the ceiling joists. It will be difficult to install it in houses that have another joist spacing such as 18''.

It is more expensive than some of the other brands with similar features.
Final Verdict
If you have ceilings with 16-inch and 24-inch rafters, then you should buy this ceiling mounted pull up bar from Ultimate Body Press. It has a 20-inch parallel grip spacing and four different grip positions on of exercise options.
This pull-up bar is perfect for home and garage gym. It is very easy to install and so you will feel convenient to use it. This bar provides an excellent upper body workout which will increase the strength in your arms, improve posture, and strengthen your core. If you are fitness conscious, then you must buy this pull up bar.