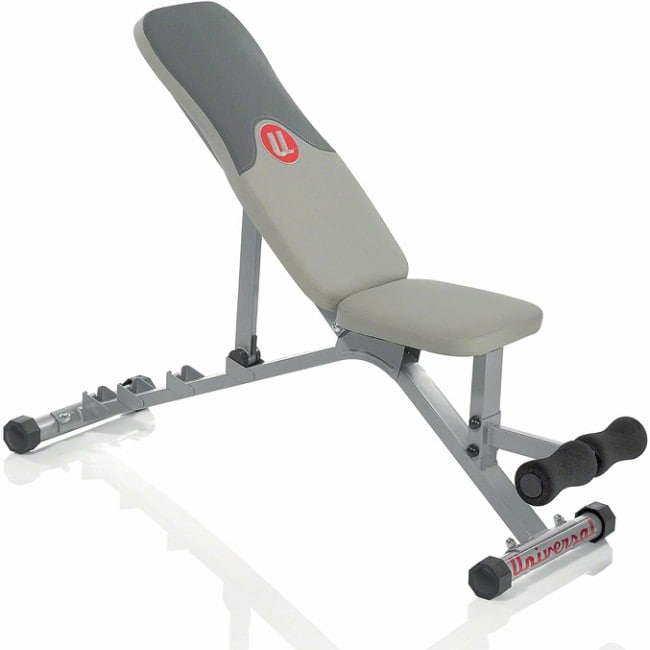 If you want to start weight lifting, then you must buy a gym bench. It is essential equipment for any weight training and is equally beneficial to those who want to tone up their body and build up muscles. With a gym bench, you will be able to do plenty of exercises that might be difficult or impossible to do without it. So, if you are serious about your fitness, then you should buy a gym bench.
The most common forms of gym benches are flat benches and adjustable benches. The flat benches are simple and easy to use but it gives you limited options. The adjustable bench can be adjusted to different angles giving you plenty of opportunities to do different types of exercises. If your budget is tight and you are looking for a good quality gym bench, then the Universal UB300 Adjustable Bench can be a good option. 
Design
It is designed to be compact and lightweight. It has light and dark grey tones with the red logo of the brand on the backrest making the design very attractive. It is highly recommended for users who live in small apartments as the bench has a space-saving feature. You can carry it from one room to the other as the weight of the bench is only 33 lbs. The bench is adjustable and you can switch to five different positions from -10 degrees to 45 degrees. There are contoured pads and sides which support your body. It has padded foam rollers that help to hold your feet in the right place while exercising. With the plastic end caps, the bench is more stable and you will be able to move it without ruining your floor. This bench is designed for both the beginners and the seasoned fitness enthusiasts. 
Build Quality
The frame of this bench is made of steel and the upholstery has a vinyl covering which is very easy to maintain. You won't experience any rocking or wobbling no matter on which surface you use it as there are stabilizer levelers at the bottom. You can easily move it from one place to another with the help of the back wheels. The backrest and the seat have padding that is not too squishy or not too hard and provides great comfort. This bench can handle users of weight up to 250 lbs and can carry a total weight of 430 lbs. You can adjust the bench to 5 different positions. There are foot rollers that will hold you down during exercise and prevent any extra stress on your back when you are in the decline position.
Ease of use
This bench has everything you need to assemble it quickly. The package comes with all the nuts, bolts, tools, roller pad, roller end cap, roller tube, front stabilizer, seat back assembly, rear stabilizer, leg hold-down assembly, adjustable arm, and seat assembly. You get a detailed manual so you won't have any trouble assembling it.
Size
It is compact and has a dimension of 17 X 25 X 51 inches, so you can easily fit it in tight places. It has a maximum combined weight capacity of 430 lbs. It is recommended for people who are less than 6 feet tall and weigh less than 250 lbs. There are 8-inch foam rollers that keep your legs in place during exercise and so you can be in control of yourself as you perform different exercises. It weighs only 33.4 lbs and so is easy to lift. 
Comfort
The upholstery is made of vinyl which is very comfortable. The seat is contoured and adjustable. The backrest and seat are padded which helps to exercise for longer periods without feeling any stress. It is easy to clean the bench also. There are rollers that will give proper support to your feet during exercise. 
Effectiveness
It can be very helpful for working out your core and the upper body. You will be able to do various types of exercises with it including flat dumbbell presses, incline dumbbell curls, elevated lunges, lying triceps extensions and more. With excellent back support, it is possible to do decline presses for lower chest development. You will be able to do sit-ups and decline crunches as well. 
With this bench, you get everything that you need to begin your exercise regime. You get roller pad, front stabilizer, rear stabilizer, adjustable arm, roller end cap, and more. The bench offers great flexibility and you will be able to do a wide range of exercises with it. This bench won't restrict you to only a limited set of exercises. With the 5 adjustable positions, you will be able to combine different types of exercises. You can change the settings easily and quickly.
Though it is best for upper body workout, you can use the 45-degree incline and the padded rollers to work out the lower part of your body. The leg restraints take your exercises to a new level. It proves extra stability and you will be able to include the abdomen component in your exercises. So, you will be getting to total body workout with this bench. As the bench is quite compact, you will be able to fit it in most Smith machines or power racks which opens up more exercising opportunities.
Price
You can buy this bench for about $120. It is a very affordable bench and you will hardly find such a quality bench in the market at this low price. Over the long run, it will cost you a lot less than your gym membership fees and you will be able to get great results as well. 
Pros
It is lightweight and you will be able to move it around easily. 

It can withstand weight up to 250 lbs of user weight and 430 lbs of combined weight. 

You can adjust the bench from -10 degree to 45 degrees which gives you varieties of exercising options. 

It has contoured pads to support your body. 

The foam rollers hold the feet in place. 

There are stabilizer levelers that make the weight bench stable.

The backrest and seat are padded so that you feel comfortable during exercise.

The bench is easy to assemble as the necessary tools and instructions are provided.

You can a two-year warranty on the frame of the bench and 30 days warranty on the upholstery.
 Cons
It is not suitable for those who are taller than 6 feet.

It cannot be folded flat for easy storage. 

There are 5 adjustment positions; however, there is no upright or 90-degree position that prevents users from doing certain exercises.
Final Verdict
A gym bench can be a wonderful addition to your home gym. You will be able to do different types of exercises at home. So, you won't need to go to the gym anymore for weight training. The Universal UB300 Adjustable Bench is a strong and versatile bench that is affordable. To buy this bench, you won't need to break the bank or compromise on the quality. It has all the right features that you expect from a weight bench which includes attractive design, cushioned seat, good user weight capacity, strong frame, and warranty. As the bench has a total weight capacity of 430 lbs, it is recommended for beginners or intermediate users.