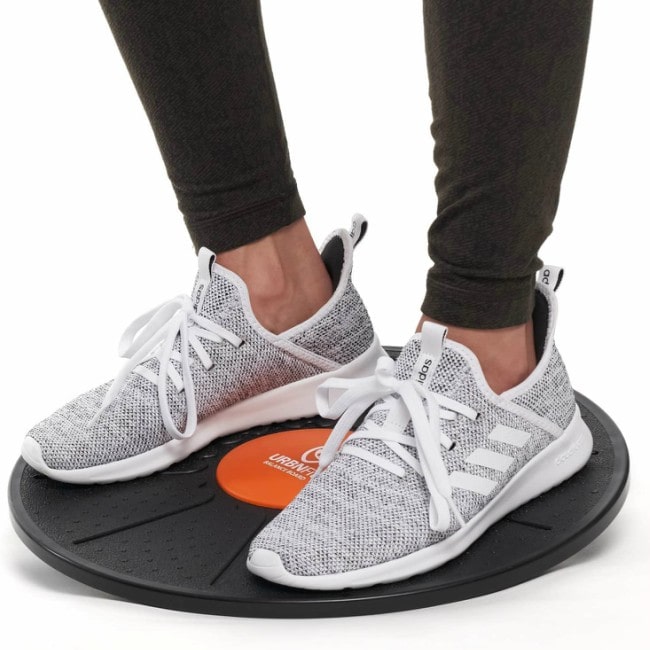 Balance boards can be a great addition to your daily workout routine. Whether you are doing cardio or yoga, you can include a balance board to get better results. Having the right physical balance is very important in sports. As we get older, our body balance diminishes slowly, so we need to exercise to improve our balance skills. This can not only improve our athletic life but can also help us do everyday activities. You will find different balance boards in the market which will help you to improve your balance and posture without much effort. Just by exercising for 10 minutes on the balance board every day, you can improve your balance. It is also helpful for rehabilitation. A balance board can also improve your core strength and muscle. You will see noticeable results within 1 month. You can get balance boards in different sizes and shapes in the market. Here, we are going to review the URBNfit Wobble Board.
Design
This board rotates in all directions, so is ideal for both different levels of fitness exercises. You can get plastic and a wooden version of the board. It has a low cost compared to the other balance boards available in the market. It is compact in size and lightweight as well. It is round in shape and has 17 inches of diameter. There are traction points on the board that helps you to keep balance. The surface is textured which also helps in letting you stand comfortably on the board.
Build Quality
This board is made from premium ABS plastic which is constructed to provide the maximum effectiveness. It has an anti-slip surface, so you can workout comfortably without the chance of an accident. It provides a strong grip, so you will be able to maintain your balance. You can use the board on any surface. It is a strong board and can support the weight of up to 550 pounds. So, it's a great option for overweight people. The board is stable and sturdy and provides a wide range of motion. It has sturdy pivot points and reinforced bottoms that help to keep balance during workouts.
Size
The disc has a diameter of 15.5 inches and it is 3 inches tall. It is ideal for all types of users. It weighs under 3 pounds which makes it easy to move around. As it is compact, you can store it in any corner of the room or under your bed.
Comfort
The good thing about this board is that you can work out anywhere. You can exercise when you are at the office or watching TV at home. If you sit for long periods, then it can hurt your health. So, when you stand up and exercise in between works, it helps to keep your body fit and healthy. You will be able to burn calories through the small movements you do with the wobble board.
Ease of Use
At first, you might find it a bit wobbly, but within seconds you will get used to it. You won't fall off or get injured due to the anti-slip surface of the board. You can use it to perform different types of exercises including twists, planks, pilates, push-ups, and more.
Effectiveness
This board allows a wide range of motion and that's why it is preferred by so many users. When you stabilize on a balance board, you engage more muscles that help to burn more calories. You can use it anywhere, even at the office. You can stand on it and work on your laptop. The board can tilt at 30 degrees allowing a wide range of motion. The tilt along with the wide diameter lets you perform intense exercises to challenge more muscle groups. You can tone your core and improve your posture by using this board regularly. It also helps in burning calories most comfortably. It has helped some people to recover from lower body paralysis as they strengthen all the muscles from the bottom to the top. Along with the board, you get a free guide on different exercises.
Pros
It has a smart design, which is appealing to most users.
It is constructed using high-quality ABS plastic which makes it durable.
It is affordable.
It has an anti-slip surface which prevents injuries.
It rotates smoothly, so you can exercise comfortably.
You can do various types of exercises with it including twist, planks, push-ups, and more.
You can use it anywhere; you can use it at the office as well.
You get a free exercise guide with it to help you reach your exercise goal.
It can be helpful for rehabilitation purposes as well.
It can increase your strength, flexibility, and posture.
Cons
Some people prefer a wider surface.
Some users found it difficult to keep balance initially.
It doesn't provide a warranty.
Final Verdict
This board can be used for burning calories, toning abs, building muscles, improving postures, enhancing balance, and recovering from injuries. With so many benefits, this board is one of the versatile fitness equipment available for your home. You can do various exercises to target your muscle groups in the chest, arm, back, legs, and core. This equipment is often used at the therapy center. With this board, you can do simple exercises like planks, squats, push-ups, and more. The unsteady surface of the board lets you engage different muscle groups simultaneously. So, you get to tone those muscles to get a fit body. This is an affordable fitness that you can buy for your home. You will notice the changes in your body within a few weeks of exercising. You will get the desired body within a short time with the help of this board and feel more confident about yourself. So, you must buy the URBNfit Wobble Board today!