Republican Presidential candidate Donald Trump has some unique ideas about fitness. He believes that eating junk food is good for his well-being and talking to crowd during rallies is a form of exercise. He barely gets 4 hours sleep every night and takes regular medications to prevent diseases. The well-known person is also overweight but he considers himself healthy because he hasn't been to a hospital for many decades. Here we present to you all the details of his opinions of his own health.
Views on Exercise
Recently, the businessman appeared on Dr. Oz show where he claimed that making hand gestures during campaign events is a form of exercise. He said that speaking in front of approximately 15,000 or 25, 000 people involves a lot of motion which is a healthy act, reports Salon.com. He said that he really enjoys doing it. Sometimes, the rooms where he is speaking are really hot, so he calls them similar to sauna. It is pertinent to mention here that during the show, he showed his recent medical reports from the doctor too.
Experts Speak
Health experts told Marketwatch that the politician is not altogether wrong. The Head Dietitian of the Scarsdale Medical Group in Scarsdale, N.Y. Elizabeth DeRobertis admits that fidgeting can help burn more calories and standing obviously burns more calories as compared to sitting. But it's not a form of exercise in the strictest sense because it does not raise a person's heart rate.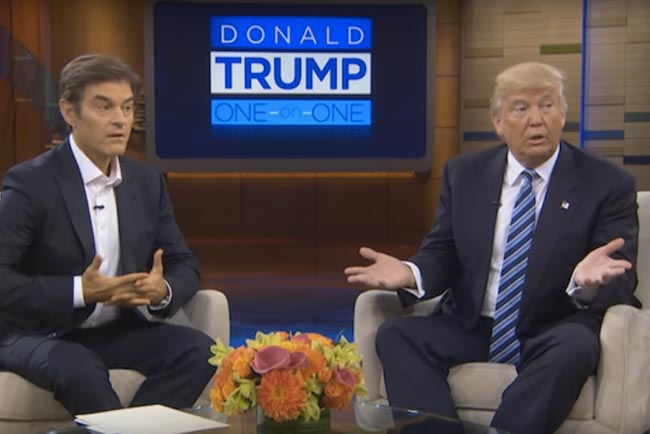 A registered dietitian at F-Fact, Michelle Shapiro thinks that as people do not have the time to hit the gym, the focus is shifting from exercise towards more functional movements in order to burn calories. As a result, small movements like moving the arms up and down and fidgeting can result in calorie deficits. She says that when people think about everyday activities as a help to lose weight, it is a breakthrough in understanding weight loss.
Being Overweight
In a chat with Dr. Oz., the chairman of The Trump Organization admitted that he weighs 236 pounds. It means that he has a body mass index of 29.5 as he is 6 feet 3 inches. This body mass index put him in the overweight category. It is vital to point out that he is narrowly missing being obese. He would be categorized as obese if his BMI was 30. If he becomes obese, he will be joining 78 million Americans who are at risk for a host of diseases such as cancer, diabetes and heart disease.
Love for Fast Food
The skilled political personality also admitted that he is a fan of fast food, according to Time. He said that he eats roadside fast food because he trusts it or trusts the brands behind it. He says while eating fast food, he knows what exactly he is getting. The anonymity that comes with ordering from fast food restaurants is also liked by him. He said that he doesn't want to share that a particular burger is for Donald Trump because if the serving person likes him, he may get good food and if the serving person is not a supporter, the food he gets could be harmful. (The last bit was implied)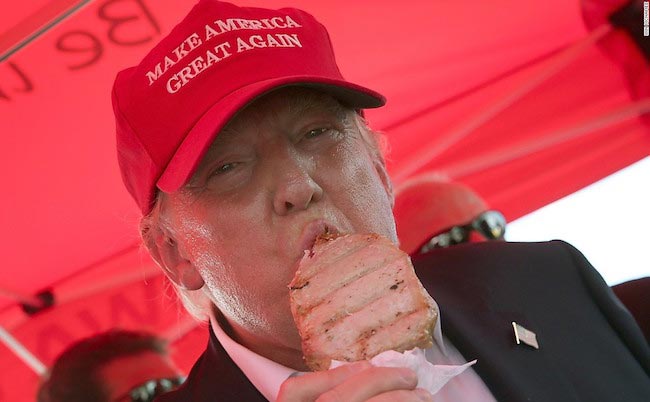 Efforts for Staying Healthy
The American businessman confessed on Dr. Oz show that he regularly takes prescription statins in order to manage his cholesterol because his testosterone levels are currently above average. He also gets annual cancer screenings done to stay safe. He boasted that he hadn't been to a hospital since he was 11 years old (which presumably attests to his fitness).
Workout While Connecting with Voters
The New York native earlier confessed to People that he doesn't workout to keep up his campaign stamina. At that time too, he stated that shouting and screaming in front of thousands of people gets him a lot of exercises. (It seems that he really believes that he doesn't need real workouts.)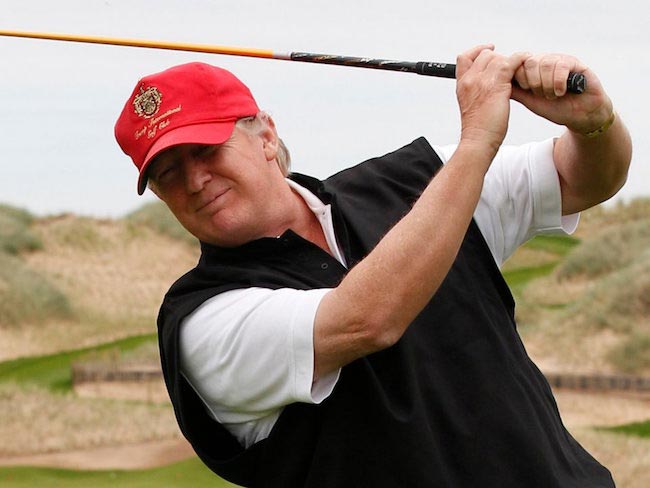 A Germaphobe
The real estate mogul also admitted that he is a germaphobe which is why he stingily shakes hands with constituents. He said that he is right in this approach as people do catch problems from shaking hands. He says that he rarely has a choice because as a Republican frontrunner, he has to shake hands with loads of people.
What do you think about the fitness ideas shared by Donald Trump? Do share your views in comments.
If you wish to follow him, you can do that on Facebook, Twitter, and Instagram.