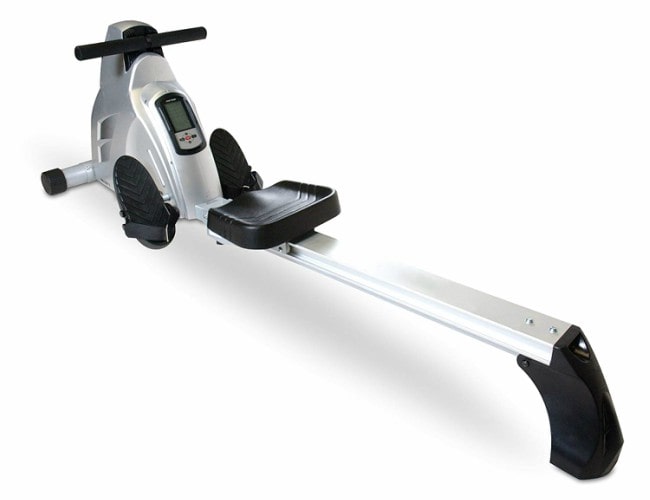 You will now find rowing machines on the floors of almost every gym. The good news is that now you can buy it for your home as well. The manufacturers now make these machines considering home use and so the machines are often compact and foldable to fit small apartments. With this machine, you can take your cardio health to a new level. You will be able to challenge your muscles in different ways and develop them within a short time. You can increase your fitness quickly and conveniently with the help of a rowing machine. It is a low-impact way to burn calories and tone muscles. If you are thinking of buying a rowing machine for home use, then we recommend you buy the Velocity Exerciser Magnetic Rower. Here is the detailed review of this product.
Design
This gray-colored rowing machine looks amazing. The seat sits on the extended frame and is ergonomically designed to give comfort. It has a heart rate monitor chest strap that can keep count of your heart rate during intense cardiovascular training. The pedals are designed in such a way that it provides balance and safety; also, it will help you to retain the ideal position while exercising. It has an LCD display where you can see different parameters like time taken, pulse rate, calories burnt, number of counts, and more.
It uses a Drum Magnetic Control (DMC) system that ensures a smooth, adjustable, and quiet resistance. When you pull the rowing handle, the magnet inside the housing moves closer to the flywheel providing stronger resistance. When the magnet moves further away from the flywheel, the resistance becomes weaker. The adjustable resistance allows you to target different muscle groups and vary your exercises as well. The magnetic resistance creates no sound, so you can exercise while watching TV or workout early in the morning without disturbing anyone. It has a compact design and so is ideal for small space. You can easily fold it when not in use and store it in any corner of your house.
Build Quality
It is constructed with a sturdy aluminum frame and has rectangular tubing support making it durable. This frame extends outward and holds the molded seat that is well padded to provide the ultimate comfort. This type of arrangement also keeps your lower back muscles stress-free, so you won't feel any pain even after working out for hours. It can support a maximum weight of 275 pounds.
It has a drum magnetic control system. The electronic tensions provide optimum friction that is required for developing muscle strength and increasing endurance. It provides smooth operation and you will find it very comfortable to use. It has non-slip foot pedals for better balance.
Size
After assembling, its dimensions will be 80 inches by 21 inches by 25 inches. It weighs 75 lbs. The footprint is not huge and you will be able to place it at a corner of your room. When not in use, you can fold it and store it under your bed or inside the closet.
Comfort
The seat is ergonomically designed, made of polyurethane leather and is covered with foam for extra comfort. It glides up and down smoothly during exercise. The handles are also padded to provide a comfortable grip. The footrests are comfortable and made with non-slip material. There are Velcro straps that keep the feet secured while rowing.
Ease of Use
It is very easy to assemble the machine and takes only 10 to 30 minutes. There are not many loose parts that make the job easier. The necessary tools needed to assemble the machine are provided. You can adjust the resistance easily by using the buttons on the fitness monitor. It has a high-quality monitor to display the various fitness parameters. All you need to do is use the AC adapter to plug in and your monitor will turn on.
Effectiveness
With this rowing machine, you will be able to train well and try out new methods according to the parameters that are displayed on the LCD display, such as calories burned, number of counts, strokes per minute, and more. That way, you will be able to track your fitness data all the time. It has a number of pre-programmed workouts that help the users to exercise more conveniently. The 6 pre-programmed workout mimic 'interval', 'mountain' and 'hill' workouts.
It has a chest strap heart rate monitor to keep count of the heart rate. You can also check the pulse recovery rate after a workout that will tell you how long it takes for you to recover from the exercise. Your goal will be to reduce the recovery time which indicates that you are more fit. With adjustable resistance, you will be able to challenge your muscles and tone them easily.
Pros
It is constructed with a sturdy aluminum frame.
It has a large, molded foam seat for extra comfort.
The handles are also covered with foam and are comfortable.
It has lots of functions including count, time, strokes per minute, calories, pulse, and more that are displayed on the LCD display.
There are 12 programs which include 6 pre-set programs and manual operation as well.
It has a built-in heart rate receiver with a chest belt.
It has adjustable resistance to challenge the different groups of muscles.
It has non-slip oversized foot pedals with a Velcro strap that provides balance and security.
It is foldable, so you can store it easily without taking up much space.
It has built-in wheels that make it easy to move it around.
It doesn't produce any noise.
It is easy to assemble.
Cons
The resistance doesn't feel like the natural rowing movements on water and it cannot be controlled manually as you have to plug it in and then control the resistance electronically.
The warranty period is not long for the monitor and parts.
Final Verdict
This rowing machine will give you a full-body workout. It is one of the best mid-ranged rowing machines in the market and you will get amazing results with it. It comes with a wide range of advanced features that make it comparable to the expensive models.