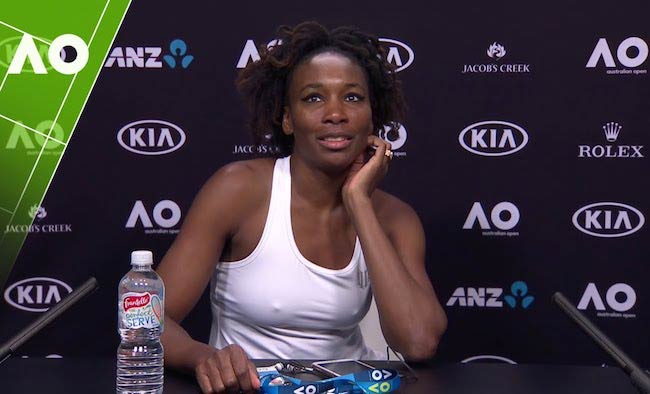 Venus Williams is no longer just a tennis star. She is a fitness inspiration for millions of people who like the way she moves on the court and the way she carries herself off the court. If you are also a fan of her fit body and confidence in being herself, then you might be delighted to know about her workout routine, her workout motivation, and her exercise playlist. She has also shared some fitness tips that might come in handy to you.
Workout Preference
The preferred workout of the Olympic gold medalist is cardio. If she had a choice, she would stick to cardio exercises only. Fitness is vital for her as she cannot do her best in a match if she is out of shape.
Disliked Workout
There is one type of cardio she doesn't like, i.e., long distance running.
Workout Routine
The American tennis player admits that she is not a good distance runner, but she is good with fast-paced plyometrics and sprints. She says that these exercises are more intriguing and make time go by a lot faster.
If you are thinking of trying plyometrics, you should know that it's not good for novices. It should be done at the beginning of each workout and there should be a 48-hour gap between two plyometric sessions, otherwise, your joints may suffer.
The Wimbledon champion varies her workout regime depending on how much time is left in her upcoming match and how tough it will be. If it's only two weeks away, she can be seen working out as hard as possible and two days away, she will ease her way into the match. When Venus is in the training mode, she considers workouts to be as important as tennis training. She spends equal time in the gym and on the court.
Usually, she wakes up in the morning and goes to the court immediately. Depending on how far her next match is, she spends a couple of hours on the court and then, heads to the gym to spend next bunch of hours there. This routine helps her to stay strong and avoid any injuries. While working out, she opts for long distance running, bikes, plyometric, swimming and strengthening exercises. Venus believes in training every part of her body, even those parts that she doesn't know are there.
Another workout she prefers is dancing. She says that it's a fun way of getting a workout in as compared to hitting the gym and running on a treadmill for 30 minutes.
Off-Season Workout
When the sister of Serena Williams is enjoying some off season, she works out by doing half an hour of cardio. It works for her and helps her to stay fit during the offseason.
Rest Post Workouts
She always remembers to rest post every workout as her body needs it and it's very important.
Being an Expert
The owner of fitness wear collection EleVen thinks it's her job to be healthy, so it's always vital to her. She has been training and working out hard for some time now so she doesn't find it difficult. Venus is now an expert on how much she should workout and what she should eat to perform at an optimum level.
Being Relaxed and Confident
One of the things that make the tennis pro so good at whatever she does is that she just wants to be confident and relaxed. When she does it, her best comes out and she feels good about herself.
Workout Motivation
A thing that motivates the California-born to workout constantly is knowing that she will get results post every workout session.
Next Fitness Trend
In her opinion, the next big fitness trend would be Triathlons.
Preferred Health App
Run Keeper is her preferred fitness app.
Workout Playlist
The songs Williams loves to play while working out are Dangerous by David Guetta, One more Time by Daft Punk and Panda by Desiigner.
Preferred Fitness Brand
She loves the Epitome collection of EleVen.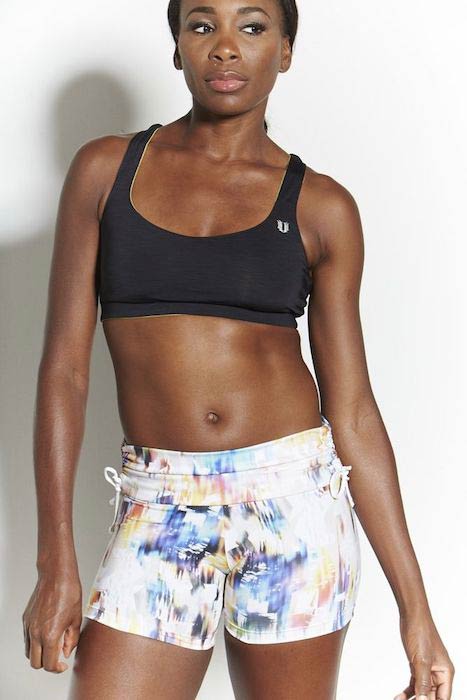 Health Tip for Travelers
The talented tennis professional wants the travelers to know a vital fitness tip. If you do a workout in the morning, even a small one, it will help you to enjoy the rest of the day in sightseeing and other activities.
Advice to Young Girls
Venus wishes to be an inspiration to young girls. She thinks that everyone, especially the young girls need to be proud of who they are. Young women often think that they are not good looking enough or they shouldn't look like this or shouldn't do some things in order to look good. Only you know your worth better than everyone else so you should believe only your opinion the most.