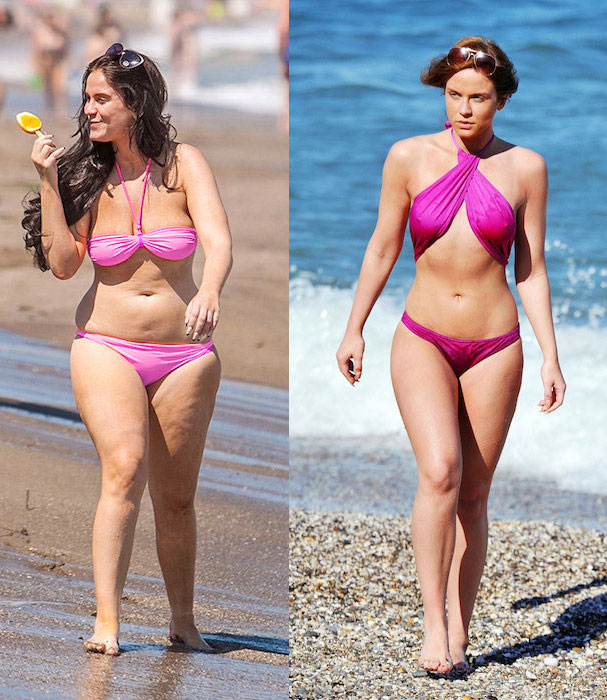 Nothing in the world is beyond you; you just need to have resilient will to accomplish that. Something like that has been proved correct by the pretty actress, Vicky Pattison who transformed her body from size sixteen to size six. Kudos to the relentless brunette who didn't stop until she acquired the most sexy and desirable size six figure. Vicky dishes out her diet and workout secrets which helped her acquire slender and curvy figure.
Positive Outlook
It's not that the wave to makeover her body hit her abruptly while she was full of beans. No, it actually happened when she was going through one of the toughest periods of her life i.e. break-up with her boyfriend, Ricci. While being in relationship with him, she was hefty and was often ridiculed on twitter for her bulky figure. It was after her split with Ricci when she resolved to transform her life in a better way.
Instead of resorting to comfort foods and emotional eating to calm her mind, she rather decided to take the best revenge i.e. attaining captivating figure. And before late, the same Vicky who would receive humiliating comments from people began receiving wonderful compliments from her fans. If you too are feeling shattered because you have been through heart breaking break-up, instead of making you turn into a shabby and overweight girl, turn your attention towards making you hot and sexy. There can be no other revenge as rewarding to you as is sultry you.
High Intensity Workouts
While hitting gym six to seven days in a week, Vicky practiced myriad workouts in gym. She spent around two hours in a day in doing cardio exercises and strength training. Vicky got rid of big thighs by practicing hostage lunge. The workout needs you to take your hands behind your head and jump consistently for thirty seconds. Give yourself one minute rest and repeat the same. The stunner shed massive pounds from her thighs by practicing the high intensity workout.
Change in Lifestyle
Since your lifestyle plays imperative role in affecting your body size, you need to sit and find out the pitfalls in your lifestyle. Vicky was always a big time gala girl who was high on partying and fun time which indeed included tremendous booze and consumption of unhealthy foods. However, having made up her mind to melt away pounds, she restrained from parties. She had gotten the fact that her body had to pay heavy toll for her parties and she began refraining from them. Even when she had gala time with her pals, she made sure that she compensated the loss made to her body by doing myriad exercises the very next day. Although the flawless beauty didn't completely eradicated alcohol from her diet regime, but she certainly trimmed down its consumption and made sure that she didn't consume it very often.
7 Day Slim DVD
Aside from gym workouts, Vicky had also been banking on animal workouts which she herself has devised and compiled in the DVD namely "7 Day Slim DVD." You shall find bountiful influential workouts such as gorilla workout, turtle workout etc. in the DVD which shall burn fat very swiftly from your body. The workouts might look simple at first glance but they are really grueling as well as influential in stripping off fats. In her DVD, she has recommended ten minute workouts, which shall help moms and women having very hectic schedule acquire fit and sculpted shape.
Moderation in Diet
While not being insensitive towards her body needs of adequate nutrition, Vicky eats all kinds of foods such as carb containing foods, fatty foods, sugary foods etc. in moderation. She has just trimmed down the consumption of processed foods and swapped them with wholesome and nutrient loaded foods such as soups, grilled chicken, green veggies etc. Besides enhancing the quantity of veggies in her diet, the hottie makes sure that she doesn't consume fruits in high quantity because they cause hike in blood sugar level.
Vicky consumes 1250 calories in a day, which are divided in four meals. She contends, the simple logic she stood by is if you feel like consuming bacon sandwich, no worry, you can eat it. You just have to make small modifications such as grill the bacon and put it on brown bread. Besides that, make a note that you will execute minimum two exercises in the afternoon. Little alterations in eating habits and way to living shall bestow you desired results. Let's have a look at one of the samples of her typical day diet.
Breakfast – Porridge, blueberries with semi-skimmed milk etc.
Lunch – Feta cheese, chicken salad wrap, Greek salad pita, chicken soup, avocado salad etc.
Snacks – Carrot, hummus dip, skinny salty popcorn, nuts, crackers etc.
Dinner – Grilled fish with veggies, steamed sweet potatoes, squash, tuna, chickpea etc.