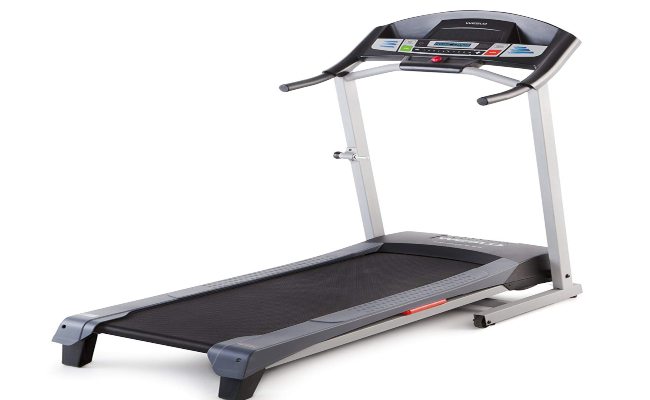 If you want to lose weight fast, then a treadmill is the perfect equipment for it. With a treadmill, you will be able to walk, jog or run without worrying about the weather or the rough pavement. A treadmill will give you a reason to workout every day.
Staying healthy has become more than necessary today. People are leading to unhealthy lifestyles and getting overloaded with work. They are also stressed all the time. Regular exercise can reduce your stress level and you will be able to feel relaxed and stay well both physically and mentally. There are different types of treadmills available in the market. Some treadmills are motorized; whereas, others are not. The modern treadmills have lots of technology features to make exercise routines really fun and effective. Among some of the affordable ranges of treadmills, the Weslo Cadence G 5.9 Treadmill has a very good reputation. Here we are going to learn more about its features.
Design
It has a space saver design and you can easily fold up the treadmill. It has pre-programmed workouts which are designed by Certified Personal Trainer. You can easily adjust the incline and increase the intensity of the workout. With Comfort Cell Cushioning, you will be able to work out comfortably every day. Here, you can get accurate heart rate reading just by placing your thumb on the Easy Pulse sensor. You will be able to track your progress with the LCD display; that is, you will be able to know how many calories you have burned, what distance you have covered, and other information. It has a wide track for walking and is operated with a 2.25 HP motor which can reach a top speed of 10 mph.
Build Quality
This treadmill is strongly built and has lots of helpful features. If you are looking for a good quality budget treadmill, then it is a perfect choice. It is affordable for most people and that's why it is so popular. It is equipped with a 2.5 CHP motor that is efficient and doesn't produce noise. So, you won't disturb others when working out and you will be able to hear your doorbell while exercising. You can easily change the speed of the machine to handle walking and jogging workouts. You will get 6 pre-set workout programs with this treadmill. The belt width is enough for an average sized person to walk or jog comfortably. You get a weight limit of 275 lbs with this treadmill. This machine is lightweight and you can easily lift and fold it when not in use. It will not also occupy too much area of your room. It comes with a thumb heart rate monitor and so you can place your thumb on the hear icon so that the machine can monitor your pulse rate. You get one-year motor drive and 90-day labor and parts warranty with it. Overall, it is a durable product made with high-quality parts that will last you for a long time.
Size
This treadmill is designed to be compact. With a footprint of 64.5'' by 29'' it can be easily stored even in a small apartment. It weighs 117 lbs and you can fold it up easily when not in use to a vertical position to make the best use of your available space.
Comfort
It has comfort cell cushioning that helps to reduce stress on your joints. It has layers of cushioning to protect you from pain and injuries.
Effectiveness
It comes with 6 personal trainer workouts that are designed by professional trainers. These workout programs automatically adjust the speed and incline of your treadmill, so you won't have to guess how much you have to adjust the speed or incline. It has a powerful quiet motor that makes workout sessions smooth and comfortable. It has a blue-tinted LCD that can display and keep track of your workouts. You will be able to see the distance you've covered, speed, calories burned, heart rate, etc. As it is lightweight, it will be easy to move it from place to place. There is a thumb pulse heart rate monitor built into the console in order to check your heart rate. You will be able to vary the speed from 0.5 to 10 MPH which will allow you to walk at your own pace. The layers of cushioning will give you comfort and prevent any impact on the joints.
Price
It is one of the most affordable treadmills you will find in the market that will fit almost anyone's budget. You can get it for $499 or even less. Though this treadmill doesn't have as many features as the high-end treadmills, you will be able to achieve your fitness goal with this simple and high-quality treadmill.
Pros
It is a great entry-level treadmill that has many helpful features to achieve your fitness goals.
It is a budget-friendly treadmill and you can get great value from it.
It has a foldable design that makes it easy to use and store even in small apartments.
It is constructed with high-quality materials.
Its 2.5 CHP motor is very powerful and can run almost silently.
You can adjust the speed and incline to vary your workouts.
It has 6 pre-programmed workout programs that can give you access to exercise programs that are made by personal trainers.
It has a heart rate thumb sensor for monitoring your heart rate.
It comes with Comfortable Cell cushioning feature that can reduce the impact on your joints.
It comes with a fairly good warranty package.
Cons
The track area is small compared to the other treadmills which are not ideal for running. Also, people who are taller than 6' will find it difficult to use.
It is not designed for intense workouts.
The incline must be adjusted manually, no electronically.
Final Verdict
Weslo has been in the fitness business since 1977. With so many years of experience in this industry, they are one of the most trusted brands for exercise equipment. This company never compromises with quality. As you already know that this treadmill is not very tech-friendly like the other treadmills you will find in the market today. But the fact is that there are lots of people who don't bother about the technology; they just want the basic features so that they can successfully achieve their fitness goals. This treadmill offers just that. You will be able to burn calories and get into shape by walking or jogging regularly on this treadmill.
It has a powerful motor that will keep operating smoothly for a long time. The construction is solid and it will last for many years. You get a decent warranty with the product, so if there is a problem, you can get it fixed right away. It is one of the best treadmills for beginners and those who are looking for a budget-friendly treadmill. You won't get a better treadmill in the market at this price. With the pre-programmed workouts, you will be able to learn from the top personal trainers and make your exercises more effective. By adjusting the speed and incline, you will be able to make your exercise fun. It is definitely a good decision to buy this treadmill if you are looking for an affordable treadmill.