Whitney Way Thore is an incredible woman who has proved her worth with the show, My Big Fat Fabulous Life. The show follows her while she is dancing, hitting the gym or solving common day to day problems. If you are also her fan and want to know about her weight loss secrets and her thoughts on body positivity, then you have found the right article. Here, you can not only know all that but also learn about some quick and affordable workouts that can be done at home.
Helping Others
Since Whitney started posting about her love for exercising on social media, people from all over the world, especially obese people or the disabled ones who are not sure about their fitness, started asking her loads of questions. Their curiosity inspired her to create quick and affordable workouts that anyone can do at home. These workouts are designed with the help of her trainer Ryan Andreas and are created for people who can't spend an hour at the gym or don't have enough money to afford a PT.
The Workout
The workout program is only 24 minutes long and can be done at home by shelling out only 20 dollars a month. Though the duration of the workout sessions is short, they are quite effective. What's unique about this workout program is that it's created by keeping obese people and their limitations in mind. For instance, while explaining a move that requires a person to get onto the floor, a variation of the workout is suggested like how the move can be done while being seated as it will enable everyone to do it flawlessly.
A Bad Phase
Like many of us, Thore also went through a bad phase in life during which going to gym terrified her. She admits that in 2011, when she first became obsessed with weight loss, she eventually stopped enjoying going to the gym. She hated the environment because it made her think that everyone there was thinking about weight loss.
Weight Loss Secrets
In 2018, she partnered with Jessica Powell, daughter of her old trainer, and asked her not to just focus on weight loss. Her aim was to get to the gym and move, not weight loss. This strategy actually worked for her because she started losing weight without even trying for it. Now, she doesn't work out just for the sake of it but works out because it makes her feel good. Workouts have changed her life and she is sure that they can change the lives of her fans as well. She opines that workouts are more than just about losing weight and one should stay active as much as possible. So, her biggest workout secret is the change in thinking and letting go of the pressure to look thin or lose weight.
No Body Shame
The TV personality has started a program called 'No Body Shame' which aims to prove that you don't need to be a specific body shape to enjoy life. You can wear a swimsuit, kill it at the gym, and just live your life fully even if you are fat. She wants people to understand that every person, be it a fat one or a thin one, should be respected and treated like a human being. No one should be expected to look a certain way just to please the others. People should refresh themselves on being decent human beings.
Being a Role Model
Though Whitney herself doesn't have a role model in media, she is happy to be the one for people who don't have any. She likes it when people look up to her and are inspired to be themselves and enjoy their lives. She also loves it when her fans tell her that she is a really strong woman who doesn't worry about her weight or give in to the pressure to lose it like the others on the TV (The Biggest Loser for example).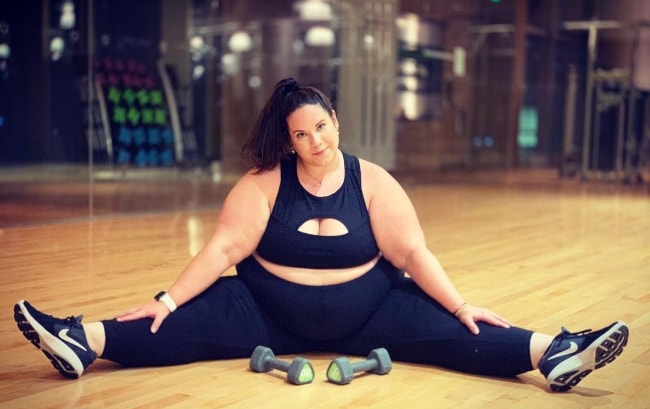 Change is Needed
The lovely lady also thinks that women are expected to look good in the society and their body shape often matters more than what they have to say. Though there has been some improvement in this regard as more brands are launching plus sized stuff than before, a change in thinking is also needed. It is a harsh reality that most brands that offer plus sized stuff are trying to capitalize on body positivity movement rather than believing in it. She thinks that the concerned brands need to represent all types of people and must not be gimmicky about it. Being fat shouldn't be considered bad, disgusting or undesirable by anyone as fat people are also human beings who deserve all the love and respect like everyone else.
Featured Image by Whitney Way Thore / Instagram