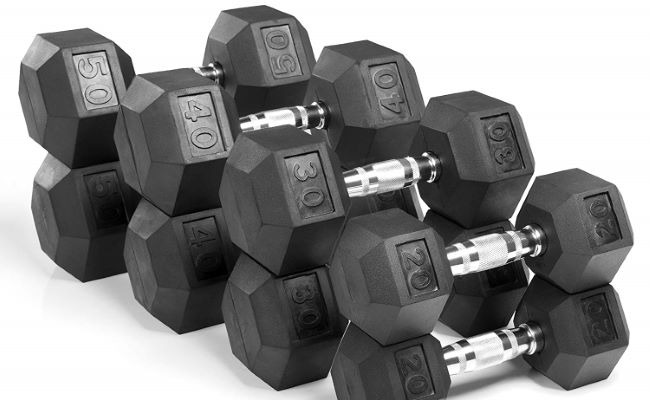 If you go to a gym you will know how effective dumbbells can be in boosting your muscles and keeping you in good shape. Dumbbells are simple exercising equipment that you can use with other exercises to burn fat faster and get a perfectly toned body. Dumbbells are effective both for men and women. You will find various types of dumbbells in the market. There are fixed and adjustable dumbbells. Most dumbbells are made of cast iron or steel, but some are coated with neoprene, plastic or other materials and some are not.
If you are serious about keeping your body fit and doing regular exercise then you should have several dumbbells of various weights so that you can have the flexibility. If you have multiple dumbbells in your home then it will look messy. Instead, you can buy a pair of adjustable dumbbells so that you can simply change the weights when you have to.
XMark Fitness Dumbbells are one of the best adjustable dumbbells in the market. At a very low price, you will be able to get 50 lb maximum weight per dumbbell. Here we are going to review this product in detail.
Design
These dumbbells are constructed using high-quality steel and that's why they are very durable. They are The dumbbells are 15.75" long, 8" wide and 9" tall. They are compact and save space on storage. They use a sliding plastic locking catch which lets you select the amount of weight you want to carry.  The dumbbells are designed in such a way that they fit exactly on the deep storage trays. They have uncoated handles. So, you cannot expect to get the same soft grip that you can get from rubber coated handles. However, this doesn't make the handles uncomfortable. These adjustable dumbbells can replace nine traditional dumbbells. The sliding pin locking system is the best feature of these dumbbells. All you need to do is just slide the pin to the weight so that it locks in place. They are absolutely safe to use.
Build Quality
These heavy-duty chrome-plated dumbbells are made of steel. So, they can withstand the hardcore exercise you will do daily for years to come. You can buy them in singles or in pairs. You can also buy them in two different weight ranges. You can easily slide the various weights according to your needs. You will get a free custom molded storage tray with it which will help you to keep the weight plates stable while they are not in use.
The weight plates and the main axles are made of metal which makes them very strong. There are no plastic insertions or covers. Plastic is only used for cosmetic purpose. They have a chrome finish and so is rust free. You won't have to replace them for many years. Overall, these dumbbells are very sturdy. Though they don't have any rubber surface, they are very comfortable to hold. You get a free tray with it to keep the weight plates. The tray is also nicely built with heavy-duty plastic and they won't break or crack if you place the weights properly on it. There are handles beneath the tray that lets you carry it even when there are weights on it.
Size
It has dimensions 15.75'' X 8'' X 9''. It is compact in design and lightweight; therefore, you can store it easily. You get a plastic tray with it and the dumbbells fit nicely there. You can easily slide different weights in it to suit your needs.
Grip
These dumbbells have handles that are uncoated, yet they provide an excellent grip. There is a series of narrow bands that are knurled to form a surface that's easy to grip. You can slide in the weight plates easily. Though these dumbbells don't have any soft coating they still feel comfortable when you hold them. The chrome-plated handles are ergonomically designed and fit your hands comfortably. The surfaces are non-slip and so your hands won't slip or slide due to sweat.
Effectiveness
You will be able to try various types of exercises using these dumbbells. You will be able to improve your biceps, triceps, back, and other parts of your body. Overall, you will get a toned body that you have always dreamt of. You can choose from varieties of weights. So, you will be able to adjust the weights according to your level of training. You can slowly increase the weights as you become more accustomed to the weight and start burning your fat faster. These dumbbells are very effective in burning fat and giving you a toned body.
Price
These are one of the cheapest adjustable good quality dumbbells you will find in the market. You will be able to choose from various weights and price increases with the weight. For example, you can get a pair of 25 lb set for only $165 and a pair of 50 lb set for $289 on Amazon. You get a free tray with it to keep the weights safely.
Pros
The dumbbells are compact and lightweight which makes them easy to store.
They are made of tough materials that make them durable; no plastic is used in the construction.
The handles are chrome-plated and ergonomically designed. So, they will fit your hands comfortably and you won't feel any fatigue after long hours of exercise.
It is very easy to adjust the weight settings, so you can change them according to your needs.
You get a free convenient storage tray with it for keeping the weight plates.
You can do more than 30 types of exercises using these dumbbells.
You get a 1-year warranty with it.
Cons
The weight selector mechanism is made of plastic and the plates may fall from the dumbbell while lifting it from the tray when changing weights.
The length of the handles is too long and some people may feel awkward while training. It might take a few weeks before you get used to it.
The 10 lb increments are too high.
Final Verdict
These are the best adjustable dumbbells you can find in the market at a cheap price. You will be able to increase weights by 10 lb up to 50 lb. You can do about 30 different exercises with it to improve your arms, back, shoulder and other parts of your body. These dumbbells can eliminate the need for having more than one dumbbell set for different weights. You get a free tray with it to store them when they are not in use.
The dumbbells are made of high-quality materials that make them strong and durable. The handles are ergonomically designed and so you will be able to hold them comfortably and work for long hours. The surface is non-slip and rust free so will last for a long time.
If you are planning to do weight training at home then it is advisable to invest in a set of adjustable dumbbells. This can save you money and space. You don't need to buy a full set of traditional dumbbells in this case; you can just buy a pair of these adjustable dumbbells that will meet all your exercise needs. You should always start with lower weights and then slowly increase the weight once you are comfortable. The XMark Fitness Dumbbells are of very good quality and you will enjoy exercising with them.
Buy XMark Fitness Dumbbells