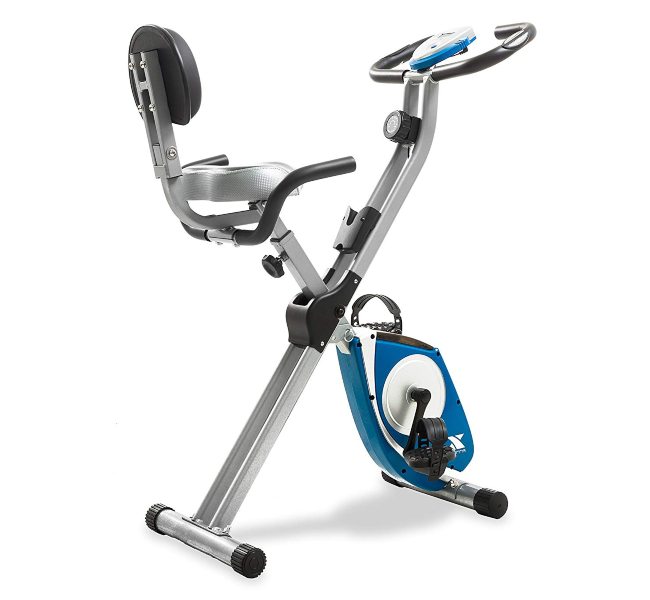 People often suffer from joint problems which prevent them from doing vigorous exercises. In such a case, you need to do low impact exercises that will not create pressure on the joints. The exercise cycle can be very useful in this case. You will be able to do low impact cardiovascular exercise with it without hurting your joints. It will help to tone up your thighs, legs, abdomen, and back. You will be able to lose weight also.
Exercise cycles have gained much popularity recently due to their compact size and ease of use. You can use it at home and exercise regularly on it. There are 2 types of exercise bikes available in the market; the upright bikes and the recumbent bikes. The recumbent bikes give you extra comfort as it comes with back support as well. Exercise bikes are often suggested by physicians as part of physical therapy for people who suffer from joint problems. The market is full of exercise bikes and it can be confusing to choose from so many options. We have picked one of the most affordable and high-quality exercise bikes for you and we are going to review it here.
Design
The XTERRA Fitness FB350 Folding Exercise Bike is a very stylish bike that you will instantly like. Its frames are silver in color with some splashes of black here and there. The pedal area is blue that makes the bike more elegant and stylish. It has an X-frame design that makes it very efficient as your center of gravity is maintained well.
It is compact and can be folded to only 20.5'' by 20'' of floor space making it suitable to store inside your closet. The seat is large and padded to give you support and comfort. The LCD window can read all the necessary information clearly and you will be able to track the distance you have moved, calories you have burned, and other information. This bike can monitor your pulse and so you will be able to track whether your heartbeat is in the recommended zone while exercising.
You get 8 levels of resistance in this cycle which you can control manually. The dial tension knob is very smooth to use and you will be able to move from one resistance level to another quite comfortably. There is an accessory pocket where you can keep your mobile, keys, and other important things while exercising.
Build Quality
The frames of this bike are very strong and make it stable. It is constructed with thick steel tubing that gives it a solid feel and makes it durable. The steel parts are powder coated making them corrosion-resistant. It can support users of weight up to 225 pounds. The seat is large and padded and has a backrest for lumbar support. This is a unique feature of this bike as most upright bikes have saddle seats without any backrest. The handles are sturdy and have integrated pulse grips. It has a 3-piece pedal crank that makes it durable. It comes with pedal straps so that your feet remain secure when you exercise and doesn't come off.
The bike is compact and can be folded and stored easily when not in use. Transportation wheels are available so that you can relocate it if necessary without any trouble. It has a silent-belt drive system so there won't be any noise when you exercise. It provides friction-free magnetic resistance for a smooth and quiet operation. You get a one-year warranty for the frames and 90 days on parts. You need minimal maintenance to keep it in good condition. So, you will be able to workout without any tension for many years.
Size
This exercise bike is very easy to assemble. After assembling, the dimensions are 40.5 inches by 21 inches by 48 inches. It is very lightweight and weighs only 42 pounds. When it is folded, it becomes very compact and you can easily store it anywhere without taking up much space. Most people like this bike for its size.
Comfort
This bike has a large seat with back support and is padded. You can adjust the seat so that you can keep cycling for longer and change the height of the seat according to your need. It is ergonomically designed and will give you the ultimate comfort. The counterbalanced pedals are weighted and they provide maximum control while you cycle. You can also adjust the handlebars so that you can cycle comfortably. The handlebars are covered with rubber foam material to ensure a secure and comfortable grip.
Effectiveness
This exercise bike is great for cardiovascular exercise or even High-Intensity Interval Training. It is constructed using a steel frame which makes it strong and durable. The seat is ergonomic and has back support for more comfort. The handlebars are also strong and non-slip. Its flywheel is of the right weight to provide smooth operation. It is also bi-directional, so you can pedal in the reverse order as well. The pedals have a metallic core which makes them durable. They have straps so that you can secure your feet properly during exercise. You can vary the resistance levels. This bike offers you everything you can expect from a high-quality exercise cycle. You will be able to work out comfortably even if you are suffering for back or knee pain.
Price
You can purchase this bike for only $129.59 at Amazon. It is a very good investment and you will be able to work out comfortably for a long time.
Pros
It has a sturdy frame and will last a long time.
It has a foldable design that is great for small homes.
The seat is large and padded and comes with a backrest for extra comfort.
It has a multi-grip handlebar that has pulse sensors to monitor the heart rate.
The pedals are weighted and come with adjustable straps so that you can cycle comfortably.
The flywheel with magnetic resistance provides quiet and smooth operation.
There is a fitness meter that will record the distance, time, calories, and other things.
It is easy to assemble and maintain.
You get an accessory holder for free.
It comes with a 1-year warranty for the frame and 90 days warranty for the parts.
Cons
The weight capacity of this bike is lower than the other exercise bikes you will find.
It doesn't have a bottle holder, speaker, workout fan, Bluetooth connectivity or other add-ons like the other bikes.
It doesn't have any programmed workouts to help you with the training.
Final Verdict
It is an affordable upright exercise cycle that will help you to achieve your fitness goals easily. It has a stylish design and a strong frame structure that makes it durable. It is powder-coated to prevent any corrosion. You will be able to track your progress and your heart rate as well. The seat and handlebars are comfortable. Even the pedals are very convenient for cycling. You will be able to do cardiovascular training without hurting your knees. Though it doesn't have all the features of a high-end exercise cycle, you will have a body that you have always dreamt of. So, this is a highly recommended exercise cycle for home use.