Who doesn't know that it is necessary to exercise regularly in order to be healthy and fit? Everyone does, but only a few can actually make the time every day for exercise. Our lives have become very busy and we are so preoccupied with our work, relationships, and other things that we forget to take care of ourselves. Our body is like a machine; it needs regular maintenance and you can only do it by exercising regularly. Exercise can refuel your body and help you to get charged and get going.
It may not be possible to go to a gym regularly as it is time-consuming and also can be expensive. Though you will find many exercise equipment in the market, some people may find them bulky for keeping in their home and so are reluctant to buy them. An exercise bike is such simple equipment that you can easily store in your small room and feel the urge to exercise on it. It's very simple to use, yet very effective in burning calories and getting into shape. Here we are going to look at one of the highly-rated exercise bike, the XTERRA SB2.5r Recumbent Bike, and find out why people like it so much.
Design
It has a convenient walk-thru design which is appealing to many people. This bike is convenient for all types of users who want to lose weight. Its seat is densely padded to provide good back support and comfort. You will be able to pedal for long hours without feeling any strain on your back. The seat is adjustable and so you can find your own comfortable position to work out. It has poly v-belt and 22lb flywheel system that provides quiet and smooth operation. There are oversized foot pedals that make exercise very convenient. This simple equipment provides 24 resistance levels that will always keep you challenged and help you to reach your fitness goals step by step.
This exercise bike is designed to be robust, durable, and stable. The frame has an H pattern and the cross member can easily be disassembled for easy storage when the bike is not in use. The floor in which you will keep your bike may not be always plain. There are levelers at the back to ensure that the bike always remains stable. Transportation wheels are available for easy transport, in case you want to move it from one place to another.
It has a large LCD display that displays vital information like the distance covered, the time elapsed, calorie burned, and more. You can even track your heart rate with the help of the grip sensors. The display also has speakers so that you can listen to your favorite music while working out and never get bored exercising.
Build Quality
XTERRA has gained trust in the fitness market for providing excellent quality fitness equipment. When you buy any XTERRA product, it will exceed your expectations and this bike is no different. It will create a very comfortable workout experience for you. This bike is constructed with a 2-piece solid steel frame. The drive system is attached to the front side and the seat rail is connected to the rear part of the frame. The bike comes with adjustable stabilizers for maximum stability during workout.
This bike has eddy current brake system that involves a servo motor that ensures that the resistance is adjusted from the console only. This arrangement adjusts the magnet's pull on the flywheel in order to create drag. It has a number of built-in apps for workout and if you are using one of these, then the resistance will be adjusted automatically. Besides providing smooth and quiet operation, another advantage of this magnetic resistance system is that the parts don't touch each other during operation and so there won't be any wear or tear. So, the bike requires minimum maintenance and can last for many years.
Size
Though it's not the smallest machine you will find in the market, it still takes up less space which makes it easy to store. It has dimensions 49.8 inches by 24.1 inches by 13.4 inches and can support the weight of up to 300 lbs. Thus, the bike is appropriate for all users of different types.
Comfort
Both the saddle and the backrest of this bike is well cushioned to give comfort. So, there will be a minimum chance of any back pain or back soreness due to exercising on this bike regularly. The saddle is contoured properly so that your legs remain in a convenient position while exercising. The seat is adjustable and can accommodate users who are as small as 4'1'' and as tall as 6'5''. The handlebars are in a very comfortable position and the users can reach them easily. So, they will feel comfortable even in a leaned-forward position. The handlebars and hand rests are padded with foam-rubber material for extra comfort and provides anti-slip grip so that your hands don't slip even when you sweat.
Effectiveness
If your goal is to lose weight and get into shape as well, then buying this bike is a good decision. The bike provides 16 levels of resistance. You can start with the lowest level that resembles riding on a flat road. This level can be used for warm-up or recovery training. The highest level of resistance, on the other hand, resembles a steep climb and gives you the opportunity to burn more calories. The bike is belt-driven and ensures a smooth and quiet operation. As the flywheel is heavy, it ensures a smooth and fluid pedaling motion. The pedals are oversized to make you feel comfortable and come with straps to keep your feet secured.
There is a performance tracking monitor that lets you keep track of your progress and your heart rate as well. There are 24 workout apps that include manual, preset, heart rate and custom user programs as well. The preset programs include rolling, fat burn, steps, intervals, climbing, etc. There are 4 user programs which allow up to 4 people to use the exercise bike.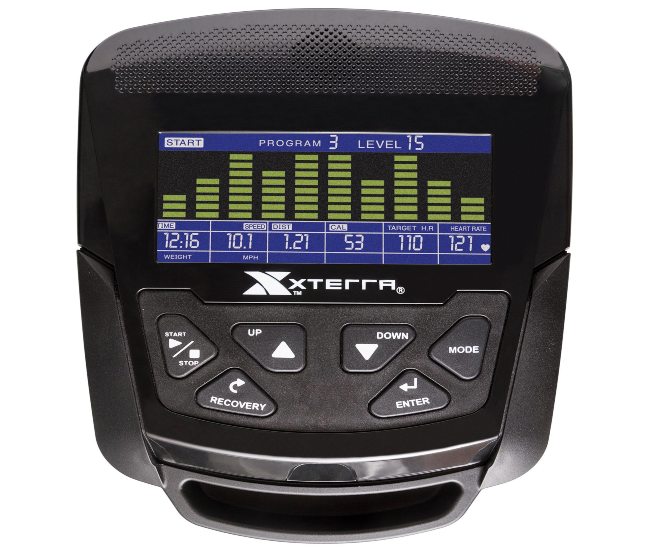 Price
It is one of the best mid-range exercise bikes and you can get it for about $395 at Amazon. You get free shipping and so will save a lot of money as well.
Pros
It is easy to assemble as some of the parts are already assembled. Clear instructions are provided for assembling the bike.
It has a walk-thru design which is very convenient.
It is constructed with a steel frame.
There are 24 pre-set programs which give you plenty of options to exercise.
It has a large display that is easy to read.
The heavy-duty flywheel provides smooth motion.
The seat and backrest are very comfortable.
The LCD display is big and shows information clearly which helps you to track your progress.
The pedals are oversized and come with straps for convenience.
It has a built-in sound system that is compatible with MP3 and smart devices.
There is an accessory compartment so that you can keep your phone, keys, and other important things.
You get 5 years warranty for the frame and 1-year warranty for the parts.
Cons
Though the tall users can also use this bike, they won't be able to do the full leg stretch.
The handlebars are non-adjustable.
There is no media holder.
Final Verdict
You will get the best value for money by buying this exercise bike. It has a sturdy and secure frame that makes it durable. The seat and backrest are comfortable allowing you to work out for hours. The operation is smooth and you can vary the resistance to different levels. It has some awesome features like large LCD display, pre-set programs, built-in speakers, and pulse sensors which makes it stand out from the other bikes in the market. This is a highly rated machine and is worth buying.
Buy XTERRA SB2.5r Recumbent Bike