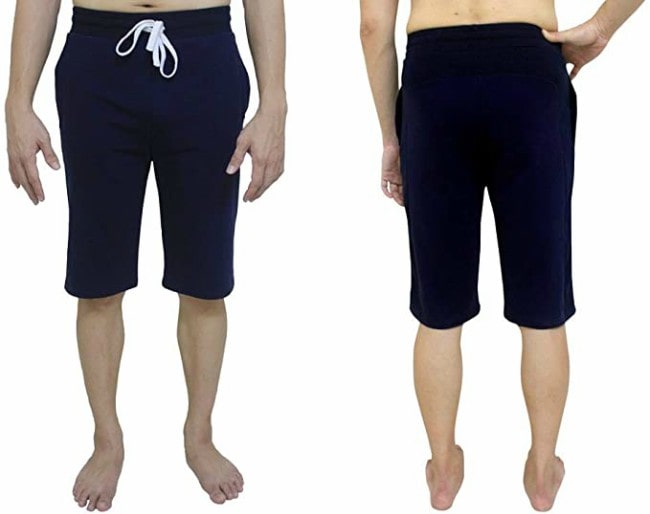 People have been practicing yoga for many years. Recently, it has gained popularity due to its benefits on both physical and mental health. Yoga can help to improve your balance and posture as well. To do the yoga poses perfectly, you need to stretch as much as you can and make your body flexible and for that, you need the right clothing. Yoga pants are made with special fabric that is stretchable and allows freedom of movement. You can move from one yoga pose to another fluidly without any restriction. YogaAddict Men Yoga Shorts is a high-quality and functional yoga pant that will help you to perform yoga comfortably every day. Here, we are going to review this product in detail.
Design
You can get these pants in the shades of black, gray, and blue. The pant feels super comfortable and you can wear it all day long. The fabric is stretchable, so you can do every yoga move with ease. There are 2 outside pockets and elastic and drawstring waist which ensures that the pant stays in place. This pant is perfect for different types of yoga styles, Pilates, Zumba, and even martial arts. The pant fits perfectly; it is neither too loose nor tight. It feels very soft to the skin, so you will feel comfortable doing yoga for long hours.
Build Quality
The pant is made of high-quality fabric. It contains 94% cotton and 6% spandex. The fabric is very comfortable and allows lots of room for free movement. It has high-quality stitching that ensures that the pant is durable. The pant is stretchable, so it can expand and contract with you to allow flexibility in movement during your yoga classes. As it has elastic waistband and drawstring, it gives double protection and won't fall up or down when doing inversions like a handstand or downward dog. The fabric wicks away sweat, so you won't end up wearing sweaty and clingy shorts; you will stay dry and cool all the time.
Size
It is available in sizes from Small to XX-Large. The small size is for waist size 29 to 31 inches, the medium size is for waist size 32 to 33 inches, the large one is for waist size 34 to 35 inches, the XL size is for those with waist size 36 to 38 inches and the XXL size is for waist size 39 to 40 inches.
Comfort
This yoga pant for men is designed for comfort. It has an elastic waist along with drawstring which helps to keep it in place when doing difficult yoga poses. The waistband and seams are flat which will make you feel comfortable. It provides a good balance of loose and tight. It is soft and feels good against the skin. It won't cause any skin irritation, even if you have sensitive skin. The pants are longer than the normal shorts you will find in the market. So, you will feel confident wearing them when doing inversions or other difficult yoga poses.
Ease of Use
The elastic waistband makes it easy to put on the pant and take it off. For extra protection, you can also tie the drawstring. You can wash it easily and dry it off quickly. As it wicks away moisture, it won't develop any foul smell, so you can maintain the pant in good condition for a long time.
Effectiveness
This yoga pant is perfect for any type of yoga including Bikram, Ashtanga, Hot Yoga, and others. You can also use it for pilates, Zumba, martial arts or even outdoor activities like tennis, rock climbing, and more. You can also wear them for travel or casual wear. These pants are so comfortable that you can focus on your practice rather than worrying about how you are looking or any stretchable or other issues while doing yoga. The pant is not revealing in inversion, so you can do any yoga pose confidently. The pant won't fall in your face when doing a downward dog, handstand, or other types of inversions.
Pros
It is so stylish that you can wear it as casual wear also.
The fabric is stretchy will allows flexibility in movement.
It has quality stitching that makes it durable.
It is suitable for any yoga style, pilates, martial art, or different outdoor activities like rock climbing and tennis.
The fabric gets rid of sweat quickly, keeping you dry all the time.
The pant won't fall off when doing difficult yoga poses.
You can find these pants in dark hues and different sizes.
It is easy to wash the pant.
It is affordable and you can easily buy a pair of them for your yoga classes.
Cons
It doesn't provide any money-back guarantee.
It may not be appropriate for oversized users.
Final Verdict
Buying these yoga pants will help you to have fun in your yoga classes without worrying about your pant falling or exposing your private parts. You can do yoga comfortably and confidently by wearing these yoga pants. So, instead of looking at your pants to see if it's in the right condition, you can concentrate on your yoga pose to make it perfect. The fabric is stretchable and it allows you to move freely. The pant is so soft and comfortable that once you put them on, you will not feel like taking them off. You will see lots of yoga leggings in the market but not everyone is comfortable wearing those tight-fitting leggings. If you are one of them, then you must try out these pants. This pant is affordable and you can buy more than one if you want to. You can wear these pants for long hours without feeling any discomfort. You should try this pant to make your yoga sessions more productive.