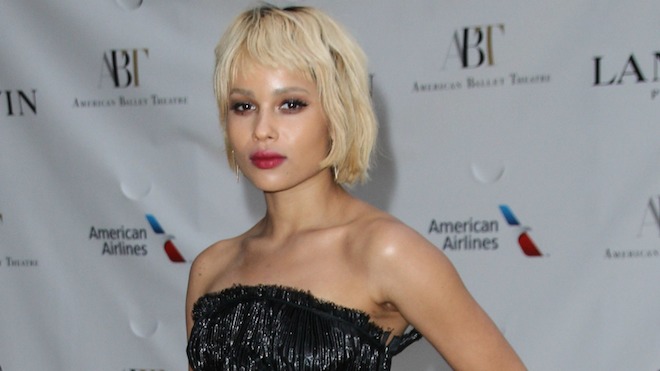 5 ft 2 in tall, vibrant beauty, Zoe Kravitz owns ridiculously toned and enviable figure. Credited with great genes, the hot babe doesn't fail to dazzle us with her incredible roles in the movies. Zoe dishes out some of her diet and workout secrets which help her maintain the paragon figure, she has got in treasure.
Workouts in Routine
Workouts are indispensable part of Zoe's routine. She hits gym numerous times in a week. Aside from that, to keep fun factor alive in her life, she practices Ballet beautiful barre exercises minimum three times in a week. She upholds her body in sculpted shape by practicing varied workouts such as circuit training which includes exercises like squats, deadlift, seated calf raise, abdominals, deltoids (shoulders), biceps (arms), pectorals (chest) etc.
Although she is discreet about her workout routine most of the time but she in particular gets overly engrossed in her workouts when she has to prepare her for some challenging roles like the one she did in the movie, X-Men : First Class. The role being seeking after her to possess immense strength, speed, and agility had her practice relentless intense workouts.
Bizarre Cleansing Diet
The youthful beauty lately has resorted to bizarre cleansing diet i.e. clay diet to make her suitable for the role of Christina in the movie, The Divergent. Zoe is playing the role of a girl suffering from bulimia and anorexia in the movie. Clay drink cleanses your body and purges it from harmful toxins. Although the diet plan detoxifies your body but you are recommended not to abide by any such plan because you are at the risk to give room to harmful diseases which might make your life more difficult than being overweight can ever do.
Healthy Eating Habits
Zoe gives special thanks to her mom who inculcated healthy eating habits in her diet right in her childhood. Her mom being very prudent about her diet seldom allowed her to eat fast and junk foods. She had to sneak out to relish her beloved foods such as cheeseburger with pickles and other unhealthy snacks. Apart from her occasional indulges, she mostly consumes wholesome foods such as green veggies, lean proteins, citrus toffees, maple syrup, yogurt, rice bran, long beach shrimp salad, vegetable sausage, poultry etc. in her diet. Among beverages, she drinks plenty of nutrient laden green and protein smoothies.
Healthy Tips for Fans
Acquiring stable weight and bikini figure is not just a matter of couple of days. It rather is a constant struggle and you shall not discontinue your journey in the mid way. Since overweight body not just look unappealing, it is also likely to become victim of bountiful harmful diseases in future, obese people shall not just accept the fact of them being overweight and sit idly. Here are some tips which you shall bear in mind while endeavoring to drop weight.
Give Your Body Time
Most people embark on varied weight loss plans with great zeal but when they don't witness apparent changes taking place in their bodies, they feel disappointed and omit the thought to lose weight. The best way to avoid you fall in such a situation is to give your body sufficient time to drop weight. Just like your body didn't bulk up pounds overnight, it cannot melt away surplus pounds too that easily; it needs time to do so. Moreover, small unseen changes occur in your body, which further prepare your body to shed weight safely.
Set Practical Goals
Set practical and realistic goals. You might wish to get fit into your old glam clothes or you might wish to radically change your life with transformation in weight. Whatever goal you pick, set numerous other mini goals on the way which can help you reach the final goal. And to make sure, if you are on the right trajectory or not, write your weekly targeted actions which you will take to reach the bigger goal. For example, your smaller goals can be like you will work out minimum three to four times in a week or you will incorporate more greens and whole foods in your diet.
Alter Your Means to Confirm Your Progress
Usually weighing is deemed as the most trustworthy source to gauge your progress with weight loss plans. Instead of banking on the wrong parameter, mark your progress as positive if you witness enhancement in your energy level or you notice your outfits getting loose. Such parameters to gauge your progress are unlikely to ditch you.
Be Accountable to Yourself
Get some reliable family members or friends to whom you can show your accountability. However, if you fail to find the one, be accountable to yourself. Pen down the list of all the wholesome and unwholesome foods you consumed during the day. Doing so will help you figure out the pitfalls in your weight loss program and move ahead towards your goal with more resolved mindset.