The recently held 2015 FIFA Women's World Cup generated a lot of buzz. The attacking and high flying game style of finalists – Japan and US won over many accolades. With 146 goals scored over 52 matches, the tournament won over neutrals with entertainment and high drama. The final match between US and Japan with seven goals scored, summed up the tournament, which had more attacking quality than the men's world cup held last year.
As a result, interest in the women's football is all time high. And, after spending decades in the shadow of men's football, the women's football has finally stepped on to the pedestal and is prepared for a prolonged stay in the popular imagination. Everyone is curious to know more about the women football. Today, in this article, we will take a look at the most common question being asked around ever since the start of the world cup. Who are the legends of the women's soccer?
This article is a celebration of women's soccer. And, please note that the names on this list are matter of opinion. There is no common criteria other than the immense contribution to the game.
During her illustrious career, Renate Lingor was well known for her superb passing skills and ability to read the game. And, her ability to place free-kicks with precision helped her score 37 goals for her national team. She started her professional career with SC Klinge Seckach and, despite, several offers from other top German clubs, she stayed with the club for eight years. She moved to 1. FFC Frankfurt in 1997 and two years later, 1. FFC Frankfurt led by Lingor's immense performances completed domestic double by winning the German league and German cup. She would go onto complete prestigious domestic double three times more with her club side. In total, she won five national championships, five German cups and two UEFA cups with 1. FFC Frankfurt. Her time with the national side was equally successful. In course of her 147 national appearances, she won two World Championships and two European Championships with her national side. She is also a two times Olympic Bronze medalist. She announced her retirement from the club and international football in 2008. Thus, ending one of the most successful and accomplished football professional careers.
Christine Sinclair is just 32 years and she has turned out for the Canadian side 225 times. She made her national debut at the age of 16 at the 2000 Algarve Cup where she was the tournament's leading scorer with three goals. Two years later, she cemented her reputation as one of the most exciting young talents in women football by scoring seven goals for Canada at the 2002 CONCACAF Women's Gold Cup, which made her the joint best with teammate Charmaine Hooper and USA's Tiffeny Milbrett. Same year, she participated in an inaugural FIFA U-19 Women's World Championship. In the tournament, she scored record setting ten goals, which helped Canada finish in second place and earned her both the Golden Boot as leading scorer and Golden Ball as tournament MVP. She is a record 11-time winner of the Canadian Soccer Player of the Year award and has been honored by FIFA as a nominee for World Player of the Year six times. She has led her national team to the CONCACAF Women's Championship glory in 2010 and the Pan American gold medal in 2011. With 155 international goals, she is expected to become the second player to cross Mia Hamm's 158 international goals.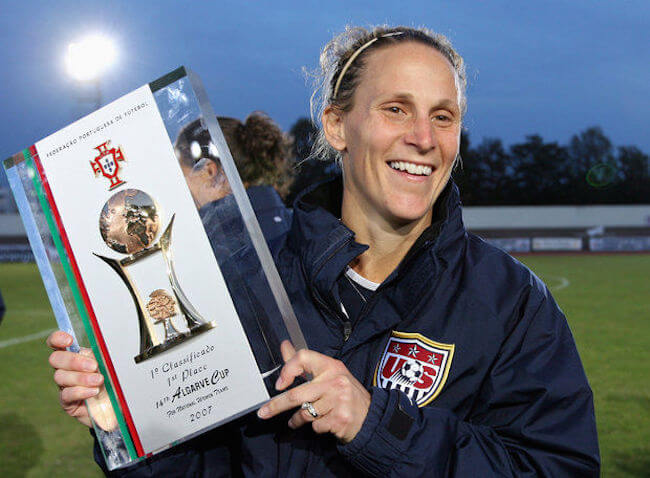 Kristine Lilly holds the record for the most international appearances. Over the course of 24 year career, she has played 352 games (the feat which has been unparalleled in women's as well as men's game). Her last and 352nd appearance was against Mexico in a World Cup qualifier in November 2010. She has scored 130 goals for the United States women's national team, behind Mia Hamm's 158 goals and Abby Wambach's ongoing tally of 182 goals. The attacking midfielder started her career with Tyresö FF of Sweden in 1994. Her last club was Boston Breakers. However, it was her international career that has made her as one of the greatest female footballers of all time. She made her international debut, while she was still attending high school. She played in 1991, 1995, 1999, 2003, and 2007 editions of the FIFA Women's World Cup. Out of five, she finished as world champion on two occasions in 1991 and 1999. She is also a three time Olympian, out of which, she won gold medal at two occasions. Since 2012, she has been working as an assistant coach for the Boston Breakers.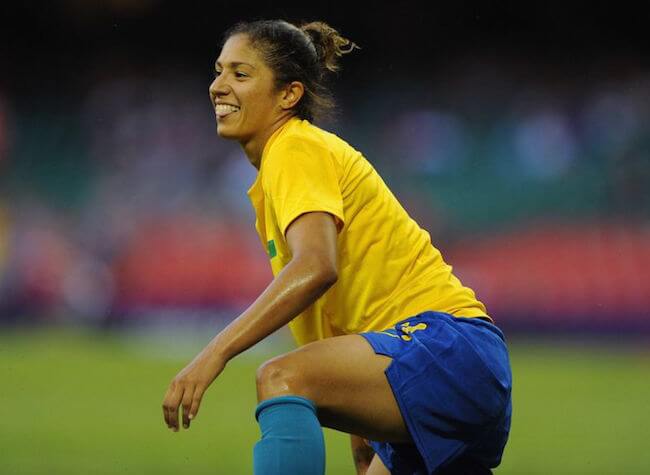 Cristiane is a prolific Brazilian forward. She is so good that she started her international football career at the age of 15 with Brazil Under-19 team. However, she had to wait for four years to make world stand up and notice her considerable skills. It was at the Olympic football tournament in Athens 2004. The Brazilian team reached finals, where they lost to US. However, the Olympic silver medal was the biggest international success for the team until then. Cristiane, with five goals, led the team from the front. She was honored as the tournament's top scorer along with Germany's Birgit Prinz. The Samba star managed to win another silver medal with the national team as they again lost to US in 2008 Olympics. She was also runner up at the 2007 FIFA Women's World Cup as Brazil lost to Germany by 2-0 in the final. However, she has less than ideal club football career. She has turned out for clubs in Germany, Sweden, the United States, Russia and South Korea, as well as in her native Brazil. And, it was during her time with Brazilian club Santos, she had the most successful period. She helped the club win coveted Copa Libertadores and Copa Do Brasil.
Sun Wen, the retired Chinese forward is regarded one of the all-time greats of the women's game. A strong striker with great technique and passing skills was named the FIFA Female Player of the Century along with Michelle Akers in 2000. At the 1996 Summer Olympics in Athens, Wen led China to a silver medal. Then, three years later, Wen and China missed out on lifting FIFA Women's World Cup after they lost to US on penalties. In the tournament, she scored seven goals and went onto win the Golden Ball (top player) and Golden Boot (top scorer) at the tournament. She also helped the national team win the Asian Cup in 1991, 1993, 1995 and 1997. Before announcing her retirement from club as well as international football, Wen had made 152 appearances for the national side and scored 106 goals during that time. During her career, she had captained the China women's national football team and the Atlanta Beat of the Women's United Soccer Association (WUSA).
Abby Wambach is an American soccer player, coach, two-time Olympic gold medalist, and the 2012 FIFA World Player of the Year. With 184 goals, she is the highest all-time goal scorer for the national team and holds the world record for international goals for both female and male soccer players. The 2012 FIFA World Player of the Year has played in four FIFA Women's World Cup tournaments: 2003 in the United States, 2007 in China, 2011 in Germany, and 2015 in Canada, where they went onto become champions. Also, she has participated in two Olympic tournaments: 2004 in Athens and 2012 in London, winning the gold medal in both. It is said that the true barometer of player's ability is their performances in big matches and tournaments. And, in that aspect, Wambach has excelled. She has scored 22 goals in 29 matches at the major international tournaments. Wambach is a complete forward with extraordinary ability to score as well as create goals. Only Hamm and Lilly has more assists than Wambach (62 assists) for the US national team. Also, she is well known for her penchant for scoring diving headers. Currently, she is playing for Western New York Flash in NWSL.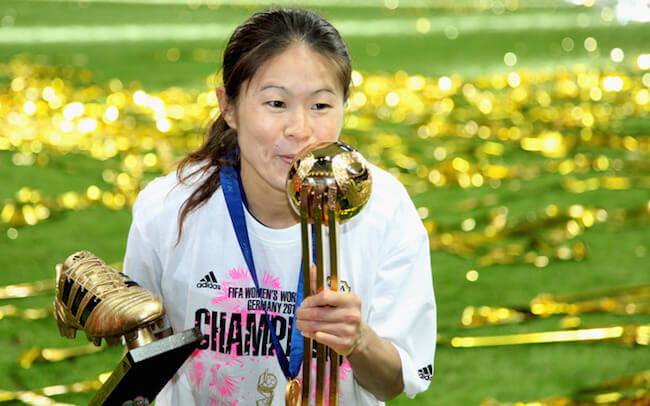 Well in her young age, Homare Sawa gave a glimpse of her immense talent that would shine at the World stage for nearly two decades. Sawa, who has been considered Japan's finest female footballer made her debut in L. League, Japan's highest domestic league, at the young age of 12. She made her Japanese international debut at the age of 15 against Philippines. And, in that very match, she scored four goals to announce her entry in the international football. Since then, she has become a fixture in the national side. She has participated in the last six FIFA Women's World Cup tournaments and the 1996, 2004, 2008, and 2012 Summer Olympic Games. In fact, she is only female football player to do so. As a captain, she led the Japanese national team as to a world championship victory at the 2011 FIFA Women's World Cup. She won both the Golden Ball and Golden Boot when Japan defeated the United States on penalties. She finished runner up in the recently concluded world cup. With 204 appearances, she is most capped Japanese female football player and also the highest goal scorer with 83 goals.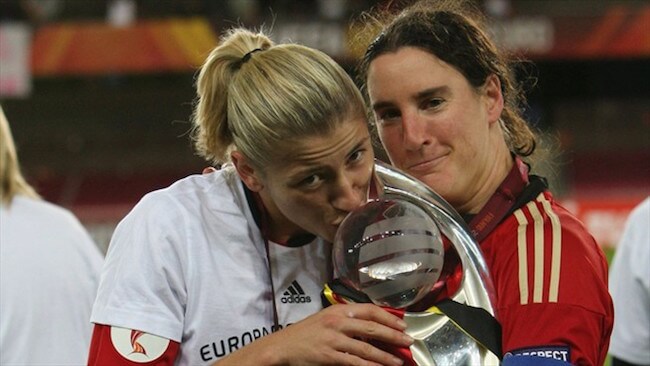 Birgit Prinz was one of the most deadly strikers in the female football. She is the second FIFA Women's World Cup all-time leading scorer with 14 goals, second only to Marta who scored her 15th goal at the recently concluded world cup. Prinz is the highest scoring non-North American in women's soccer history, scoring 128 times in 214 matches. She spearheaded Germany's World Cup title wins in 2003 and 2007. During that period, she was named FIFA World Player of the Year thrice – in 2003, 2004 and 2005. She also won Olympic bronze in each of 2000, 2004 and 2008. Her club career was as successful as her international career. She made her Bundesliga debut for FSV Frankfurt and stayed with the club from 1993 to 1998. During that period, Frankfurt won two Bundesliga titles and two German Cups. In 1998, she moved to the local rival 1. FFC Frankfurt, where she tasted even more success. She played for the club for 13 seasons and won six Bundesliga, eight German Cup titles and three UEFA Women's Cup. Currently, she is working as a sport psychologist for the male and female teams of 1. Bundesliga club TSG 1899 Hoffenheim.
Marta Vieira da Silva is considered by many as the best and most decorated female football player in the world right now. At the 2015 editions of the FIFA Women's World Cup held in Canada, the Brazilian forward became the highest goal scoring player at FIFA Women's World Cup tournaments, surpassing Birgit Prinz's previous record of 14 with a goal against South Korea in Brazil's first match. She has been named FIFA World Player of the Year five consecutive times between 2006 and 2010. At the 2007 world cup, she won both the Golden Ball award as the best player and the Golden Boot award as the top scorer. Marta, who is also called 'Pele in Skirts' is one of the top earning female football stars. In 2012, it was reported that she was earning 168,000 Swedish Krona per month.
Mia Hamm is considered one of the most complete attacking players in the history of the sports. Until 2013, when fellow American Abby Wambach scored her 159th goal, she was the highest goal scoring player in the history of soccer. However, she still holds one record in the game and nobody looks poised to break it. Hamm holds the national team record for most career assists with 144 assists. She was named the women's FIFA World Player of the Year, the first two times that award was given (in 2001 and 2002).