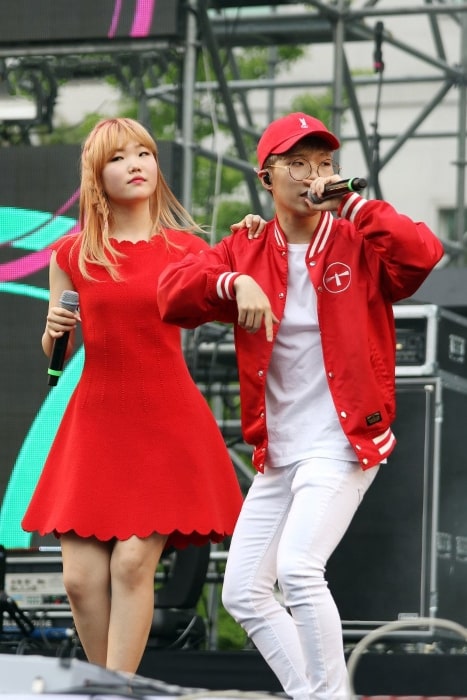 AKMU is a South Korean sibling duo consisting of Lee Chan-hyuk and Lee Su-hyun that made its debut under YG Entertainment in April 2014. The duo's discography consists of various albums, tracks, and extended plays such as Winter, Play, Sailing, Give Love, Summer Episode, Next Episode, Spring, Time and Fallen Leaves, Melted, How People Move, Last Goodbye, Happening, My Darling, and How Can I Love the Heartbreak, You're the One I Love. AKMU made its debut with the album Play in April 2014 and it was well received by the public as well as critics and was awarded "Best Pop Album" in the 12th Korean Music Awards. Over the years, the duo has also won many other accolades including Gaon Chart Music Award, Golden Disc Award, Melon Music Award, Mnet Asian Music Award, Brand Customer Loyalty Award, Bugs Award, Cyworld Digital Music Award, and others.
Members
Origin
Seoul, South Korea
Genres
K-pop, Soul, Folk-pop
Labels
YG Entertainment
Formation Year
2012
Singing Portfolio
On April 7, 2014, AKMU released its debut studio album Play and it included songs like On the Subway, Melted, Give Love, Don't Hate Me, Little Star, Artificial Grass, Galaxy, and others. The album peaked at #1 on the South Korean Albums (Gaon) chart, at #2 on the US World Albums (Billboard) chart, and at #20 on the US Heatseekers Albums (Billboard) chart.
The duo released its debut extended play Spring on May 4, 2016, and its tracklist consists of – Green Window, Around, How People Move, Haughty Girl, Re-Bye, and Every Little Thing.
AKMU Facts
The duo AKMU is also known as "Akdong Musician".
Both Lee Chan-hyuk and Lee Su-hyun successfully participated in the preliminary auditions of K-pop Star 2 in August 2012 at Jamsil Arena in Seoul. The duo ended up winning the season and eventually signed an exclusive contract with YG Entertainment on May 24, 2013, a month after winning K-pop Star 2.
AKMU's 2nd studio album Winter was released on January 3, 2017, and its tracklist included Last Goodbye, You Know Me, Live, Reality, Play Ugly, Way Back Home, Will Last Forever, and Chocolady.
On September 13, 2017, it was confirmed that Lee Chan-hyuk would enlist for his mandatory military enlistment on September 18 with the Korean Marines. He was discharged on May 29, 2019.
AKMU released its 3rd studio album Sailing on September 25, 2019, and Tamar Herman of Billboard stated that the "album features songs that show the pair's artistic development, exploring a variety of new genres all the while still incorporating their distinctly vibrant, soulful folk-pop sound." The album peaked at #4 on the South Korean Albums (Gaon) chart.
On July 26, 2021, AKMU released its 2nd extended play titled Next Episode and it consists of songs like Hey Kid, Close Your Eyes (with Lee Sun-hee), Nakka (with IU), Bench (with Zion.T), Tictoc Tictoc Tictoc (with Beenzino), Next Episode (with Choi Jung-hoon), Stupid Love Song (with Crush), and Everest (with Sam Kim). The album peaked at #6 on the South Korean Albums (Gaon) chart and Ruby C from the British magazine NME gave the EP a 5-star rating out of 5, and said, "Much like a mountainous expedition, there are always risks that come with collaborating with others, but those in 'Next Episode' work for the better: each track brings out the strengths of the collaborators, while still effective in showcasing Su-hyun's flawless, pristine vocals and Chan-hyuk's adept lyrical storytelling."
The duo's filmography consists of You Hee-yeol's Sketchbook, Choovely's Outing, Sailing Log, Vroom Marble Game S2, Long Live Independence, and Take 1.
Featured Image by 월아조운's / tistory.com / CC BY 4.0